This article was written by a member of the SheKnows Community. It has not been edited, vetted or reviewed by our editorial staff, and any opinions expressed herein are the writer's own.
If there's a knitter or crochet in your life you know that the winter holidays are fast approaching. You can tell by the boxes of yarn that start showing up at the door, the stacks of pattern magazines with post-its on the coffee table, and the gentle clicking of needles and whirring of hooks as entire seasons of TV are streamed on Netflix.  Evenings and weekends (and the occasional sick day) are consumed by turning gorgeous yarns into gorgeous, precious gifts.
Yarnies are so generous at the holidays, making personal gifts from the heart and the hands. In this post, I'll help you find some gifts for the people in your life who love to make things by hand.
1) An online knitting or crochet class at Craftsy.com
Craftsy is a cool new site that offers great online crafting classes.  They cover topics from knitting and crocheting to quilting and sewing. The knitting classes are on hot knitting topics like lace shawls, socks, hats, cute knit toys, and custom shaping. Crochet classes focus on everything from the basics to embellishing and shaping.  Craftsy classes never expire, and students can watch them as many times as they like.  The classes are interactive, so students can ask questions at any point, and they'll be answered right away by the teacher.  What crafter on your list wouldn't love that?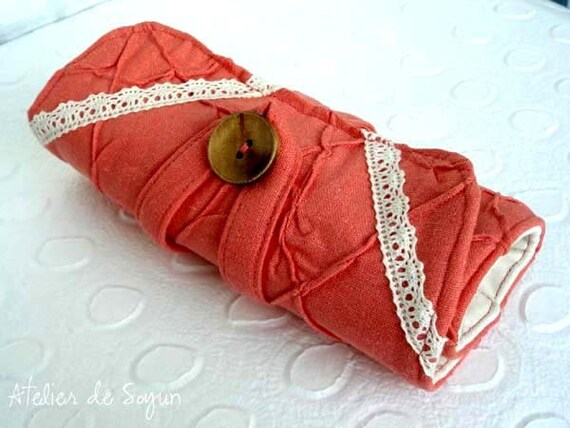 2) A handcrafted crochet hook or knitting needle case by Atelier de Soyun on Etsy.
These hook or needle keepers are just the kind of little luxury items that many yarnies would love, but wouldn't buy for themselves.  If you notice that the fiber artist in your life is keeping his or her needles in a plastic baggie, loose in a bin, or even in a random pile of pickup sticks on the floor, this gift would probably be a home run!
3) A skein or two of Merino / Angora Yarn from Toots le Blanc
This yarn will show the recipient that you really care.  It's another item that a person may not splurge on for him or herself, but that will really be appreciated. This may *look* like just any yarn, but it's SO luxurious and fabulous.  Even one skein of the DK weight is enough for a hat, get two to make the gift really special.  There are also lace weight and fingering weight versions if your yarnie is into shawls.  What makes this yarn special is the fact that even though it's composed of 50% angora, it doesn't shed.  This is a great yarn for people who love things that are reeeeally soft, who love texture, and for those who can wear wool but may be extra - sensitive to it.  I really can't recommend this yarn highly enough.  Working with it was less of a process, and more of an "expereince.*
4) A handmade shawl pin. 
Shawl pins are used to keep scarves and shawls around the neck, instead of tying big knots.  They are also great for closing sweaters with no (or too few) buttons, and can even just be worn as jewelry.  SO, even if your yarnie isn't into shawls specifically, they serve a lot of purposes, and are a pretty fun gift to receive.There are lots of styles to choose from, and equally many materials used in making them.  Try a bent wire shawl pin from Designs by Romi (pictured), or a glass version from Moving Mud.  You can also find great wooden, forged metal, and beaded versions using a quick Etsy search.
5) A gift certificate to their local yarn or hobby shop.
As much as I love shopping online, there are some great reasons to shop locally, too.  Knitting and crochet are so tactile that the fiber person in your life might enjoy getting to go into the shop and expereince the color and texture for him or her self.  In this economy it's important to support indie designers and businesses (like those linked to above) but also to support your hyper-local economy by searching out great local shops, too.
So, whatever you decide to give to the yarnie in your life, make it personal, useful, tactile, and fun.  He or she spends so much time crafting for others that the holidays are a perfect time to give 'em a little treat.  Something that they wouldn't buy for themselves, that makes the crafting experience that much more special.