This article was written by a member of the SheKnows Community. It has not been edited, vetted or reviewed by our editorial staff, and any opinions expressed herein are the writer's own.
Welcome to my Inspiration to Fitness - Week 4 journal.
So last week I mentioned that my playlist is what's getting me through my workouts.
But I didn't know that Caroline was going to be sick last week and miss three days of school. So those days turned out to be completely unproductive. And I think that's one of the hardest things about working out. It seems like something always comes up that changes up your schedule. I'm sure more disciplined people press on through, but I've never pretended to be one of those people.
The good thing is I'm motivated to get right back on the horse or the pavement or whatever this week. It just goes back to how much better I feel after a good workout. I can tell a difference in my mood and outlook. And hopefully I'll eventually feel a difference in my jeans.
Here are the songs that are getting me through right now:
1. Sparks Fly by Taylor Swift
2. Stronger by Mandisa
3. Stronger (What Doesn't Kill You) by Kelly Clarkson
4. Gunpowder and Lead by Miranda Lambert
5. Tokyo by Imagine Dragons
6. All My Fountains by Chris Tomlin
7. Breathe by Michelle Branch
8. P.Y.T. by Michael Jackson
9. Love on Top by Beyonce
10. Walk this Way by Run D.M.C.
So those are my songs. Some of them are old standbys that I've had on various workout playlists over the years and some of them are new additions that I might hate in the next month.
But, for now, they keep me moving. And, in the words of Martha Stewart, that's a good thing.
What about y'all? Any good workout songs you're loving right now?
I've also decided I need some better running socks. I'm thinking about getting these from Lululemon.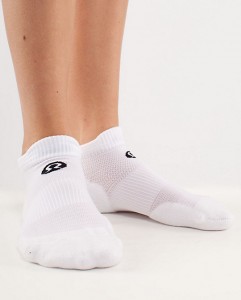 Or does anyone have a better sock suggestion?
Socks and music. This is what my life has become.
Have you entered my Perfect Portions Scale giveaway yet?