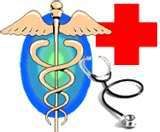 On Christmas Eve, just after I managed to wrap the last gift and stuff the last stocking, I was ready to sit down with a nice glass of eggnog.  It was then, at 11:15 pm that the phone rang. I didn't think it was Santa, or Rudolph and took a deep breath, bracing myself for what could possibly be going on.  It was my elderly neighbors, who I'd spent most of the afternoon with at the local urgent care center. It seemed that Anna (not her real name) was feeling much worse and could I come over and take a look.
I knew within seconds of arriving that Anna's labored breathing, sweating forehead and confusion meant that we'd be headed to the ER. I had my iPhone in one hand, booting up my FMO applicationand the home phone in the other as I called 911 for the Paramedics.  
The FMO application gave me ER wait times, in this case 46 minutes for my local ER, which reinforced the call for the ambulance. It also gave me something that really helped, and that was a list of things I needed to bring along with Anna and her husband. Not only do you need the insurance cards, but a photo ID.  Ah, even though I'm a nurse, those kinds of details can slip by you when you're talking to Paramedics, calming the family down and helping Anna understand that we were going for a ride to the hospital.
This is a very useful app, that I've been
talking about for the last month
.  On Christmas Eve, as the Family Medical Officer, the person, like every woman I know, who is responsible for the care of virtually every person she knows including family, friends and yes, even neighbors, it really came in handy.  You can
download it here
.
For those of you, like Anna's son, who could really use a Free Elder Care consultation, for a limited time, you can sign up for Health Perks, a terrific resource.  Health Perks provides people with free health screenings, free elder care consultations, free nutritional consultations and much more.  Just use nurse barb as the promotion code and it's free.
I'm delighted to be working with El Camino Hospital to inform people about the incredible services available there, including The Genomics Institute and  the Health Library.  The more I learn about their programs and services, the more impressed I am with their committment to do whatever it takes to help people live their best lives. I'm excited that they're offering Health Perks to my readers and followers free of charge.  I hope you'll take advantage of it.
Follow me on Twitter!@NurseBarbDehn.
This is an article written by a member of the SheKnows Community. The SheKnows editorial team has not edited, vetted or endorsed the content of this post.
Want to join our amazing community and share your own story? Sign up here.