This article was written by a member of the SheKnows Community. It has not been edited, vetted or reviewed by our editorial staff, and any opinions expressed herein are the writer's own.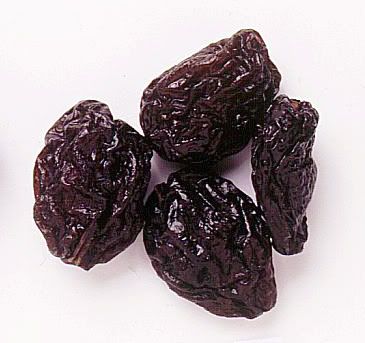 I was skeptical when I saw the headline that eating Prunes increased bone density in women, so I looked a little closer.  A recent studyfound that women who ate 10 or more prunes each day had significantly higher bone density in their forearms and spine than women who ate dried apples.
I know what you're thinking, wow, is it because they spent so much time doing weight bearing exercise as they walked to and from the bathroom because of the exceptionally high prune intake?  My thoughts  exactly.  So, I looked a bit further. Many authors shy away from using the word prune, and instead use Dried Plums, which does sound better.  Anyway, prunes, sorry, dried plums are good for you in lots of ways.
Not only do they help the digestive tract, but apparently, their high level of boron actually helps to stimulate the osteoblasts, or bone building cells. It's also thought that dried plums help reduce the loss of calcium and magnesium in the urine, meaning that more is available for bone building. Boron is also involved in how our bodies utilize Vitamin D, another building block for bone. In addition boron also acts on estrogen receptors, which helps delay bone breakdown.
Now, for some balanced perspective, the study was only done on 58 women, which means that people should continue to get plenty of calcium, vitamin d and a healthy diet in addition to any medications that their health care provider has recommended to treat their osteoporosis.  I do think it's a good idea to start eating more prunes, though, 10 a day seems like a lot, and be sure to get your regular bone mineral density testing.
I just bought some plums, so I'm going to start there and then look for dark chocolate covered dried plums (prunes).  I think that I need the anti-oxidants in the chocolate to help prevent cancer too.
Follow me on Twitter@NurseBarbDehn.