For the last few years I have chosen a "word for the year" instead of making a new year's resolution. I've found that this has been much more effective for me than setting myself up for something that feels like a task. It might be a subtle change of mindset but for whatever reason it works for me.
My words over the past few years have been: Inspire, Flow, and Warrior. All of these words resonated with me and taught me things about myself as the year progressed.
The year I chose "inspire" is the first year that I ran a half marathon. From this word a women's running group was formed at my gym and I've seen countless other female friends take up running as a sport. I constantly hear that I inspire other women, which can be a little intimidating, but is still the best compliment anyone has ever given me.
"Flow" was a word that I was ready to get rid of by the end of the year. During this year there were some tumultuous changes in my life. I had to learn to embrace the change and flow with it because I had no control over the situation. This taught me that just because things don't go the way I had planned, I can still find peace and a silver lining in any given situation.
"Warrior" was the word for 2013 and also the year I was told that I needed to stop distance running due to some health issues. Hearing those words brought out the fighter in me. I was determined that this would not be my future.  This past summer I ran three half-marathons and several 5Ks. I even set a PR at one of the halfs.  I truly felt like a warrior.
I wasn't sure what my word for 2014 would be until I received a card from a woman that I admire that read "I admire your unique, untamed spirit". That word, "untamed" leaped off the page at me and I knew that this would be my word for 2014. I started thinking about how this could manifest itself in the year 2014. When I think of being untamed, I think of being fearless. Eleanor Roosevelt once said, "Do something every day that scares you".  In other words, PUSH yourself out of your comfort zone.
When I thought of the word "untamed" in this way, two things immediately came to mind. First, I want to run a full marathon. The challenging part of this will be training to run this far while dealing with a foot that needs surgery, hip issues, and pernicious anemia. However, I think the warrior in me can find a way around those things. The fear in this lies in the unknown of not knowing if I can really do it, and potentially failing.
The second thing that came to mind was facing my fear of being in water over my head. This fear is significant and comes from my childhood. I have faced this fear in small chunks but never really embraced it. I did learn to swim as a young teenager, but I am limited in that I still can't put my face in the water. Last year I was able to go 150 feet offshore to snorkel with my husband in Hawaii, however, I couldn't let him get more than an arm's length away from me or I felt the panic rising.  So, this year, I am going to challenge myself to take swimming lessons from a professional coach so that I can finally conquer this fear and possibly look at competing in a triathlon next year.
I challenge you to think of your word for the year and the possibilities your word could create in your life. How do you see it manifesting? Can you do something scary? Can you push yourself out of your comfort zone? Make your word public. Be accountable to your goals and live your life to your fullest potential. Look back and know that you took LIFE and wrung every drop of LIVING out of it. Find your "untamed".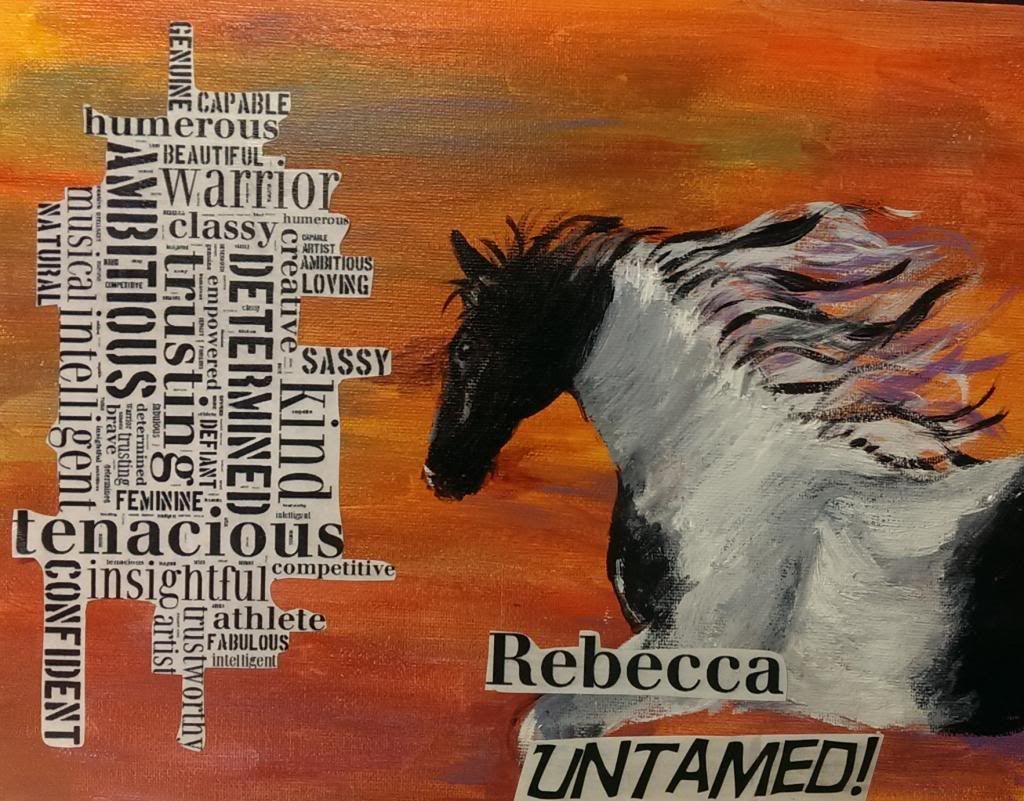 Oh…and I am thinking that this could also be the year of the tattoo. 
 If you're gonna get in the saddle, you'd better be ready for the ride.
This is an article written by a member of the SheKnows Community. The SheKnows editorial team has not edited, vetted or endorsed the content of this post.
Want to join our amazing community and share your own story? Sign up here.