Regular readers know I have been told how "lucky I was" for my "thin" genes.  Many of my fitness friends actually tell me they hear the same, "you are so lucky to be naturally thin" from their friends and family as well.  Of course, my readers also know that I incorporate exercise into life on a daily basis, along with good nutrition.
I didn't think it was luck at all, I felt I looked fit and healthy because I WAS fit and healthy. Was it luck, that I put myself in my gym, getting my butt handed to me, at 5:30 in the morning each day? This was a curiosity of mine, so what's a girl to do?
I asked myself: was this the luck gene; or hard work and dedication to taking care of my health? I decided to run a little test to see which it was, or so I told myself, I think my Seasonal Affective Disorder might have played a hand as well, I am not sure which came first actually.
I decided to do a test: for one month I would limit my fitness and enjoy a few of those uber tempting deserts to see how "lucky" I actually was.
(Or, the fact that I was completely intimidated by the thought of starting P90X2, but that is another story)
Granted I started this process around the holiday season, I knew, to a certain degree, that I would be enjoying certain foods that I don't eat in my every day life.
I consumed holiday meals with wanton abandon, seconds, no problem, pie for breakfast, sure, why not!
This year however, instead of one day of decadence,  I brought home a childhood favorite:  peanut butter rice krispie treats, with chocolate in the middle. I know how they are made and that I can't resist them, they are like crack to me.  This was the start of, what I thought would be, a month of "test" eating -- I was eating things I normally avoid as poor food choices..
Rice Krispie Peanut Butter Chocolate Treats: an old childhood friend (image via: goodtymes&goodfood)
Okay, I wasn't eating processed foods or anything like that, I hadn't gone completely over the edge, but I was eating more take out, white potato, breads and then there was the nuts mixed with chocolate after dinner each night. I have never been one to drink, we still have the same 6 pack of beer in the fridge from 2010 and a full wine rack with bottles covered in dust, this makes me an anomaly within my family unit. (in fact, my niece once commented about the dusty bottles, I wasn't sure if she was shocked regarding the dust or that the bottles hadn't been consumed as of yet!) I didn't add alcohol to the mix, I just want to clarify that fact.
So what was the result of my little experiment: I gained 15 pounds - I felt -- tired, listless, my back & joints ached, I felt older than my age! Not only that, I noticed that my seasonal depression became worse than in years past. Of course that might have been due to me not being able to fit into anything I owned, I didn't have any interest in leaving the house to spend time with friends. The whole process ended with me getting a horrid cold, something that almost never happens to me, I hadn't been sick in years!!!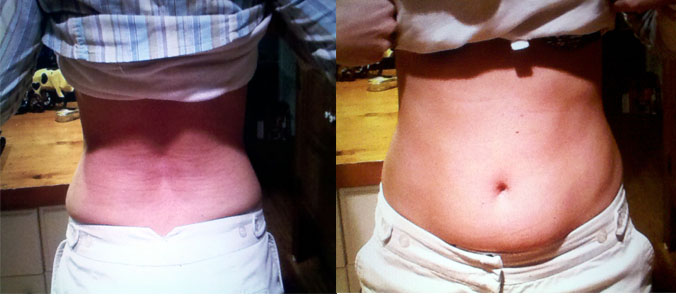 The end of a 30+ day experiment of relaxing my normal eating routine. The results are obvious, I wasn't given a thin gene and have the ability to gain weight.
My annual exam happened to coincide with the completion of this event, I asked for a blood test, which I normally get through with flying colors. This time it came back with cholesterol levels that warranted a stern note from my doctor, who was unaware of my little experiment.
The experience told me a lot actually, that I hadn't been so lucky to have been gifted the "thin" gene and I too had the potential to become obese and suffer the ill effects of this type of lifestyle.  As my readers know, my life goal was to break the chain -- my parents had handicapped themselves from lifestyle diseases: obesity and heart disease.  Unfortunately, my father had been ill with a heart condition since before I was born, he died at 57 from lung cancer and complications from his heart condition. My maternal side suffers from obesity and type 2 diabetes, I say my maternal side as the remaining members of my family are obese: they are either diabetic, prediabetic or quickly racing towards that end..
At first I didn't have the motivation to return to my previously fit lifestyle, I looked at the 15 pounds and didn't think it was too terrible, I looked and felt okay. Then it occurred to me that this is how is must begin for so many people -  adapting to become my new normal wasn't an option.  I feared that this adaptation would lead to the next 10 lbs adaptation, then the next and so on, until I too was a statistic.
As soon as my cold ended I was back to my normal healthy lifestyle, that was two weeks ago. I started my "return to fitness" using the 3 day shakeology cleanse and flushed 6 pounds of water retention out; that 6 pound drop in weight felt excellent.  Now I track my eating so I can see where I am during the day, this allows me to adjust my nutrition during to hit my daily goals. At this time I am not at my pre-experiment weight - things are moving in the right direction, I can wear my pants comfortably again.
I did start P90X2, it is difficult, it was designed that way and certainly is effective in its design.  I want to clarify that P90X2 isn't for people who aren't already preconditioned, there are many excellent programs for beginners.  (feel free to ask for suggestions) I have already completed 9 rounds of P90X, 2 rounds of Turbo Fire, one round of Insanity and countless other fitness routines before attempting this workout series.
I am back to being myself again, I not only found myself hiding from my friends and family during this process, I also didn't feel worthy of my online family as well and promptly hid myself.  In the end I feel this was an excellent experience to help me understand and appreciate the process others are going through - this will be useful as I work toward my personal trainer certification and helpful to those I hope to guide to find their inner "fit and healthy" self..
 For this and other blog posts please see my blog
This is an article written by a member of the SheKnows Community. The SheKnows editorial team has not edited, vetted or endorsed the content of this post.
Want to join our amazing community and share your own story? Sign up here.