Amber @ Fit, Foodie Runs
For more on goal setting visit http://www.fitfoodieruns.com
Last week, we talked about setting goals and wrote down all sorts of things!
First I want to congratulate you for making goals in the first place! You took one step in the leap of change. That deserves a big high-five! Now we have to execute those goals and make them real!
(Source)
But what do you do?
Here are 5 steps to achieve your goals:
Pick a date when you want the goal or goals completed by. Since I am a visual person, I hang a printed-out calendar on my wall next to my goal board. Let's say you want to run a 5k in 12 weeks, you can also print out three calendars and circle the future date. (I decorate my walls! It's like an open desk.)
Location! Location! Just like real estate, location is everything. Write your goals in a location you will see daily. Example: the calendars I place on my wall in my bedroom or a planner in your purse, perhaps a desk calendar at work. You want to visually see your goals daily.
Write steps to get there. For example: I want to earn my certificate at the end of this month. I need to complete a 100 questionnaire test that is not timed. Problem: 100 questions is overwhelming and I'm still learning the information.  Solution: Write on the calendar when things are due by. "I will complete 10 questions by Thursday, 10 by Sunday etc". until the task is completed. What steps are needed to complete you goal?
Take action. The worst action that can be taken to achieve a goal is no action at all. After writing the date and steps to achieve the goal, please don't just stare at it! Take a step every day in completing your goal. Let's say you want to run your first 5k and you found a running plan. The next step would be getting out there and moving! If you were to stare at your plan, you would move nowhere. Literally.
Reward. After completing an action towards you goal, be sure to reward yourself. It can be something small or big. Entirely up to you and what you feel you deserve! I enjoy self-satisfaction from writing positive affects from completing a step. For example: Instead of running 3 miles, I ran four. My goal is 6. Although my goal is not completed I take note of how I feel after achieving a milestone. "Wow! I just ran four miles! This has improved not only my self-esteem but my physical fitness as well." This helps me acknowledge my feelings and my reward is self-satisfaction (or a big head as it should, right?!)
We all fall down the important thing is how you get back up. Life happens so if something deters you from your goal (example: school, work-overload or just life!) then don't be afraid to get back up and try again. Make goals to achieve something better than you can imagine and move forward.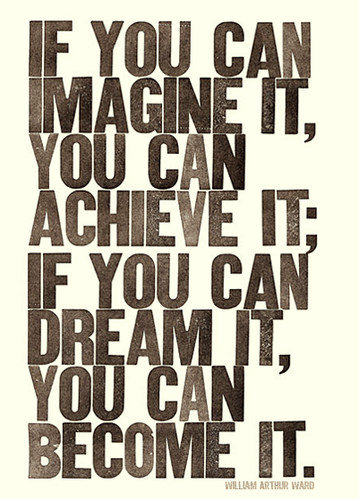 Weekly goal check-in!
You all have been awesome in submitting your August goals. Next Friday, I want updates on how you are progressing! There is nothing like having extra support to achieve our goals!
Tiffany Holmes
:
Goal #1: To continue my 1/2 training through a two week vacation. 7 of those days are on a cruise ship with Canadian ports.
Katie Sullivan:
Goal#1: To finish my first 5k! Yipee!
BJ
Goal #1: Focus harder on my 1/2 training, for the Biggest Loser 1/2 Marathon in September.
Traci Blanchard
Goal #1: Along with running 3 times a week for my half marathon training, I want to cross train at lease twice a week, whether it be biking, swimming or weights.
Jamie Baker
Goal #1: To write EVERY day, even if it's only for an hour.  (At 500 words/hour I could get at least 15,500 words written in my next book.
Stacey Niedzwiecki
Goal #1: Increase running mileage till I am ready to rock the Christmas Town Dash 8K the first weekend of December. It will be the longest race I've ever partaken in.
Tammy
Goal #1: Complete every training run with a sub 12 minute pace.
Task for this week:
(1) Write steps (2) Take action!
There's always time to participate! If you want to start a goal and have some support along the way – please submit your goal by clicking here or visiting the Home page on Fit Foodie Runs (dot) com.
Question: Where do you store your calendar?
This is an article written by a member of the SheKnows Community. The SheKnows editorial team has not edited, vetted or endorsed the content of this post.
Want to join our amazing community and share your own story? Sign up here.