This article was written by a member of the SheKnows Community. It has not been edited, vetted or reviewed by our editorial staff, and any opinions expressed herein are the writer's own.
If there's one message to take away from BlogHer's Own Your Beauty movement, it's this: You can redefine what it means to be beautiful.
Too often, we get caught up in what others' definition of beautiful, and when we don't line up (or think we line up), we feel like we're falling short. The outside world -- especially the media -- presents beauty in very simplistic terms. To our society at large, beauty is about being physically attractive. And the spectrum of physical attractiveness is very limited, especially for women. There's evidence of this imaginary spectrum in every magazine; with few exceptions, women who are presented as attractive are thin, tall, tan, and have long hair and white teeth. A very small number of women actually meet this standard naturally. It's no wonder many of us often feel less than ideal.
There are two ways to determine your self-worth: You can base you sense of self-worth on how highly other people value you, or you can determine your own value. Many of us never take the time to consider how and why we value ourselves; we base our self-esteem entirely on outside opinions. If we don't make the "beauty spectrum" in the media, we must not be beautiful. If no one else asks what we think, we must not be smart. If a friend walks all over us, we must deserve it.
The trouble is that everyone sees life through their own unique filter. How they perceive you is too wrapped up in how they perceive themselves. Waiting for people who are inundated with negativity to decide you're good enough is worth it is ridiculous. Who says you need their validation? You don't.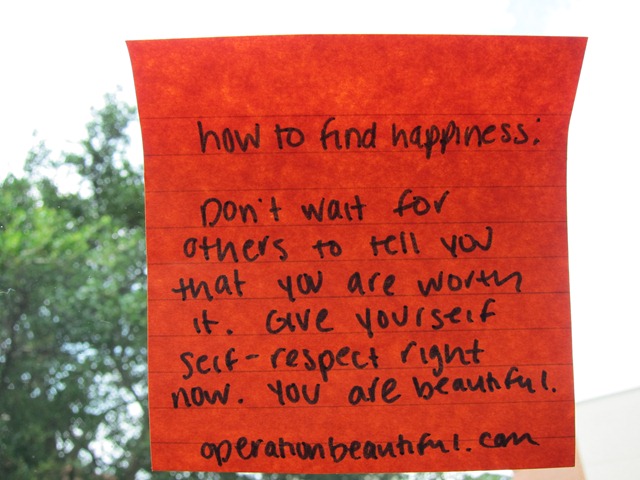 Beauty is complex. When we consider this statement, it's not hard to see the truth in it: Beauty can be found in a wrinkled grandma's face, a sleeping baby's tiny feet, the stories behind scars, and the sound of laughter. There is way more to beauty than appearance. Beauty is something deeper, and we intrinsically know this to be true. Beauty is in the heart, not in the face.
You can determine your own value. Stop asking others to give you self-esteem and self-worth. Give these special gifts to yourself. Begin by telling yourself every single day that you are beautiful. Challenge yourself to consider your own beauty in new ways. Make "beauty" synonymous with "kindness" or "strength," not your appearance.
More than anything, I hope BlogHer's Own Your Beauty movement has inspired you to reconsider the source of your self-esteem and redefine how you value yourself. This is your life. Embrace it. Own it. You are the most beautiful version of you.
More Own Your Beauty on BlogHer
Own Your Beauty is a groundbreaking, year-long movement bringing women together to change the conversation about what beauty means. Our mission: to encourage and remind grown women that it is never too late to learn to love one's self and influence the lives of those around us - our mothers, friends, children, neighbors. We can shift our minds and hearts and change the path we follow in the pursuit of authentic beauty.
Read more about Own Your Beauty or add your name to our statement of belief now.