This article was written by a member of the SheKnows Community. It has not been edited, vetted or reviewed by our editorial staff, and any opinions expressed herein are the writer's own.
A little over a month ago, I flew from Charlotte to New York City to participate in the More/Fitness Half Marathon in Central Park. Sitting on the plane made my troublesome knee stiffen up, and every twenty minutes or so, I'd get up and do a stroll down the aisle to loosen up my joint. I love to run, but running doesn't always love me back. Due to biomechanical issues, I've suffered a handful of small injuries during my five-year love affair with running.
With each throbbing ache of my knee, I felt older and older. I'm technically still a "young person," but there is nothing like an injury to make you feel broken down and rusty. Every time I'd flex my knee, negative thoughts would race through my mind –- "You're shot ... you're broken ... you can't do this ... you shouldn't be doing any of this ... leave running to the teenagers with their damn perfect joints."
While stiffly walking back from the airplane bathroom, I thought of a friend who had tried (fruitlessly) to convince me to quit running. "You're getting too old to run long distances," she said. "You only have one set of knees. You don't want run yourself into the ground before you're thirty."
In many ways, she was right -– I value my health more than one race, so I planned to walk the half marathon instead of running in, thereby putting less stress on my knee. But in other ways, I felt like she was so wrong. Running was my passion. One bad tendon sprain didn't mean I wasn't cut out to pursue my goals. Who says there is an age limit on pursuing your dreams? Why do some people think that physical activity should cease on a certain birthday?
I went into the half marathon feeling broken, and I crossed the finish line feeling brand new - ageless.
During the race, I walked alongside Elaine, a 73-year-old mother of seven children. After all my plane ride angst about my troublesome knee and doubtful friend, it was like fate put us side-by-side. A trim woman with a beautiful bob of silver hair, Elaine told me she has completed over 100 marathons. "But you were always a runner, right?" I asked, assuming someone so fit and fabulous must have been blessed with perfect genetics and brought up to appreciate sport. Elaine surprised me by describing how she began to run when she was in her early 40s.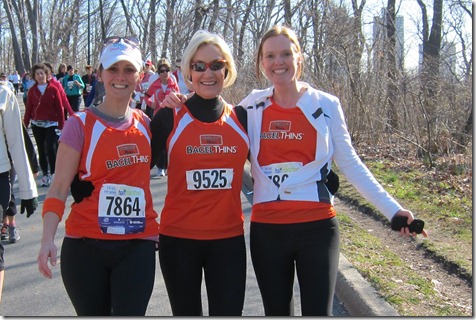 When other people told Elaine that she couldn't, she did. Elaine won Mrs. South Dakota at the age of 61, beating out a bunch of 30-year-old beauty queens. She got remarried in the middle of the Disney Marathon. She survived a bout with cancer, wrote four books, and hiked up Mt. Kilimanjaro.
True agelessness -– which surely a woman like Elaine exemplifies –- means focusing on what you can do, not what other people think you can't or shouldn't. "Cancer was a speed bump," she wrote me later in an e-mail. "Injury is just a word." Elaine saw aging as an opportunity to try new things. There was no time limit on when Elaine could try out for a beauty pageant or run a marathon. Those limits were created by other people; they did not apply to Elaine. "Life is so much fun," she said. "I want to make the most of it."
Elaine's "fun-first" attitude extends beyond marathons to her career and family. I can think of no other way to grow old fast than to force yourself into a box of obligations and unhappiness. Elaine agrees –- "The secret is I'm always doing something that I love," she says. Work and family was "not always a walk in the park, but I took care of me first so I was a healthy, happy person and could take care of the rest of them." She focuses on the good, not on the stress. She chooses to be positive and hopeful when others would've just let the situation age them.
Agelessness is not an anti-wrinkle cream or an exercise regimen. Elaine reminded me that agelessness is the refusal to give into the stress of life -– to fall victim to the emotional drama of a minor running injury, to stress out about money, to fight over small slights. Agelessness is an acknowledgment that the only limits are the ones we force on ourselves.
I'm so over limits. In fact, I'm going to blast right through them. To whoever says "you can't," I say -– we all can, no matter how old we are or how rusty we feel. Age is a number; agelessness is an attitude.
More Own Your Beauty on BlogHer
Own Your Beauty is a groundbreaking, year-long movement bringing women together to change the conversation about what beauty means. Our mission: to encourage and remind grown women that it is never too late to learn to love one's self and influence the lives of those around us - our mothers, friends, children, neighbors. We can shift our minds and hearts and change the path we follow in the pursuit of authentic beauty.
Read more about Own Your Beauty or add your name to our statement of belief now.