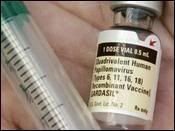 A recent study found that the HPV vaccine, Gardisil was effective at preventing genital warts and certain types of cancers in boys and men. Over 4,000 men ages 16 - 26 were given 3 doses of the Gardisil vaccine. None of them had HPV prior to receiving the vaccine.  After 2 1/2 years, only 3 men who received the vaccine developed genital warts compared to 28 men who received the placebo.
Pre-Cancerous Growths
HPV is known to cause cervical cancer as well as certain genital cancers in men. In this study, no men developed pre-cancerous cells who received the vaccine versus 3 men in the placebo group.  Up to 80% of women will have been exposed to HPV by the time they are 50, and as you'd expect, most women contract HPV from sexual contact with men. Yet men also are at risk for penile and rectal cancer from HPV.
FDA
The FDA has not approved the Gardisil vaccine for use in boys and men, but they will be considering it. In the meantime, boys and men in Europe & Australia can receive the vaccine.  Stay tuned for more information as it becomes available.
Follow me on Twitter@NurseBarbDehn.

This is an article written by a member of the SheKnows Community. The SheKnows editorial team has not edited, vetted or endorsed the content of this post.
Want to join our amazing community and share your own story? Sign up here.