We all come in different shapes and sizes. We do not recommend crash dieting or being hard on yourself. Embrace what you have! Follow a few of these tips to keep your machine humming! Metabolism is a critical part as to why you're losing or gaining weight. A big part of it has to do with your heredity. Just because you were born with a slow metabolism certainly does not mean you can't speed it up and help burn fat more efficiently. The power is within you to take control and use your surroundings to benefit your metabolism. There are many simple tips and tricks in aiding your metabolism, but the #1 way to increase your metabolism is hitting the gym. When you are working out, you are increasing your body's need for energy. Therefore, your metabolism speeds up to burn the excess "fat"  fueling your body. Working out 4-5 days a week should help you speed up or stabilize your metabolism at a good rate. Sometimes it's hard to get to the gym with a 9-5 job and you have to go late at night. Here are a couple of ways you can keep your metabolism going while working, on vacation, or just out and about.
1.  Get Acquainted with Your Omega 3's
These fatty acids help balance out your blood sugar and reduce any inflammation in your body, which helps regulate your metabolism. They are found in: Fish (salmon is a great source), fish oil, walnuts, broccoli
2.  Drink Green Tea
Research has shown that the ingredient, catechin, improves the metabolism, fat oxidation, and your body's production of energy from digestion. If you drink green tea, iced or hot, you can increase your calorie burn to about 80- 90 calories.
3.  No Drastic Calorie Reduction
Some people believe if they reduce their calories by a dramatic amount that this will help their weight loss, which is simply not healthy. Depending on your body type you need a certain amount of calories to keep your metabolism stable. If you reduce your calories too much, your metabolism slows down fat burning to conserve energy.
4.  EAT YOUR BREAKFAST!
Please, please, please do your body a favor and break your fast…it is called breakfast for a reason. Your body has been going hours without food and when you decide to eat, it wakes your metabolism up. What you put in your body helps determine how your metabolism will burn your food throughout the day. That's why a protein and a slow burning carb, like oatmeal, are great to start off your day. If you're in a hurry get a protein bar, make egg cups to go, or some nuts and fruit.
5.  Eat 6 Small Meals A Day
Eating smaller portions throughout the day helps your metabolism focus on burning the food quicker rather than using an excessive amount of energy to burn a much larger meal.
6. Increase Your Protein Intake
The more protein you consume, the more likely you will gain muscle, especially if you are weight training. Weight training is the best way to gain muscle whereas cardio is used to lose weight and potentially muscle. The more muscle you gain helps your metabolism speed up, because muscle burns fat and you are using more energy. Make sure it is lean protein: eggs, lean chicken, lean turkey, lowfat beef, tofu, tuna etc.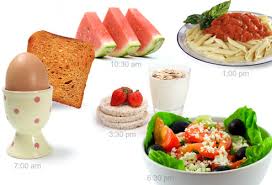 7. Get Your Z's In
Sleep is extremely important in benefiting not only your metabolism, but also in recovery. If you're not getting enough sleep, your metabolism will slow down and that will affect the resting calories you burn throughout your sleep.
8. Have A Cheat Meal Once A Week
When you are eating healthy all week and maintaining your metabolism, having a cheat meal will spike your metabolism. Have you ever heard of cycling? Well you can do this with high carb and low carb days. This is used to keep your metabolism working so you don't hit a plateau.
9. Drink a lot of Water
Everyone could drink more water as it is, but if you are drinking the recommended amount, you're not only keeping hydrated, but you are keeping a higher metabolism. Drink eight 12 ounce glasses of cold water a day. This will help you burn a few extra calories. Tip: Once you feel thirsty you are already dehydrated.
 10. Skip Your Alcoholic Beverages
Researchers at the University of Berkeley found that after two mixed drinks your body's metabolism puts on the breaks by 73%. Drinking takes a toll on your body and makes you become even more dehydrated, which will slow down the metabolism process.
Hope you enjoyed some of these simple tips that you can incorporate into your daily life.
Stay Healthy!
-T2B
Photos sourced from: www. sportyafros.com, http://evidence-basedlife.blogspot.com, healthyliving4teens.wikispaces.com, thefitmiss.tumblr.com
This is an article written by one of the incredible members of the SheKnows Community. The SheKnows editorial team has not edited, vetted or endorsed the content of this post.
Want to join our amazing community and share your own story? Sign up here.