This article was written by a member of the SheKnows Community. It has not been edited, vetted or reviewed by our editorial staff, and any opinions expressed herein are the writer's own.
Several weeks ago, I stumbled across a Facebook page that was allegedly about all things Pittsburgh and funny. After a few chuckles, I discovered that humor included content that was transphobic, homophobic, sexist, racist, racist, racist and classist. I repeat racist because it was pretty appallling - especially the comments.
So I blogged about it.  Content note - that link contains images that are offensive. 
The owners of the page apparently had some fallout with a few posts being reported and removed, but they gained followers - they had about 20,000 within 30 days of launching. That's an impressive amount of people in such a short time. They also retaliated by posting a little meme about me - it was somewhat harmless and passive-aggressive. It was also a copyright violation so it came down. I also can't post it here because I don't want to violate the copyright. It clearly wasn't a parody right or it would have been left up as a fair use of the image, right? 
I was dismayed that Facebook left most of the original content on the site so I wrote another blog post. This time I included a direct quote from the page owners (I have no idea who they are.)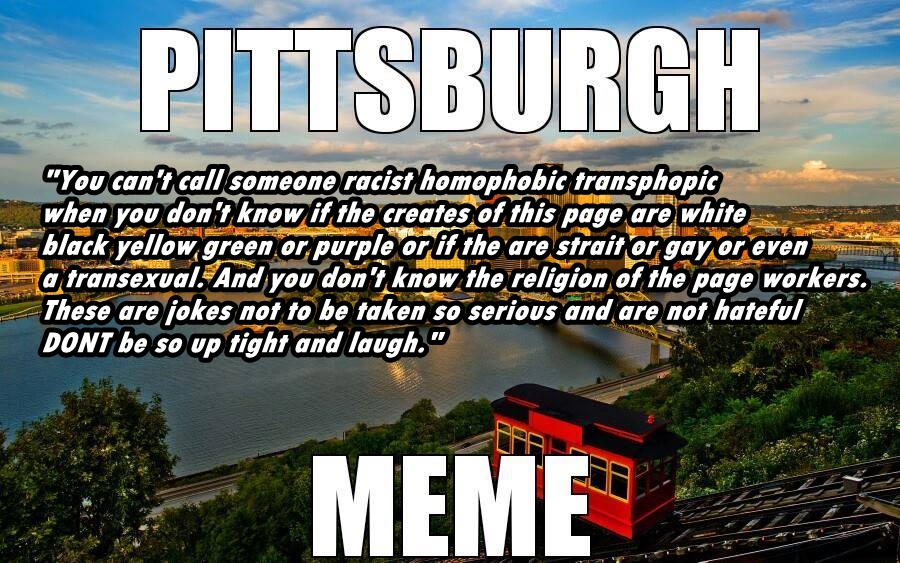 I figured they would keep laughing at me because their numbers continued to climb even though I had no active links to their page. They reposted some of the transphobic and classist posts.  They are at 25,000 likes. That's a lot of hate support (or ignorance.)
I wasn't *quite* expecting this.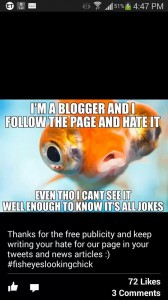 Fish-eyes-looking-chick.  Well, that's certainly flies in the face of their previous claim that "these are jokes not to be taken so serious and are not hateful." As the lovely Cindi Lauper might say, we see their true colors now, don't we? 
So let me take you back to January when I started the #365FeministSelfie project - I wrote a little blog post about my experiences being mocked and ridiculed my whole life about my appearance, especially my eyes. One of the reasons I chose to participate in this project is because I wanted to exorcise the remaining demons of those brutal experiences - I wanted to revel in taking my own photos. 
And I have! I have had so much fun and joy taking the pictures and selecting one to post. I think of crazy faces and props and captions. I try to say interesting things. I have been learning how to cope with my hand tremors when I take photos (I prop my elbows against my boobs - works great.) And I love the feedback - I only get a handful of comments here and there, but it is always sweet and endearing to read the comments. It lifts me up - both the process of creating the content and the engagement with other project participants.
After two months, it has given me some much needed resiliency so that when - out of the blue - someone hones in with a taunt that goes right for that vulnerable spot, I realize that my Achilles heel has grown a thicker skin. 
Don't get me wrong - I was unhappy. I saw a friend online and sent her a link just to get some confirmation and affirmation which she gave quickly. It has been a hard week for me. I wrote about a significant (to me) issue with our new Mayor and got some real craptastic feedback from people who perceive me to be ... well, wrong. Apparently, it is not a popular thing to stand up and ask questions about things that challenge white male privilege. I started with a new doctor so that was exhausting (intakes are fun aren't they?) And I gave a lot of energy to the murders of Crystal Jackson and Britney Cosby, two 24 year old queer women of color, in Texas. 
So while my reserves were a little low, my sense of proportion was very much intact - while intended to be a nasty, mean-spirited shot only served to reinforce my sense of outrage over the original issue - hate content. Hate - the reason these two women are dead. Hate - the reason people posted so many atrocious comments about a photo of pregnant black teenagers being a "welfare roundup." Hate - the reason 53% of anti-LGBTQ homicides were trans women in 2012.  
Hate exists and it is important that allies to all of these people - our brothers, sisters, neighbors, friends - that we find it within ourselves to do the hard work of calling out the hate BEFORE someone else dies. 
I give a lot of credit for my resiliency to the #365FeministSelfie project, I do. And I thank those of you who have chipped in to help me continue to fight the good fight. Because even if it does hurt my feelings, it is not going to stop me from calling out the haters.