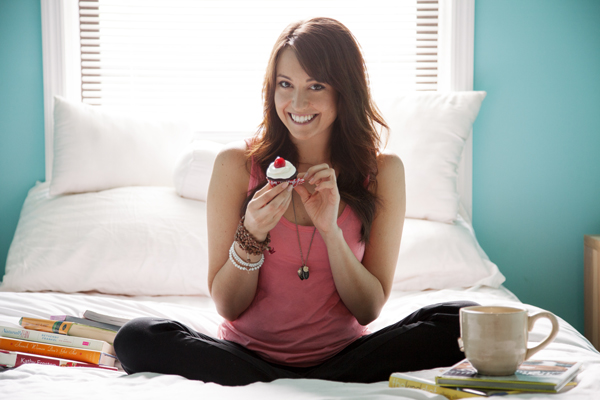 I wanted to take a minute to introduce myself to the blogher community. I plan on posting blogs regularly but thought my first should be a little info about me, who I am, and what I do!
I am proud to call myself a Happy, Healthy Lifestyle Guru,  I am dedicated to helping you live your sweetest + skinniest life and aim to provide a mecca of delicious recipes, countless tips and loads of inspiration here and on GoSweetandSkinny.com to help you learn to LOVE your body and your life! I encourage you to join our community here  and stay in the loop with exclusive weekly emails with my personal tips, inspirations and favorite recipes. It will support your vibrant, healthy life along with everything on my site,GoSweetandSkinnyTV, the facebook, my instagram, twitter and pinterest. They are all their own unique tools to help motivate and inspire you to lead your most fabulous, fit life! I hope you utilize them!
I also LOVE working with people one on one to help them achieve their specific health and wellness goals. I am a proud student of the   Institute of Integrative Nutrition. During my training, I studied over 100 dietary theories, practical lifestyle management techniques, and innovative coaching methods with some of the world's top health and wellness experts. My education has equipped me with extensive knowledge in holistic nutrition, health coaching, and preventive health. Drawing on these skills and my knowledge of different dietary theories, I work with clients to help them make lifestyle changes that produce real and lasting results. My coaching clients, lose weight, feel happier and learn REAL tools that they'll use for the rest of their lives. If you're interested in learning more about this in detail, check out my COACHING PAGE - it's all explained! Sometimes I even offer group sessions on specific topics like meditation, healthy cooking or juicing – for info on that just sign up for the newsletter and I'll keep you posted when anything like that comes up!
How did Go Sweet and Skinny come about?
Well it's a long story but I'll try to give you the cliff notes version without leaving out any juicy details! For as long as I can remember I was uber conscious of my weight. Growing up, I was always trying to do something to lose weight. It was this endless, exhausting pursuit and then I got to college. I LOST the freshman 15, but mainly because the only thing I could bare to eat from our dining hall was cereal, so that's pretty much all I ate AND I worked out like a fiend. I went to school for acting and as an actress, now in a more competitive environment than ever before, there was definitely a lot of pressure to be thin and in shape. In college, I watched too many girlfriends develop unhealthy relationships with food and knew there had to be a better way! I actually developed really intense stomach pains from my cereal + dairy heavy diet and ended up in the infirmary wondering what was wrong with me. My prescription? An elimination diet, eliminate anything that could possibly be irritating me and then slowly start adding things in one by one to see what bothers me. I took this as an opportunity to try out a vegan diet and did a bunch of research before deciding to take the plunge! It wasn't easy, and I certainly made a bunch of really gross food before mastering the art of vegan cooking and baking  but once I got it right, it was magical. I actually felt lighter and healthier than ever before. I described it to my friends as,"running on the best fuel possible." I started giving my vegan and low fat baked goods to my friends to try and everyone loved them. That's when I started getting the ," oh, you should write a recipe blog!" comments. It was back in those early days that I started logging recipes, as I grew and got more savvy so did the blog. I learned through eating plant based and clean that anything can be made healthier and we don't have to sacrifice the foods we love to give our bodies the best possible fuel possible. We can have our cake and eat it too! 
The Go Sweet and Skinny you see today has been formed after a couple more years of not only making healthier recipes but in learning to love myself and my body. The biggest tools I have developed over the years go beyond the recipes. Learning to STOP fighting my body, STOP trying to punish it with some fad diet or monitor every little thing that went into it and starting to appreciate self-care, talk to my body like I would my best friend, ditch those diets and calorie counting and start putting REAL food that makes me feel great into it. Those were the keys to the kingdom. Yet my journey is far from finished, we all have ups and down and there is always more room for growth. This past year I have started incorporating meditating in to my daily routine and it has been a life changer! I'm happier, less stressed and healthier because of it. It's now a part of Go Sweet and Skinny as well because I believe it can be a great tool for everyone. I'm always trying new things and reading about the latest developments in health and fitness. I look forward to this community growing with me and us all becoming more knowledgable about what makes our beautiful bodies tick and helps us lead our most amazing lives.
I think that life is a lot like baking cupcakes, sometimes it's a big, sticky mess and it sure gets hot with the oven always on but when you combine the right ingredients and mix it all up with love, it always ends up sweet and skinny.
Looking forward to staying connected.
Peace, Love and Cupcakes,
Cassandra
**Let's also get this straight, when I use SKINNY, I do not mean anorexic, unhealthy, dangerous skinny. I playfully refer to SKINNY as in the way you will feel when you are eating right, exercising right and at a comfortable weight for your body. I am open and welcome to any questions or comments you may have, so don't be shy! Of course, before you start any diet or fitness routine you should ask your doctor to make sure it's right for you.
This is an article written by a member of the SheKnows Community. The SheKnows editorial team has not edited, vetted or endorsed the content of this post.
Want to join our amazing community and share your own story? Sign up here.