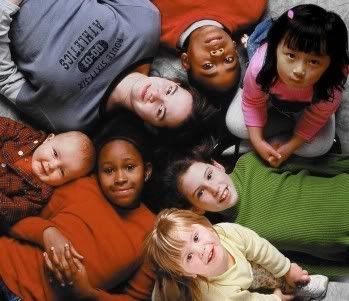 If kids are obese as teens and don't lose weight, they are much more likely to become obese adults.  In fact 65% will become obese, compared to only 14.6% of normal weigh kids who will become obese as  adults.  Right now,  about one half of all adults in the US are considered overweight or obese and that numbers is only increasing.  In fact, in the developed world, more people now die from the effects of overeating an abundance of food as the number of people who die from not having access to enough food.
Diabetes, heart disease and other conditions that are caused from being overweight can be avoided and it's especially important to work on this before adulthood.  Helping kids be attain a healthier weight is one of the most important things you can do for them.
Don't wait to intervene and talk to your kids about becoming healthier. 
There's Alot You Can Do To Help Your Kids
Start with how you shop and what you buy at the grocery store. Avoid the middle aisles and try to buy the majority of your food from the sides of the store, where the fresh fruits and vegetables, and dairy are.  The middle aisles are devoted to processed and snack foods, which are loaded with empty calories
Read labels.  Are there more than 30 grams of carbohydrates in a serving? If so, try to limit the amount that you're serving and make sure there are a limited number of other foods with  more than 30 grams of carbs in the same mood
Vegetables make great car snacks:  When kids are captive and there are no other options, suddenly baby carrots are appealing. You can also offer celery with peanut butter. Whatever you do, don't stop for chips, fries and soda.  Be a hold out, because eventually your kids will readily agree to munching on vegetables during car rides
This winter, start a weekly tradition of soup and sandwich or soup and salad. Start with the soup and wait at least 10 minutes after everyone finishes to serve 1/2 sandwich. By that time, most kids are full and will learn to eat less, and
Speaking of eating less, we all have to slow down and eat much, much slower. Our brains need at least 20 minutes to get the signal that we're getting full.  By eating slowly, your brain has a chance to catch up with your stomach. Encourage your kids to do something as simple as putting their forks down between bites and not wolfing down their food.
Keep checking back for more tips on weigh loss.
Follow me on Twitter@NurseBarbDehn.
This is an article written by a member of the SheKnows Community. The SheKnows editorial team has not edited, vetted or endorsed the content of this post.
Want to join our amazing community and share your own story? Sign up here.