Once upon a time, a smart working gal started her days at the corner coffee shop, fixated on a pumpkin muffin (pumpkin? it's a vegetable!) and a latte (with skim milk! women need their calcium!). Turns out, the smart working girl (who, me?) wasn't so smart, spending $6 a day ($1600 a year!) and consuming nearly 700 calories (the equivalent of a double cheeseburger and a small fries!).
Starbucks' New Breakfast Muffin
Starbucks is looking to increase our average ticket with the addition of healthful breakfast options. "Start your day right!" they say when presenting the new breakfast foods. So what about their Apple Bran Muffin? How healthful is it, really? Hmm. It's impossible to say since -- what's up with this? -- no nutrition data is supplied by Starbucks. All we get is:
"Apple Bran Muffin -- A good source of fiber, with hearty grains, dried cherries and baked apple."
~ nutrition information ~
Right. Like this is enough, Starbucks? Even if you're not required to provide the information, isn't it the right thing to do, given that you're promoting good health?
Panera Muffins
Panera quick-serve restaurants are a favorite hangout for American bloggers hungry for caffeine and free WiFi. (We appreciate the free WiFi, really we do, thank you, Panera!) But the muffins -- my favorite pumpkin muffin, say -- are dangerous ground for eaters.
First, there's the calorie issue. A pumpkin muffin has 530 calories, 20 grams of fat and a full 47 grams of sugar. YIKES, that's 11 Weight Watchers points, more than half a day's calories for the avereage-sized woman who follows the eating plan. In part, this is due to the muffin's size, it's huge. (For the record, Panera does offer options, the Low-Fat Blueberry Muffin say. It's an improvement, with 360 calories, 10 grams of fat and 35 grams of sugar -- and 7 Weight Watchers points, still 1/3 of a day's calories.) And then there's the ingredient issue, just look at what's in the muffin -- take note, especially, of the first ingredient, sugar. (Did you know? Ingredients are listed in order of their contribution.)
Panera's Pumpkin Muffin Ingredients:

Ingredients: Sugar, enriched wheat flour (flour, malted barley flour, niacin, ferrous sulfate, reduced iron, thiamine mononitrate, riboflavin, folic acid), pumpkin, soybean oil, palm oil, whole eggs, leavening (baking soda, sodium aluminum phosphate), water, salt, natural and artificial flavor, spice, honey, corn starch, mono & diglycerides, polysorbate 60, wheat starch, glycerin, caramel color, citric acid, red 40, yellow 5 & 6.

~ By the way, Panera, is there some reason why your nutrition information doesn't load? Is it just Firefox on a Mac or all browsers and Windows too? OH WAIT -- it does open, but in another window, making it easy-easy to miss. What's up with that, Panera?
See what I mean? No wonder that smart girl got into trouble, spending and consuming too much.
What's the Solution?
Regular followers know that my bias is always -- always -- to cook and bake at home, whether we're looking to save money on groceries or to control our diets for calories and whole foods. Trouble is, many home-style muffin recipes are disasters in their own right, really just cake baked in a muffin tin, sweet and gooey -- which is fine, really, so long as we know we're eating dessert for breakfast.
But what makes a muffin healthy?

Photo by Dani Spies
How to Know a "Healthy" Muffin Recipe When You See One
Muffin Size - If a recipe calls for 'giant' muffin tins, the portion sizes are going to be big-big-big. Instead, look for (or instead, use) recipes that call for either regular-size or mini-size muffins: instant portion control.
Fat - Healthy muffin recipes will usually call for fewer than four ounces of total fat, for example, that would be less than a half cup of fat, less than a stick of butter, say. (This assumes the recipe is making a dozen muffins.) Recipes that call for an unsaturated fat (a plant-based fat such as vegetable oil or olive oil or canola oil) are preferred over recipes that call for saturated fats (usually butter). Any recipe that calls for a hydrogenated fat (such as Crisco) should be avoided or the fat substituted with a more healthful fat. Some recipes go so far as to replace the fat, partially or entirely, with applesauce or smashed prunes. I've used small jars of baby food -- sweet potatoes, say -- to substitute for fat, too.
Flour - Healthy muffin recipes will call for a good portion of a whole-grain flour. (Few use 100% whole-grain flour because the results are tough and dry.) You can increase the healthfulness of any muffin recipe by using unbleached all-purpose flour (avoid enriched flour which has been stripped of all virtually all nutrition and then had some but not nearly all added back in) or better yet, white whole wheat flour, which is 100% whole wheat flour specially ground to be substituted -- nearly always with good results -- 1:1 for all-purpose flour. If you want to modify an existing muffin recipe to whole grain, replace one-third to one-half of the all-purpose flour with whole wheat flour.
Sugar - Nearly always, you can cut a muffin recipe's sugar by one-third to one-half, especially if the recipe is from the States, since our recipes are nearly always sweet-sweet-sweet, less so if the recipe comes from Europe or Australia, say, where sugar is less emphasized. In addition, watch for recipes that call for demerera sugar, an unrefined sugar, and especially for (or simply substitute) agave nectar, the plant-based, low-glycemic sweetener suitable for diabetics and all who limit their sugar intake. Maple syrup, molasses and honey are also good sweeteners. In my opinion, Splenda and other sucralose sweetener products (that is, it's a product, not a food) should be avoided.
Added Healthful Ingredients - Look for additions like wheat germ, oat bran, flax seed, ground rolled oats, all of which contribute protein, fiber and healthful nutrients.
Liquid - Watch for recipes that call for low-fat buttermilk or skim milk. Avoid recipes that call for sour cream, especially if it calls for butter and sour cream although low-fat or non-fat yogurt can be substituted.
Nuts & Fruit - Nuts and fruit meet the 'natural' and 'whole ingredient' qualifications although do add calories along with protein and nutrients. To improve the healthfulness of muffins, try to use 'less' of these ingredients, just enough so that the muffins are satisfying, versus loaded. Other tips:
Toast the nuts before adding them to the muffin batter. Toasting draws out nutty flavor: this means you can use less but taste more. Chop the nuts small enough that they can be distributed throughout the muffin batter but not so small that they disappear.
Pick fresh fruit over dried fruit, since the drying concentrates the sugars and creates dense calories. But -- dried fruit is so convenient! So chop dried fruit first, the smaller pieces will be easier to distribute throughout the batter. Often you can use less but the distribution makes it 'seem' like more. If your recipe calls for raisins, substitute dried currants which are slightly less sweet and are already small in size so don't need chopping.
Spices - Since healthy muffins are lower in fat, watch for a good measure of spices to bump up the flavor.
Icing - Reserve the icing for cupcakes! That said, if you want a little burst of sweetness on the top, dust cooled muffin tops with just a sprinkle of powder sugar. (If you dust them while the muffins are still warm, the sugar will melt into the muffin top, eliminating the aesthetic appeal.)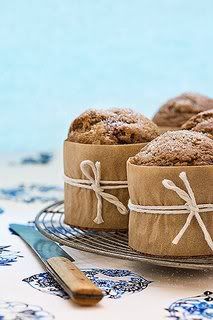 Photo courtesy of Cookbook Catchall
Healthy Muffin Recipes
Cookbook Catchall ~ Very Berry Health Muffins
Farmgirl Fare ~ Fruity Bran Muffins (three variations)
Food Blogga ~ Healthy Muffins
Dani Spies ~ Quinoa Raisin Muffins
Apples & Oranges
Deb's Key West Wine & Gardening ~ Whole Wheat-Oat Muffins
Eat Me Delicious ~ Applesauce Oat Bran Muffins
Dil Se ~ Carrot Muffins
Apples & Oranges ~ Morning Glory Muffins
The Healthy Muffin Challenge
What can we do?
> Get the facts - If you eat a muffin from a restaurant or morning stop often, check the nutrition information. Is there room for this muffin in your diet?
> Favorite muffin recipes - If you make a favorite muffin, ask yourself, is it a healthy muffin? Could it be made just a little bit more healthful, say, with ingredient changes? Small steps make a difference, one step at a time. Make the muffin some time soon, report back.
> More healthy muffin recipes - Does your recipe box or recipe blog include a recipe for healthy muffins? Share your link in the comments!
BlogHer food editor Alanna Kellogg's favorite healthy muffin is a Hearty Heart-Loving Muffin.
This is an article written by one of the incredible members of the SheKnows Community. The SheKnows editorial team has not edited, vetted or endorsed the content of this post.
Want to join our amazing community and share your own story? Sign up here.