Finding Vegetarian, Vegan, Gluten-Free, Dairy-Free, Allergy-Friendly, Low-Glycemic, Low-Carb, or Low-Fat Thanksgiving Recipes!
Can you believe Thanksgiving is only a week away? At this time of year, magazines and traditional food sites pull out all the stops with delicious-looking foods. That can be fine if you have a crowd who can (and will) eat anything, but when you're trying to make a Thanksgiving dinner to accommodate a special diet, food blogs can be a great place to look. I'm here to help you find amazing vegetarian, vegan, gluten-free, dairy-free, allergy-friendly, low-glycemic, low-carb, and low-fat Thanksgiving recipes.
Instead of individual recipes, this year I decided to focus on recipe round-ups or bloggers where I could find a recipe archives section or site search results for good Thanksgiving recipes focused on a certain diet. I actually started out thinking these kinds of things may be tricky to find, and by the end I simply told myself, "Stop!" There should be enough ideas here to give you plenty to shop for this weekend, so get clicking!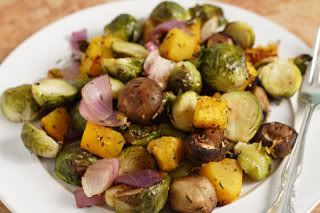 Vegetarian or Vegan Recipes for Thanksgiving
~Susan from Fat Free Vegan Kitchen has some good Vegan Thanksgiving Recipes, like her husband's favorite Roasted Pumpkin and Vegetables (pictured above).
~At 101 Cookbooks, Heidi has put together a collection of Vegan Thanksgiving Recipes and a collection of Vegetarian Thanksgiving Recipes.
~It's usually a given that cupcakes are vegetarian, and there's a collection of Thanksgiving Cupcakes at The Cupcake Project.
~Serious Eats has menu suggestions for a Vegan Thanksgiving.
Gluten-Free, Dairy-Free or Allergy-Friendly Recipes for Thanksgiving
~You'll find a great 2008 Round-Up of gluten-free Thanksgiving ideas at Karina's Kitchen. Karina's recipes will also be dairy-free and generally allergy friendly. That post also has lots of tips for surviving Thanksgiving if you're sharing dinner with people who think food = love and don't understand how serious food allergies can be, plus links for other places to find gluten-free Thanksgiving recipes.
~There's a whole category of Gluten-Free Thanksgiving recipes and recipe round-ups at Gluten-Free Bay.
~Go Dairy Free has Tips and Recipes for a Dairy-Free, Vegan, and/or Gluten-Free Thanksgiving.
~The Allergic Kid has a Round-Up of Allergy-Friendly Thanksgiving Recipes submitted by other bloggers.
~A Gluten-Free Guide has a collection of Gluten-Free Thanksgiving Dessert Recipes.
~Ginger Lemon Girl has An Easy Gluten-Free Thanksgiving Menu with Recipes.

Low-Glycemic, Low-Carb, or Diabetes Friendly Thanksgiving Recipes
~At Kalyn's Kitchen, I've been collecting an assortment of Low-Glycemic Holiday Recipes for Thanksgiving 2008, with links to low-glycemic Thanksgiving recipes from Thanksgiving 2007 and Thanksgiving 2006.
~You can find plenty of Low Carb Vegetable Recipes that would work for Thanksgiving at A Veggie Venture.
~There's a wonderful section of Low Carb Recipes at Simply Recipes, where I spotted lots of ideas for dishes that would be good for Thanksgiving (including the Green Beans with Shallots and Pancetta pictured above.)
Low Calorie or Low-Fat Thanksgiving Recipes
~There are ideas for surviving Thanksgiving while trying to lose weight in the Thanksgiving category at This Mama Cooks on a Diet.
~For people who are seriously dieting at Thanksgiving (if you can't talk them out of it!) you could find something very low calorie in the Vegetable Recipes with Weight Watchers Points at A Veggie Venture.
General Information about Thanksgiving on a Special Diet
~At Dinner Tonight, the blog at Martha Stewart.com, there's a good post about Transforming Thanksgiving Recipes for Special Diets.
Finally, check the post from a few weeks ago when we asked BlogHer cooks for their best Thanksgiving recipe, because you'll find some great recipes for special diets there. Also back in 2006 I talked about Thanksgiving Recipes for Every Diet, where you'll find lots of individual recipe links for various eating plans. And of course, if you're cooking Thanksgiving with a special diet in mind and have a good recipe idea to share, please leave the link or your recipe in the comments.
Kalyn Denny writes about food and at BlogHer.com and shares her passion for cooking at Kalyn's Kitchen. This year Kalyn's favorite new South Beach Diet Friendly Thanksgiving recipe is Low-Sugar Pumpkin and Apple Crumble with Cranberries.
This is an article written by one of the incredible members of the SheKnows Community. The SheKnows editorial team has not edited, vetted or endorsed the content of this post.
Want to join our amazing community and share your own story? Sign up here.