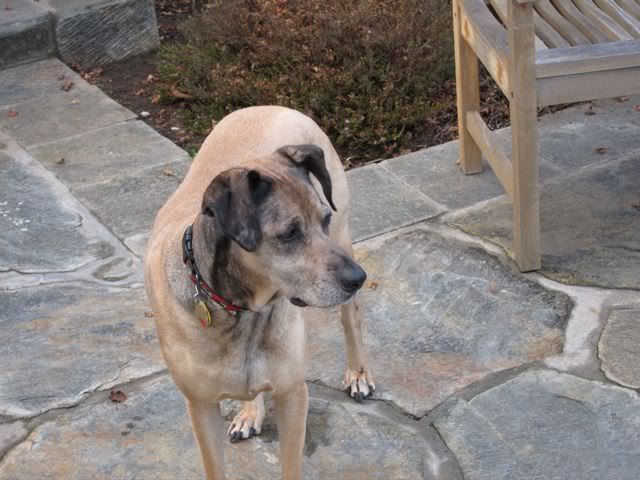 It was a lovely Saturday afternoon. I had just finished 3 loads of laundry, done some grocery shopping, put dinner in the crock pot and worked on a lecture. With the mantra to Put my Own Oxygen Mask on First repeating in my head, I got into my workout clothes and headed to the Y for a work out. My husband had our dog, Cookie with him at the nursing home visiting his Dad.
We always brought her along because she loved to be petted and fussed over, her ears are softer than soft and her big brown eyes just invite people to reach out and pet her.
We knew that Cookie loved going too. She didn't hesitate when we'd arrive, bounding out of the car, excited to get in. We knew that her nose was working overtime at the nursing home. She was in heaven, sniffing the residents, their wheelchairs, their outstretched hands. She especially loved one lady who was invariably at the entrance, greeting visitors in the lobby.  Her twinkling bright brown eyes always made me smile. She wasn't able to speak, but was a warm and friendly person, who dragged her oxygen tank along with her. Her raised eyebrow and smile was my signal to give her the news of the day, which she listened to and nodded along with. She and Cookie had a very special relationship too. She'd take bring her head down to Cookie's level, reach out to hold her just below the ears and the 2 of them would stare at each other until Cookie would want to kiss her.  Even with an oxygen cannula, this wonderful lady loved Cookie's kisses. If Cookie was a smaller dog, I'm sure she'd invite her up onto her lap.
Grandpa loved Cookie's visits too. He'd save some of his lunch for her and in return she'd sniff out him, his bed, chairs and finally when she was satisfied that he was ok, she wouldn't leave his side, parking herself as close to him as anyone so that they could be in constant contact. He always felt cold and used thermal underwear, extra socks, sweaters and blankets, but the best way to stay warm was to have Cookie right there. Once when he was tired and no one was looking, we let Cookie get up in bed with him for a few minutes so that they could greet each other properly. Grandpa just sighed with a slowly forming smile as she licked his cheeks and he rubbed her neck. She curled up next to him like a canine electric blanket.
The nurses and staff enjoyed Cookie's visits too. It seemed that everyone wanted to check on Grandpa when Cookie was there.
Follow me on Twitter@NurseBarbDehn.
This is an article written by a member of the SheKnows Community. The SheKnows editorial team has not edited, vetted or endorsed the content of this post.
Want to join our amazing community and share your own story? Sign up here.