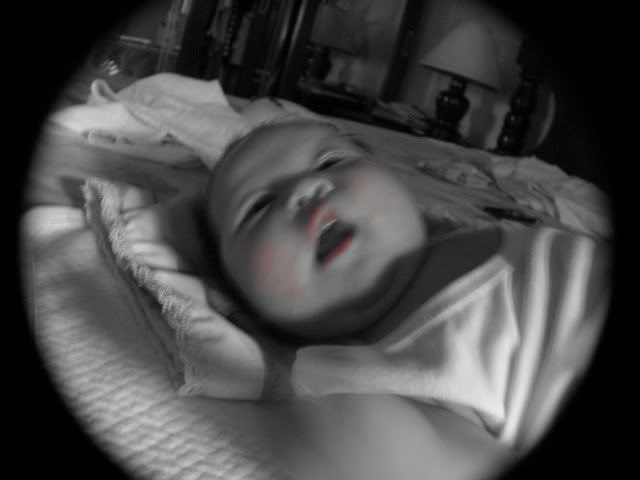 When my son was a baby his face would develop red irritated cheeks, and his arms and leg would show signs of eczema. I had tried everything from using special laundry detergent to eliminating foods from my diet to decrease any possible exposures in the breast milk.  We had seen the pediatrician who said that it looked like a "contact dermatitis" and that something was obviously irritating his skin.  She recommended a mild cortisone only when it became severe, and to use Aquaphor on his face.
As a mom, I had nightmares of him never outgrowing this phase and always having to deal with red, raw and irritated skin. I felt so bad for him. There were even some diaper creams that made his skin look worse, not better. I switched to pure zinc oxide found in Balmex, which seemed to work without any irritation.
One day, I saw his face go from perfectly smooth to raw and red after a quick nap on my husband's chest, who was wearing a fleece vest. "AHA"  Wait just a second. Could it be that he was reacting to the man-made fibers in fleece? What we finally figured out, was that whenever his face or any other exposed skin rubbed up against anything other than cotton or natural fibers, he would have a flare of ezcema.  Fleece, is made from petroleum products and even petroleum jelly would cause a flare up.  Then I looked at the ingredients in various diaper creams, and another "AHA moment", the ones that didn't work for him all had petrolatum jelly!
This little boy's skin didn't like petroleum based products and man made fibers. It was a relief to find the cause. From then on, I made sure I had an unlimited supply of pure cotton burp cloths for everyone to wear if they wanted to pick him up. And kept old cotton T-shirts around to pull over clothes to keep him from reacting. We switched to all cotton underclothes and his skin cleared up. What a relief. 
What About Prevention? 
A recent study found that babies who had skin emollients (creams) applied daily were 67% less likely to develop eczema. This study was done in the US and the UK with babies who had a strong family history of developing eczema.
Parents were given various options for which type of emollient they could use, including:
Cetaphil cream (US) 
Doublebase gel (UK) 
Aquaphor (US), and
50-50 ointment (UK).
This study involved 124 infants who were followed for 1-2 years. Another larger study is going on now. However, if you have a strong family history of atopic dermatitis, contact dermatitis or eczema and you have a little one, do talk to your pediatric health care provider about using a daily emollient to help prevent skin irritation and eczema.  And of course, if your baby is showing signs of skin irritation take a look at the things they're exposed to. 
Follow me on Twitter@NurseBarbDehn.com.
This is an article written by one of the incredible members of the SheKnows Community. The SheKnows editorial team has not edited, vetted or endorsed the content of this post.
Want to join our amazing community and share your own story? Sign up here.