This article was written by a member of the SheKnows Community. It has not been edited, vetted or reviewed by our editorial staff, and any opinions expressed herein are the writer's own.
Corn Meal Mush is amazing. Nutritious and good for you, it can be made ahead, sitting in your refrigerator, waiting for a quick meal or snack. There was a time when a household always had mush in the kitchen, like most Amish homes today. But, slowly, this mainstay fell by the wayside as people became more sophisticated, or so they thought....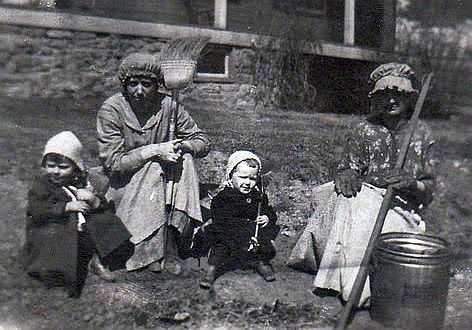 After a hard day of yard work, it's time to put anothermeal on the table.  No biggie!  All you have to dois fry some ready made Corn Meal Mush!
IMPORTANT NOTE: There is a FREE downloadable PDF on the second page.
Corn Meal Mush is a long forgotten staple for those of limited means. I didn't have the opportunity to forget it as I had never heard of it until I became friends with the Amish. Served at least once a week, it can be found at breakfast, lunch and/or dinner in an Amish home. Corn Meal Mush is their rice or pasta. I sure wish I had known about the option when I was in college, along with slow cooking nutrient dense food. Rather than existing on chicken noodle soup and Cheerios, I could have had nutritious, inexpensive, easy to prepare meals waiting for me in my refrigerator every day of the week. But, I have made up for lost time. I tell everyone I know about the delights and practicality of Corn Meal Mush and its logical endpoint, Fried Corn Meal Mush.
Organic Polenta Corn Grits make the best Corn Meal Mush.
When I first learned about this "new" and amazing food stuff in the 1980s, we used the corn meal made by Quaker Oats, packed in a smaller cardboard round box, much like the Quaker Oats oatmeal. But, now with the Organic Polenta Corn Grits available, my Corn Meal Mush has extra vibrancy and go power. The coarser grit of the Polenta delivers lots of flavor.
Place 9 cups of filtered water and 3 1/2  cups of Organic Corn meal in a saucepan. Add salt to taste. I add 1 1/2 teaspoons of Real Salt.  Now, here is the trick: you MUST stir it the whole time over medium to medium/high heat. Do not answer the phone. Don't try to put a dish in the dish washer, just STIR YOUR MUSH. That's the only hard part. Multitasking is not allowed, if it involves hands.
Eventually the corn will expand and become one with the water. DON'T STOP STIRRING until you take it off the stove. It should be like hot cereal and very homogeneous as it starts to bubble.
At this point, you can call it a day and just have hot cereal. Add butter and maple syrup for the pancake route or cheese and tomato sauce for the traditional Southwestern Polenta route. The good news is if you keep going to make the Fried Corn Meal Mush, you will probably have enough left over for a bowl of hot cereal to reward you for your trouble as well.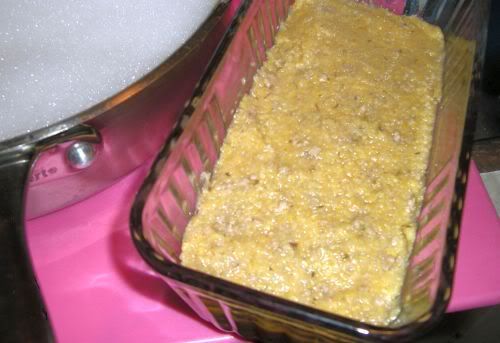 So, pour the hot cereal Corn Meal Mush into containers. Loaf pans or refrigerator dishes work well and they DON'T need to be greased.  I usually get three loaf pans or one loaf type pan and one large refrigerator dish. Notice I am showing the saucepan full of soapy water, because once you pour the cereal and scrape the pan, the saucepan needs to be filled with water. If you forget, the cereal bits will turn to concrete and be hard to remove.
Now, let the Mush cool to room temperature, then put it in the refrigerator until it congeals. When solid, slice, dredge all sides in flour and fry in organic coconut oil
Here are the Mush slices when they start and...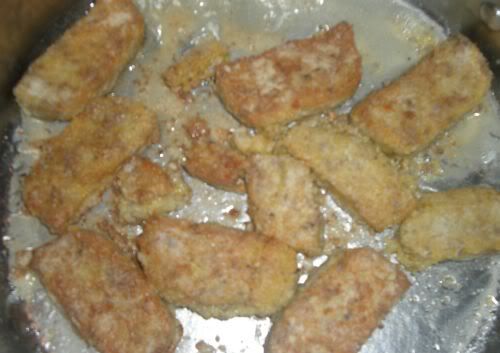 ...here they are when getting golden.
Dinner's ready! Yum-Yum and Cheap-Cheap!
The evening we made this for dinner, we had organic coleslaw, organic bacon and organic scrambled eggs cooked in organic bacon grease. Those of you not familiar with the Weston A. Price philosophy will be shocked at eating eggs cooked in bacon fat like people used to do before the misinformation about low-fat diets became popular.
The truth is, high cholesterol has never been scientifically proven to cause heart disease. In fact, this country's heart disease skyrocketed when low-fat diets became popular. So did many neurological and neuromuscular problems. Most people do not have enough fat in their diets and they are suffering for it.
Here is a very important PDF about the myths of cholesterol that have been foisted upon the public for many years. And, BTW, those of you suffering from depression may be fat starved. This is serious stuff! You must have good organic fats in your diet to survive and thrive.  There are many articles and endless references on the Weston A. Price web site. Be sure to research this information. When you hear it for the first time, it is difficult to believe.