We are officially back from vacation after a wonderful week in Ocean City, NJ.  Now that it is Monday, it is back to the grind! I have sports nutrition on the brain, and was going through some pictures so I decided to share some tidbits with you.
Do you find yourself sifting through all the latest sports nutrition information trying to figure out what is truth, and what is, well, just whack? There are all sorts of myths floating around out there, so I will help you sort through them and get straight to the facts.  I recently held a nutrition workshop with some running groups at Fleet Feet in Greenville South Carolina at Swamp Rabbit Grocery.  These were some of the myths that were debunked.
1)  Carb loading: Does all that spaghetti really work?? 
A few days before the event, Carbs should be the center of your meals.  At this time, up to 70% of your food should come from carbs.  If you are training more than 90 minutes a day, you need the carbohydrates to refill glycogen stores.  Less processed, more whole/real foods are key.  Fruits are great sources, and pizza is not the best option.  If you put it off to the last minute, it's better to NOT Carb load the night before. This will just make you feel heavy and bloated the next morning.
Recommended: Carb-heavy breakfast or lunch the day before, because it gives your body time to digest.  Have a normal dinner, then a carb-rich snack before bedtime. If you know your nerves will get the best of you race morning, eat a healthy "breakfast" the night before.  A good example would be a bagel with peanut butter and a banana.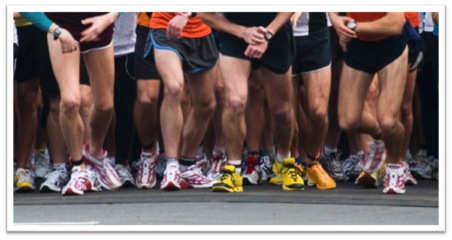 2) Protein: Should I eat a protein bar for a pre-workout snack? 
Protein digests into amino acids that are then ready and waiting to be taken up by the muscles.  You will optimize your body's ability to build and repair muscle if you have a little protein with your carbs before you workout.  A yogurt, cereal with milk, or a slice of peanut butter toast will do the job just fine!  There really isn't a need for a bar with a ton of artificial ingredients.
3) Fluid/Sports Drinks: Are all sports drinks the same? 
With so many sports beverage options, it is hard to sort through which one is best.  Water or coconut water is not enough for endurance athletes that are exerting themselves for longer than 90 minutes at a time.
A sports drink should contain 6 to 8 percent carbohydrate
Sports drink should not contain Fructose as the main sugar because it can cause GI upset
Should contain Vitamins A, C, and E (antioxidants)
Should contain electrolytes sodium, potassium, and magnesium although most contain only two of these
[sc:apple] Pantry Doctor recommended sports drinks:
Golazo- with half the ingredients of Gatorade or Powerade, coconut water as the base, cane sugar as the carb source, and gluten-free/GMO free this is the #1 on my list!  If you have never seen it before or don't know where to find it, it can be ordered on amazon here.
Vita-Coco with orange-  regular coconut water does not have enough calories to replace energy for the endurance athletes, but the extra calories, sugars, and vitamin C in Vita-Coco with orange make it a good option.  It is definitely heavy on potassium, packing in more than 15 times that in other sports drinks.  This came in below the Golazo, because sometimes coconut water can cause GI upset.
4) It is better to exercise on an empty stomach.  
If you can't fuel, it you can't do it! Here are some healthy options:
oatmeal and fruit
eggs and fruit
toast and peanut butter
smoothies
even leftovers!
5) I thought breakfast the most important meal of the day? 
Nope, not for the athlete! Your Recovery Meal is the most important! Just remember that just because you went all out for a couple of hours, doesn't give you a free pass to eat whatever you want.  No other meal has as much impact on your energy for your next workout than your RECOVERY meal, especially if your next workout is within 24 hours. One more time so you won't forget: RECOVERY.
6) Caffeine: Don't drink coffee before a run because it is dehydrating!
A pre-workout cup of joe is not dehydrating, and can actually boost performance! Caffeine boosts alertness and reaction time, and makes you run harder without feeling it.  Athletes that enjoy coffee, keep it up!
7) Vitamin Supplements: Will they give me energy? 
My answer you is: what is energy? Energy comes from calories, and only calories can convert to energy.  Supplements only give your body the vitamins and minerals it needs, but has not calories, so it does not = ENERGY. Simply put, your body needs calories to process and absorb the vitamins and minerals.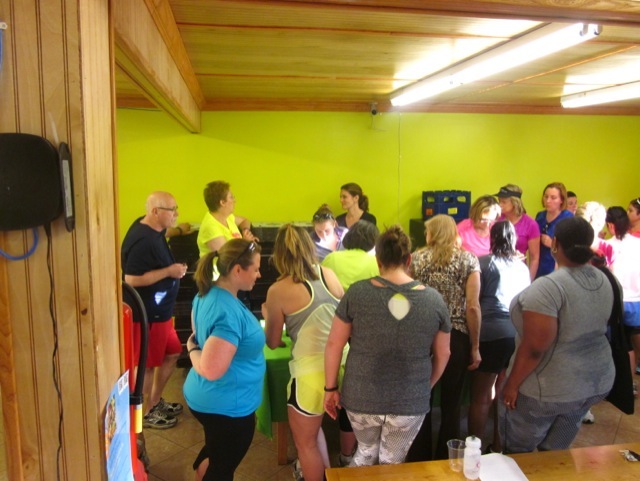 I could write all day about sports nutrition myths, but these are just a few tidbits of advice.  These are some of the most common as they relate to training and performance for endurance athletes.  If you would like help with nutrition to optimize your performance through nutrition coaching contact me at wendie@pantrydr.com.  For more information on sports nutrition go to www.scandpg.org.
-Wendie Schneider RDN, MBA "The Pantry Doctor"
This is an article written by a member of the SheKnows Community. The SheKnows editorial team has not edited, vetted or endorsed the content of this post.
Want to join our amazing community and share your own story? Sign up here.