This article was written by a member of the SheKnows Community. It has not been edited, vetted or reviewed by our editorial staff, and any opinions expressed herein are the writer's own.
Tomorrow begins fifteen days of celebrating Chinese New Year, an important holiday for many Chinese or Asian people. In China, traditional celebrations include activities like New Year's visits, new clothes, vigorous house cleaning, red envelopes with money, family dinners, special foods, and fireworks. Around the world, many cities with large Chinese populations have celebrations as well. On Blogher, Mata has written about Chinese New Traditions, and I've collected ideas from food bloggers to help you celebrate the Year of the Ox, no matter where you are.

One of the best known Chinese food bloggers living in the U.S. is Jaden from Steamy Kitchen, and every year she comes up with interesting ideas for Chinese New Year's celebrations. This year I loved her idea of making Chinese Tea Eggs. Jaden gives excellent instructions, and they're actually easier to make than they look, so this is an activity I think would be fun to do with kids. (Chinese Tea Eggs from Steamy Kitchen are pictured above.)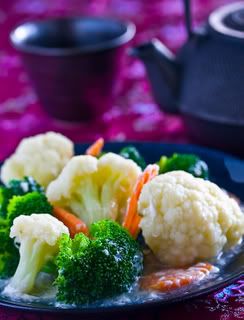 Jaden also has lots of other ideas for Chinese New Year's Recipes, including the gorgeous dish pictured above called 100 Flower Blossoms, a recipe Jaden got from her mom.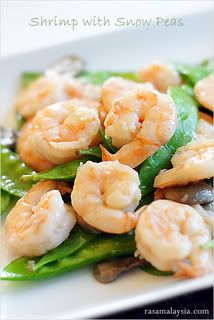 Another well-known Asian blogger is Bee from Rasa Malaysia, and she has an impressive collection of 12 Chinese Recipes for Chinese New Year. They all look drool-worthy, but I was especially taken with her version of Shrimp with Snow Peas. (Shrimp with Snow Peas from Rasa Malaysia is pictured above.)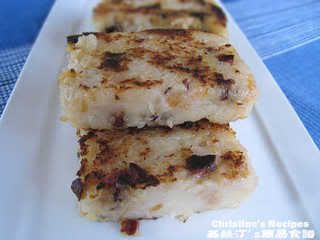 Christine's Recipes is making Chinese Turnip Cake, a traditional dish often served to bring in the New Year. Christine also has a recipe for Coconut Pudding that looks fantastic. (Turnip Cake from Christine's Recipes is pictured above.)
More Chinese New Year's Recipes from Around the Web:
~The Kitchn has a round-up of dumpling recipes and other Chinese foods.
~Kits Chow has recipes for Turnip Pudding and Waterchestnut Pudding.
~Sunday Nite Dinner always makes Chinese Sticky Rice for Chinese New Year.
~The Cupcake Project has (of course) Chinese New Year's Cupcakes.
~At Slashfood, Sarah explains the symbolism behind many Chinese New Year Food Traditions.
~Red Cook has a traditional Chinese sticky cake called Sweet New Year Cake for the holiday.
~There is a round-up of Sweet Recipes to Bring in the Chinese New Year at Hugging the Coast.
~Long Life Noodles from One Perfect Bite are a great way to start the new year.
Previous Posts on BlogHer about Chinese New Year food and Activities:
Delicious Food for the Year of the Pig (2007)
Tasty Options for Chinese New Year's Celebrations (2008)
Celebrating Chinese New Year with Your Kids (even if they aren't Asian) by BlogHer Contributing Editor Beth Kanter
Are you doing anything special for Chinese New Year? If you have a good recipe or suggestions for family activities, we'd love to hear about them in the comments.
Kalyn Denny shares her passion for low-glycemic cooking at Kalyn's Kitchen.