This article was written by a member of the SheKnows Community. It has not been edited, vetted or reviewed by our editorial staff, and any opinions expressed herein are the writer's own.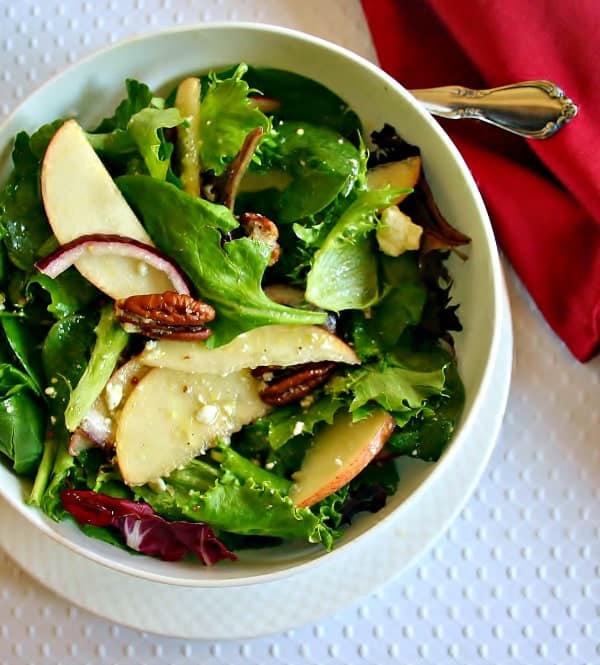 Just the right amount of savory and sweet, I think you'll love this easy Winter salad!
Prepare Sugared Curried Pecans and Maple Cider Vinaigrette ahead of time, and just before serving toss with the salad greens, blue cheese crumbles, sliced apples, and red onion. Delicious!
Tips:  Pecans may be made up to 1 week ahead. Store in an airtight container. Vinaigrette may be made up to 3 days ahead. Cover and chill until ready to serve. I found that the Vinaigrette recipe makes enough to dress this salad with a little extra left over.
Sugared Curried Pecans
1 (6-oz.) package pecan halves
2 tablespoons butter, melted
3 tablespoons sugar
¼ teaspoon ground ginger
⅛ teaspoon curry powder
⅛ teaspoon kosher salt
⅛ teaspoon ground red pepper
Maple-Cider Vinaigrette
⅓ cup cider vinegar
2 tablespoons pure maple syrup
1 tablespoon Dijon mustard
¼ teaspoon kosher salt
¼ teaspoon pepper
⅔ cup olive oil
Salad
1 (10-oz.) package half spring mix and half baby spinach, or your favorite salad greens
1 Gala apple, thinly sliced
1 small red onion, thinly sliced
1 (4-oz.) package crumbled blue cheese
Prepare Pecans
Preheat oven to 350°. Toss pecans in butter. Stir together sugar and next 4 ingredients in a bowl; add pecans, tossing to coat. Spread in a single layer in a nonstick aluminum foil-lined pan. Bake 10 to 13 minutes or until lightly browned and toasted. Cool in pan on a wire rack 20 minutes; separate pecans with a fork.
Prepare Vinaigrette
Whisk together cider vinegar and next 4 ingredients. Gradually whisk in oil until well blended.
Prepare Salad
Combine salad greens and next 3 ingredients in a bowl. Drizzle with desired amount of Maple-Cider Vinaigrette; toss to coat. Sprinkle with pecans. Serve salad with any remaining vinaigrette.
Adapted from Southern Living, December 2009.