Granola is such a common food to grab on the cereal aisle at the grocery store, many people probably haven't ever thought of making it at home. There are good reasons to try it though. Not only is homemade granola much cheaper than store-bought varieties, but when you make your own, you can control what goes in and make sure the granola you're eating doesn't have extra sugar, trans-fats, or high-fructose-corn-syrup.
Plus making granola is easy. Start with rolled oats (oatmeal) and then add things like nuts, raisins, dried fruits, coconut, and some kind of sweetener like honey, brown sugar, or agave nectar. There's usually a bit of oil, and sometimes some added ingredients to bump up the nutrition. Everything is combined, and then the granola is baked to crisp and brown it. You need to stir a few times while it's baking, and watch so it doesn't get too brown, but otherwise it's pretty much a no-brainer.
I think making granola with kids could be a lot of fun, and it might be a good way to get them to choose something more nutritious for a breakfast cereal. Here are some granola ideas from food bloggers to get you started.

Photo of Homemade Granola
from Half-Assed Kitchen.
Half-Assed Kitchen has a version of Homemade Granola that sounds about right to me. I especially like the idea of using flax seeds in granola, which is one of the optional ingredients in this recipe.

Photo of Homemade Granola
from Nami Nami.
Another idea I found interesting was the addition of malt extract to Homemade Granola, which Pille from Nami Nami got from the Moosewood granola recipe. She also added a mixture of dried cranberries, raisins, and dried apricots to make this version extra good.

Photo of Cherry Berry Granola
from Eat Real.
Sandy at Eat Real asked for suggestions on Twitter, and then combined ideas she got to come up with Cherry Berry Granola. This recipe has a lot of good suggestions for variations if you're a cook who likes to experiment.

Photo of Chloe's Pecan Cranberry Granola
from Inn Cuisine.
I'm a huge fan of pecans, so the Chloe's Pecan Cranberry Granola from a guest blogger on Inn Cuisine sounded like a version of granola I'd really like to make. This is another granola that has flax seeds, one more thing I like about it.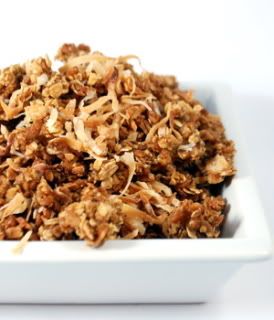 Photo of Coconut Almond Granola
from Baking Bites.
Finally, the Coconut Almond Granola from Baking Bites adds puffed rice cereal, which I'm guessing would really be a hit when you're making granola with kids. This version also has some applesauce in the granola, an ingredient that sounds like it would deliver a lot of flavor.
More Granola:
~Rolling in the Granola at BlogHer
~A Granola Recipe from My Mom's Hippie Youth from Marisa at Slashfood
~Gluten-Free and Grain-Free "Live" Granola from Elana's Pantry
~Banana-Strawberry Granola from Michael Ruhlman
~My Granola from An Obsession with Food and Wine
Have you ever made granola? If you have a granola recipe we might like to try, please share the recipe or your link in the comments.
(Every Thursday night on BlogHer, we spotlight five recipes with a common theme for a feature called Weekend Menu Planning, hoping one of them might make it onto the menu at your house. You can find previous recipes shared by clicking the tag Weekend Menu Planning.)
Kalyn Denny writes about her passion for low-glycemic cooking at Kalyn's Kitchen where she makes lots of Peanut Butter Oatmeal, but so far has only thought about making granola.
This is an article written by one of the incredible members of the SheKnows Community. The SheKnows editorial team has not edited, vetted or endorsed the content of this post.
Want to join our amazing community and share your own story? Sign up here.