This article was written by a member of the SheKnows Community. It has not been edited, vetted or reviewed by our editorial staff, and any opinions expressed herein are the writer's own.
Thanksgiving is rapidly approaching for those in the United States, and I'm sure some people are feeling a little anxiety about cooking the big holiday meal. There's no doubt that making turkey, stuffing, mashed potatoes, rolls, salads, and side dishes all come together at the same time can be a bit challenging. That's why a crockpot or slow cooker can be a life-saver on Thanksgiving day.
(The names CrockPot and slow cooker are used interchangeably in this post to talk about a type of counter-top cooking appliance that cooks food slowly at a low temperatures.)
Whether you use your slow cooker to cook some parts of the meal completely and then keep them warm or just use it to keep foods warmed after you've cooked them in a more traditional way, the crockpot can take a lot of the timing-related stress out of Thanksgiving dinner. Here are some Thanksgiving crockpot cooking ideas from my kitchen and other food bloggers, and you still have two weeks before the big day if you'd like to give one of these a trial run!

Photo of Slow Cooker Turkey Breast and Gravy
from Andrea Meyers
Turkey in the CrockPot
If you're cooking for a small group, you might try cooking a small turkey or just the turkey breast in the slow cooker. I think this Slow Cooker Turkey Breast and Gravy from Andrea Meyer looks delicious. For more tips, take a look at Slow Cooker Turkey Breast from Kitchen Parade, CrockPot Turkey Breast Recipe from A Year of Slow Cooking, Special Turkey Breast from Gluten-Free Easily, or How to Cook a Turkey Breast in the Crockpot from Kalyn's Kitchen. If you're having a little bigger crowd, there's even a Crockpot Whole Turkey Recipe from A Year of Slow Cooking.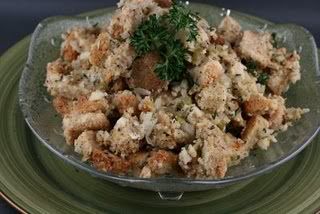 Photo of Gluten-Free Homemade Stuffing in the Crockpot
from A Year of Slow Cooking
Stuffing in the CrockPot
Stephanie from A Year of Slow Cooking has Gluten-Free Perfect Homeade Stuffing in the Crockpot that sounds great, and I also like the sound of her CrockPot Cornbread Stuffing. (Stuffing cooked in the crockpot seemed like such a natural for me, so I was surprised not to find more recipes from bloggers, but maybe people like the crisp edges you get when you cook your stuffing in the oven. If so, definitely use the crockpot to keep it warm when the oven is needed for other foods.)

Photo of Spicy Crockpot Sweet Potatoes
from Kalyn's Kitchen
Mashed Potatoes and Sweet Potatoes in the CrockPot
Mashed potatoes and sweet potatoes are both perfect examples of foods that can be made ahead and kept warm in the slow cooker while you concentrate on other dishes, but if you want to actually cook them in the crockpot, you can do that too. I adapted my favorite recipe for sweet potato fries to come up with Spicy Crockpot Sweet Potatoes, and they were a big hit with my family last Thanksgiving. I also found Slow Cooker Sweet Potatoes at Green Lite Bites and Slow Cooker Candied Sweet Potatoes at A Year of Slow Cooking. If you'd like to try making your mashed potatoes in the CrockPot, there are CrockPot Mashed Potatoes at Feels Like Home, CrockPot Garlic Smashed Red Potatoes at A Recipe a Day, and Crockpot Mashed Potatoes with Cream Cheese and Sour Cream at A Year of Slow Cooking.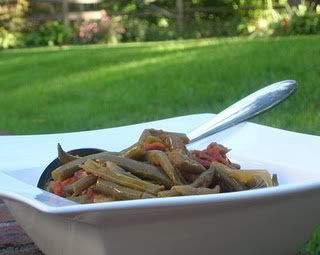 Photo of Crockpot Slooow Country Green Beans
from A Veggie Venture
Thanksgiving Vegetables in the CrockPot
You can also use your slow cooker to make Thanksgiving vegetable side dishes, crossing one dish off a busy list early in the day. I loved the sound of the Crockpot Slooow Country Green Beans from A Veggie Venture, which has fresh green beans cooked with ham and tomatoes. Other crockpot vegetable recipes that would work for Thanksgiving include Broccoli Casserole from Crockpot Recipe Exchange, and The Very Best Brussels Sprouts Ever, CrockPot Green Bean Casserole, and CrockPot Stuffed Onions, all from A Year of Slow Cooking.
Have you ever used your CrockPot slow cooker to help with Thankgiving food prep? If so we'd love to hear in the comments about how you found the slow cooker to be helpful. If you have any good crockpot Thanksgiving recipes, please share those links in the comments as well.
(Every week on BlogHer, we spotlight five recipes with a common theme for a feature called Weekend Menu Planning, hoping one of them might make it onto the menu at your house. You can find previous recipes shared by checking the Weekend Menu Planning Archives or clicking the tag Weekend Menu Planning.)
Kalyn Denny also blogs at Kalyn's Kitchen where she's focused on creating low-glycemic recipes using fresh ingredients. They weren't cooked in a CrockPot, but Kalyn is currently pretty excited about the 100% Whole Wheat Stuffing "Muffins" she came up with (after two failed attempts!)