When it's cold outside people start thinking of comfort foods, and I'm guessing the humble potato would be at the top of the list for many people as being one of the ultimate winter comfort foods. I don't even eat white potatoes that often, but when I think of dishes I could never resist resist if they were served to me, at the top of my list would be Utah Funeral Potatoes. I'm willing to bet that people all over the world have their favorite potato comfort food dishes as well. BlogHer is doing A Month of Side Dishes this month, so here are twenty suggestions for absolutely drool-worthy potato side dishes you might want to put on your menu.

Photo of Crash Hot Potatoes
from The Pioneer Woman Cooks
Lots of food bloggers have made these Crash Hot Potatoes from A Pioneer Woman Cooks and people have raved over them, so this is a potato recipe you should definitely try.

Photo of Potatoes Au Gratin
from White on Rice Couple
Potatoes Au Gratin are a favorite of many people, and this classic recipe from White on Rice couple looks fantastic. The recipe has step-by-step photos with some interesting tips.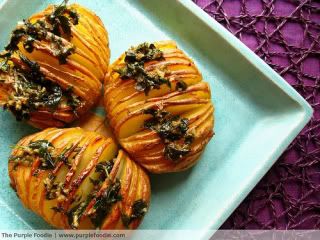 Photo of Hasselback Potatoes
from The Purple Foodie
Hasselback Potatoes are an idea that's been around for a while, but The Purple Foodie adds a new twist by topping them with pesto!

Photo of Sinfully Easy Scalloped Potatoes
from Dianne's Dishes
There are endless variations on scalloped potatoes, but if you're rushed for time try these Sinfully Easy Scalloped Potatoes from Dianne's Dishes.

Photo of Potato Dominoes
from Steamy Kitchen
These Potato Dominoes from Steamy Kitchen have thin slices of potato rectangles stacked on their side to resemble a stack of dominoes that has fallen over.

Photo of Potato Pancakes
from Life's Ambrosia
Potato Pancakes are a potato side dish that's a bit unusual, but when you have leftover mashed potatoes this recipe from Life's Ambrosia is a fun way to use them.

Photo of Duchess Potatoes
from Baking Bites
Another fun thing to make with mashed potatoes is these Duchess Potatoes from Baking Bites. The potatoes are piped into a swirled shape and then browned in the oven.

Photo of Fingerling Potatoes Braised with Smoked Paprika
from Fat Free Vegan Kitchen
If you haven't tried the slightly enlongated small potatoes known as fingerling potatoes, this recipe for Fingerling Potatoes Braised with Smoked Paprika from Fat Free Vegan Kitchen looks like a good way to try them.

Photo of Pink Potatoes
from Kitchen Parade
For an adult dinner party, these Pink Potatoes from Kitchen Parade combine potatoes with beets, Parmesan, and half-and-half for a dish that Alanna says were the talk of the party when she served them.

Photo of Thyme Roasted New Potatoes
from The Perfect Pantry
Roasted potatoes are always good, but Lydia from The Perfect Pantry tells you her method for making them really special in this recipe for Thyme Roasted New Potatoes.
Ten More Great Ideas for Potato Side Dishes:
What's the favorite way to cook potatoes at your house?
Tell us about your favorite potato recipe in the comments, or better yet, post your potato recipe on BlogHer.com for our Month of Side Dishes.
(Every week on BlogHer, we spotlight five recipes with a common theme for a feature called Weekend Menu Planning, hoping one of them might make it onto the menu at your house. You can find previous recipes shared by checking the Weekend Menu Planning Archives or clicking the tag Weekend Menu Planning.)
Kalyn Denny also blogs at Kalyn's Kitchen where she's focused on creating low-glycemic recipes using fresh ingredients. Kalyn has never posted a single recipe using potatoes, but she does love her Spicy Sweet Potato Fries.
This is an article written by a member of the SheKnows Community. The SheKnows editorial team has not edited, vetted or endorsed the content of this post.
Want to join our amazing community and share your own story? Sign up here.