Curry has to be one of the most widely-used words in cooking -- but it can be confusing, due to different meanings of the word depending on where you are. In some places, curry is synonymous with Indian food, as in "Let's go out for curry." Of course, there are also curry dishes in Southeast Asia, especially Thailand, where curry paste is used as a flavoring. In U. S. grocery stores, you'll find curry powder, usually a blend of the various spices used to flavor Indian food. Actually, though, pre-ground curry powder is rarely used in India, where most cooks prefer to grind spices right before using them or pre-ground spice mixes might be called masala or garam masala. To add to the confusion, there's also an ingredient used in Indian cooking called Curry Leaves, which are flavorful but not a necessary ingredient for most curry dishes.
When you start talking about curry, there's no doubt that Indian curry dishes are wildly popular. There are entire blogs founded around the love of Indian curry, and one that's definitely worth exploring is Show Me the Curry, a blog founded by Hetal and Anuja, two Indian women now living in the U.S. On this blog you'll find recipe videos for dishes such as Kala Channa (Black Chickpea Curry), Bengali Shrimp Curry, or Malabar Chicken Curry. If you're not that knowledgeable about Indian cooking, these videos are great.
Many other talented Indian food bloggers are also talking about curry on the web. Malikka from the blog Quick Indian Cooking defines curry in her new cookbook, Miss Masala, by saying, "The word 'curry' means 'sauce' or 'gravy' in India." On this blog you can learn to make Oven-Baked Lamb Shank Curry, Light Chicken Curry Steeped in Coriander, or Bengali Fish Curry.
With all these different and subtle variations of what is meant by the word, maybe the most important thing to remember is that curry is a stew-like dish with sauce or gravy, and it always contains a mixture of spices and other aromatic flavorings providing flavor. If you've never tried cooking curry, here are a few more curries from food bloggers that look good to me.

Photo of Gobi Masala (Cauliflower in Rich Gravy)
from Cooking 4 All Seasons
I think Gobi Masala (Cauliflower in Rich Gravy) From Cooking 4 All Seasons looks absolutely mouth-watering.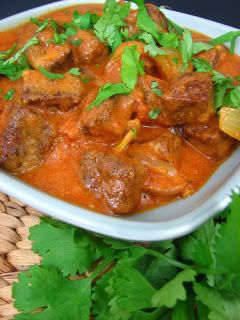 Photo of Crispy Baked Tofu with a Quick Curry Sauce
from 28 Cooks
Another vegetarian curry option is the Crispy Baked Tofu with a Quick Curry Sauce from 28 Cooks.

Photo of Mum's Savory Beef and Potato Curry
from Cookin' Canuck
The mother (Mum) of Dara from Cookin' Canuck grew up in Jamaica and lived in Malaysia, so the curry seasonings used in both those places influence Mum's Savory Beef and Potato Curry.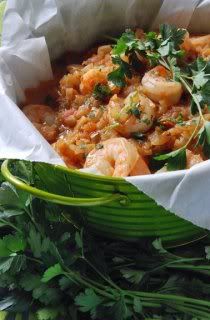 Photo of Shrimp Curry
from Whisk
The Shrimp Curry from Whisk has tons of flavor from seven different spices, ginger, garlic, and garam masala.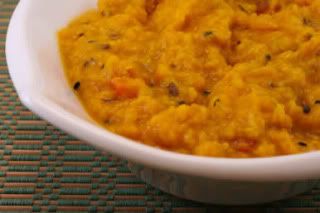 Photo of Bengali Red Dal Curry
from Kalyn's Kitchen
Finally, I confess I've been more than a little intimidated about making authentic Indian food myself, but the Bengali Red Dal Curry made by my nephew Jake is probably the best Indian curry I've ever tasted.
Ten More Curry Recipes to Try:
Kadipatta Chicken (Not Your Usual Chicken Curry) ~ from Indian Food Rocks
Gujarati Dry Mung Bean Curry ~ from Ko Rasoi
Yam and Black-Eyed Peas Curry ~ from Edible Garden
Methi Kofta Curry ~ from Kitchen Tantra
Jo's Curry ~ from It's All Delicious
Chettinaad Egg Curry ~ from Home Cook's Recipes
Chickpea Potato Curry ~ from Simply Recipes
Thai Style Vegetable Curry ~ from Fat Free Vegan Kitchen
Egg Curry ~ from The Perfect Pantry
Spicy Sweet Potato and Chickpea Curry ~ from Three Many Cooks
More About Curry:
Ten Things You Need to Know About Indian Spices and Curry ~ from The Epicenter Tips
I hope one of these recipes will entice you to try making some type of curry. Obviously I'm not a curry expert, so if you have anything to add about curry or perhaps a curry recipe that's a favorite at your house, please share in the comments!
(Every week on BlogHer, we spotlight five recipes with a common theme for a feature called Weekend Menu Planning, hoping one of them might make it onto the menu at your house. You can find previous recipes shared by checking the Weekend Menu Planning Archives or clicking the tag Weekend Menu Planning.)
Kalyn Denny also blogs at Kalyn's Kitchen where she's focused on creating low-glycemic recipes using fresh ingredients. Kalyn loves curry of every type, and recently made Ground Chicken and Chickpea Curry Stew with Yogurt and Cilantro.
This is an article written by a member of the SheKnows Community. The SheKnows editorial team has not edited, vetted or endorsed the content of this post.
Want to join our amazing community and share your own story? Sign up here.