I have no idea who first came up with tortilla soup, but taking all the ingredients that make Mexican cuisine so appealing and combining them in a soup recipe was definitely a stroke of culinary genius. Classic tortilla soup has ingredients like chicken, tomatoes, and chiles, plus avocado, cheese, and of course tortilla strips to garnish the soup. However like all good recipe ideas, the original has now inspired endless variations. The weather is still telling me that soup should be on the menu, and I'm thinking one of these variations of homemade tortilla soup would definitely taste good this weekend.

Photo of Tortilla Soup by
Elise of Simply Recipes.
The version of Tortilla Soup at Simply Recipes has everything I consider essential to good tortilla soup, including some lime to squeeze into the finished soup.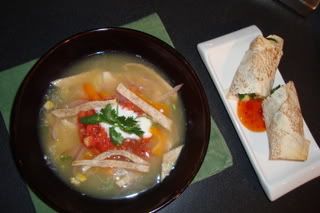 Photo of Tortilla Soup by
Susan from Blog to Lose.
An interesting variation of Tortilla Soup is the one at Blog to Lose which has some creamed corned added to the soup, along with more traditional ingredients like chiles, chicken, salsa, sour cream, and cilantro.

Photo of Tortilla Soup by
Katy of Simply Yummy Goodness/
Mom's Favorite Tortilla Soup at Simply Yummy Goodness also has corn, as well as other vegetables like carrots and zucchini. Katy says she always feels comforted and healthy after she devours a bowl of this soup.

Photo of Slow Cooker Chicken Tortilla Soup by
Katerina from Daily Unadventures in Cooking.
The Slow Cooker Chicken Tortilla Soup from Daily Unadventures in Cooking has a good assortment of veggies too, as well as the addition of enchilada sauce to give plenty of flavor to the soup base.

Photo of Triple Corn Soup by
Susan from Fat Free Vegan Kitchen.
It may not fit the classic definition of tortilla soup, but the Triple Corn Soup at Fat Free Vegan Kitchen is garnished with tortillas and I loved the idea of soup made with three forms of corn.
Finally, no photo available, but for another vegetarian option, click over to Show Me the Curry to see a video on How to Make Vegetarian Tortilla Soup.
(Every Thursday night on BlogHer, we spotlight five recipes with a common theme for a feature called Weekend Menu Planning, hoping one of them might make it onto the menu at your house. You can find previous recipes shared by clicking the tag Weekend Menu Planning. I know there are more variations of tortilla soup that the world needs to know about, so if you have a good Tortilla Soup recipe, please share it with us in the comments

Kalyn Denny shares her passion for low-glycemic cooking at Kalyn's Kitchen and she'd probably eat Chicken and Pinto Bean Soup with Lime and Cilantro and just skip the tortillas.
This is an article written by a member of the SheKnows Community. The SheKnows editorial team has not edited, vetted or endorsed the content of this post.
Want to join our amazing community and share your own story? Sign up here.