I'm not sure how chili became so linked with football, but for millions of Americans, it wouldn't be Superbowl Sunday without a big pot of chili on the stove. There's much less agreement about what goes into that pot of chili though, with as many variations of chili as there are cooks making it. Even if your usual chili is a recipe you're pretty fond of, I thought you might like to experiment with a new type of chili before this year's Superbowl on February 1. Who knows, one of these new variations of chili just might become your new favorite.
For quite a while, the chili recipe variables have included beans or no beans and meat or no meat, but now they've expanded to things like white or red chili, various kinds of beans, and chili with non-traditional vegetables. I'm including recipes from various chili categories, but if you have your own chili favorite, please share a link or your recipe in the comments.

Susan from Food Blogga has a Healthy Chili Your Kids Will Love that includes black beans, pinto beans, zucchini, and corn, as well as a lot of other things that add up to a tasty bowl of chili. (Healthy Chili from Food Blogga is pictured above.)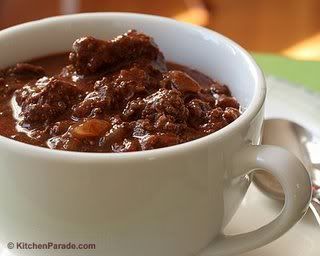 A new chili variable is the addition of a small amount of chocolate, a flavor that pairs well with chiles and beans, and this Chocolate Chili from Kitchen Parade sounds delicious. (Chocolate Chili from Kitchen Parade is pictured above.)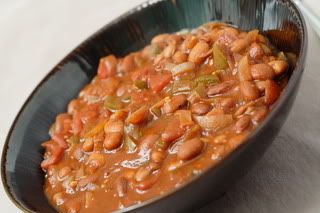 There's also a bit of cocoa powder in this meatless Thick and Hearty Pinto Bean Chili from Fat Free Vegan Kitchen, as well as paprika, cumin, oregano, and dried New Mexico chiles. (Thick and Hearty Pinto Bean Chili from Fat Free Vegan Kitchen is pictured above.)

One of the most unique chili ingredients I found was in this Chili with Wheatberries from Eating Well Anywhere, which has meat and wheatberries but no beans, and there's also a recipe to make your own chile powder. (Chili with Wheatberries from Eating Well Anywhere is pictured above.)

Finally, at Dlyn I found Turkey Black Bean Chili that uses ground chipotle chile powder, one of my own favorite chili ingredients, and I also like the way it's served with sour cream and cheese. (Turkey Black Bean Chili from Dlyn is pictured above.)
More Chile Recipe Collections:
Winter is Coming, Get Your Chili Recipes Ready from BlogHer
Make Chili in the Crockpot While You're Out Having Holiday Fun from BlogHer
Collection of Chili Recipes from Simply Recipes and other food blogs
(Every Thursday night on BlogHer, we're featuring five recipes with a common theme for a feature called Weekend Menu Planning, with hopes that one of them might make it on to your menu for the upcoming week. You can find previous recipes shared by clicking the tag Weekend Menu Planning.)
Kalyn Denny shares her passion for low-glycemic cooking at Kalyn's Kitchen, where she loves testing new chili recipes but hasn't found one to beat Black Bean and Beef Chili with Cilantro, Lime, and Avocado Salsa.
This is an article written by a member of the SheKnows Community. The SheKnows editorial team has not edited, vetted or endorsed the content of this post.
Want to join our amazing community and share your own story? Sign up here.