This article was written by a member of the SheKnows Community. It has not been edited, vetted or reviewed by our editorial staff, and any opinions expressed herein are the writer's own.
Every year for Thanksgiving dinner, my mother would make sweet potatoes. They had some kind of brown-sugar topping, and sometimes even mini marshmallows. The sweet potatoes smelled great, and of course my mother and a few other members of the family raved about how delicious they were. Eventually I'd take a small serving, only to decide once again they were revolting, and for years I thought I truly hated sweet potatoes. Now fast forward many years later to the first time I tried sweet potato fries.
If I say I was surprised at how much I loved sweet potato fries, it would be completely understating it. On my blog I wrote, "Who would have imagined that these tasty roasted sweet potatoes dusted with a spicy mixture of ground herbs and spices would taste so amazing?" I tried the recipe for sweet potato fries out on my friend Robin, and we were both wowed by it.
Now I've tried cooking sweet potatoes a few other ways and I realize I don't hate sweet potatoes at all, I just hate sugary sweet potato casseroles with brown sugar and mini-marshmallows. I"ve found a number of good ways to cook sweet potatoes, but in my mind, nothing is much better than sweet potato fries. Apparently plenty of other food bloggers agree, because I found them raving about some pretty interesting variations of sweet potato fries that I'd like to suggest for your menu this weekend.
Sweet Potatoes vs. Yams:
If you haven't shopped for sweet potatoes recently, I want to clarify that sweet potatoes can have both white or orange flesh. In American grocery stores, the orange-fleshed sweet potatoes are often called "yams" even though true yams aren't really found in the United States. Those dishes of Candied Yams that are served at holidays are really candied sweet potatoes. I once got into a near-argument with a produce manager when I told him the "yams" he was selling were really orange-fleshed sweet potatoes, so don't be surprised if some people don't believe you. Don't take my word for it if you're skeptical, just Google "yams vs. sweet potatoes" and you'll find hundreds of sites that will confirm that the orange-fleshed "yams" sold in the U.S. are really sweet potatoes.
White-Fleshed vs. Orange-Fleshed Sweet Potatoes for Sweet Potato Fries
I like both types of sweet potatoes, but I've only made sweet potato fries with orange-fleshed sweet potatoes. If anyone has tried it with the white-fleshed variety, I'd love to hear how it worked. If you're going to try one of these recipes, you'll probably be buying "yams" or "sweet yams" which (I repeat) are really orange-fleshed sweet potatoes.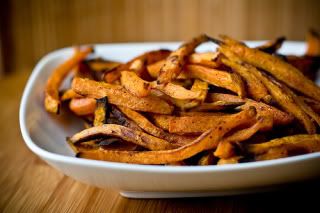 Photo of Spiced Sweet Potato Fries
from Vegan Yum Yum.Sweet potatoes don't get crisp in the same way french-fried potatoes do, so you need to expect that if you decide to make them. Lolo from Vegan Yum Yum is still working on crispness expectations in her recipe for Spiced Sweet Potato Fries, but she does say they are delicious.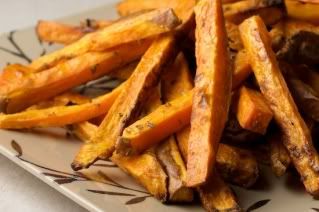 Photo of Rosemary Garlic Sweet Potato Fries
from Pinch My Salt.There seem to be an interesting assortment of spices that taste amazing on sweet potato fries, and Rosemary Garlic Sweet Potato Fries from Pinch My Salt, sound great with Buttermilk Blue Cheese Dipping Sauce.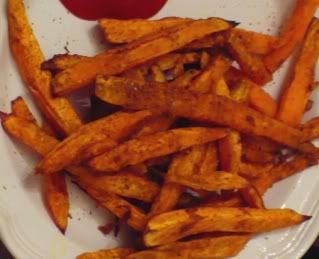 Photo of Curried Sweet Potato Fries
from Gluten Free [Cooking School]Curried Sweet Potato Fries from Gluten Free [Cooking School] is a recipe with only three ingredients. I want to try this, because I'm thinking spicy curry powder is a great seasoning for sweet potatoes.



Photo of Oven Baked Sweet Potato Fries
from Sarah's Cucuina Bella.Sarah of Sarah's Cucina Bella says her husband *hates* sweet potatoes (sound familiar?) but when she made these Oven Baked Sweet Potato Fries, he not only ate them, but he declared them to be "not bad."



Photo of Sweet Potato Fries
from Delicious Wisdom.Finally, another simple but delicious-sounding version of Sweet Potato Fries from Delicious Wisdom, where the post starts out "I could eat these every day with unwavering enthusiasm."

Have you made sweet potato fries? If you have a great recipe, please share the link or your recipe in the comments. I'd also love to hear from anyone who tries one of the recipes featured in this post.
(Every Thursday night on BlogHer, we spotlight five recipes with a common theme for a feature called Weekend Menu Planning, hoping one of them might make it onto the menu at your house. You can find previous recipes shared by clicking the tag Weekend Menu Planning.)
Kalyn Denny shares her passion for low-glycemic cooking at Kalyn's Kitchen. When she posted a recipe for Spicy Sweet Potato Fries in 2007, Kalyn never imagined it would become one of the most popular recipes on her blog.