This article was written by a member of the SheKnows Community. It has not been edited, vetted or reviewed by our editorial staff, and any opinions expressed herein are the writer's own.
In the northern hemisphere summer is winding down. Labor Day marks the unofficial end of summer in the U.S., but it doesn't have to mark the end of summer foods. Gardens keep producing things like zucchini, corn, tomatoes, eggplant, and melons well into September and even October in some places, and after we've waited all year for these foods, we should be enjoying them as long as we can. Here are some new ideas from food bloggers for using those traditional summer foods a bit longer!

Photo of Zucchini Cake with Lime Cream Cheese Frosting
from Baking Bites
Let's start with zucchini, something that can be overly-abundant if you have a garden, but with recipes like this Zucchini Cake with Lime Cream Cheese Frosting from Baking Bites, you won't ever get complaints about serving zucchini again! I'm also drooling over Lemon Zucchini Cookies from Mandika Moments, if you'd prefer cookies from your zucchini.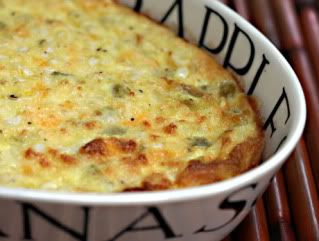 Photo of Corn, Green Chile, Egg, and Cheese Casserole
from The Perfect Pantry
Here's a new idea for end-of-summer corn from The Perfect Pantry, where Lydia uses kernels from three ears of corn for her Corn, Green Chile, Egg, and Cheese Casserole that sounds like a perfect dish for fall's first casserole. If you're going to be grilling this weekend, I also love the Grilled Corn and Summer Vegetable Salad from Daily Unadventures in Cooking.

Photo of Panzanella
from Sweetnicks
No one ever gets tired of eating fresh summer tomatoes, which must be why there are so many classic dishes using them. At Sweetnicks, Cate is enjoying her tomatoes in Panzanella or Tuscan Bread Salad, a perfect way to savor them. If you're lucky enough to have some of my favorite Green Zebra tomatoes, you might also try the Corn and Green Tomato Salad from Leite's Culinaria.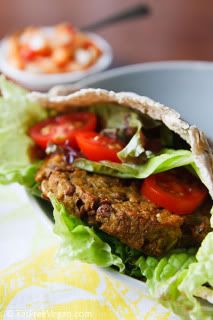 Photo of Curried Eggplant, Lentil, and Quinoa Burgers
from Fat Free Vegan Kitchen
Eggplant can be a vegetable that people are slow to warm up to, but I bet you could please most people with these Curried Eggplant, Lentil, and Quinoa Burgers with Onion-Pepper Relish from Fat Free Vegan Kitchen. Eggplant Caponata from Blue Kitchen is another classic eggplant dish that I think would be great for an end-of-summer party.

Photo of Melon and Mozzarella Salad with Honey, Lime and Mint
from Pinch My Salt
Finally, if you are mourning the impending arrival of colder weather, it's time to stretch out the summer feeling with something like this Melon and Mozzarella Salad with Honey, Lime and Mint from Pinch My Salt. If you're still enjoying that hot summer weather where you live, Melon Sorbet from Simply Recipes will probably hit the spot.
More Ideas for End of Summer Vegetables:
Parmesan Crusted Baked "Fried" Zucchini ~ from Joyful Abode
Zucchini Meatballs ~ from Nami Nami
Corn and Blueberry Salad ~ from Your Homebased Mom
Roasted Bell Pepper, Corn, and Tomato Soup with Spicy Shrimp ~ from Rookie Cookie
12 Favorite Tomato Recipes ~ from A Veggie Venture

Tomato Basil Risotto ~ from Our Life in the Kitchen
20 Ways to Enjoy Eggplants ~ from Trini Gourmet
Eggplant 101 - How to Select, Store, and Cook them ~ from Food Blogga
Melon Salad with Herbed Goat Cheese and Fried Olives ~ from She Craves
Melon Salad with Mint, Lime, and Sea Salt ~ from Two Peas and Their Pod

What's on the not-quite-end-of-summer menu at your house? If you have good recipes ideas for one of the summer veggies or fruits mentioned here, please share your recipe or a link in the comments.
(Every week on BlogHer, we spotlight five recipes with a common theme for a feature called Weekend Menu Planning, hoping one of them might make it onto the menu at your house. You can find previous recipes shared by checking the Weekend Menu Planning Archives or clicking the tag Weekend Menu Planning.)
Kalyn Denny also blogs at Kalyn's Kitchen where she's focused on creating low-glycemic recipes using fresh ingredients. Last year Kalyn stretched out the zucchini season with Low Sugar and Whole Wheat Garden Harvest Cake with Zucchini, Apple, and Carrots.