Our celebration of leafy greens continues this week with spinach, long recognized as one of the superfoods, and definitely one of the most versatile leafy greens around. When you bring home a container of baby spinach from the market, or even better, pick some fresh spinach leaves from your garden, there are a world of possibilities for using this nutritional powerhouse of a vegetable in a way that will have the family asking for more.
Spinach is one of the greens that many people enjoy most when it's raw in salad, but it's also often used in soup, with eggs, with pasta, as a vegetable side dish, and in the now-legendary spinach dips that are popular for special occasions.
Spinach Dips

Photo of Spinach Dip in a Bread Bowl
from I Believe in Love
Using spinach in a creamy dip is always a good way to get people to eat their leafy greens, and you've probably had something similar to the Spinach Dip in a Bread Bowl from I Believe in Love (pictured above.) For an easy spinach dip option, I love the Stovetop Spinach Dip from White on Rice Couple or the Crockpot Spinach and Artichoke Dip from A Year of Slow Cooking. Of course, spinach dip doesn't have to be creamy; for everyday eating you might like the Spinach and Pine Nut Hummus from 28 Cooks.
Spinach in Soup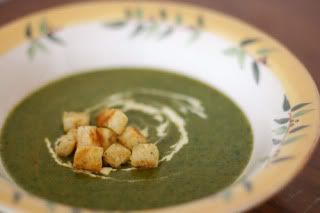 Photo of Creamy Spinach Soup from Pinch My Salt
If you start cooking with spinach, eventually you'll make some soup with it, because spinach in soup is such a natural flavor boost. Sometimes spinach is the main ingredient like Creamy Spinach Soup from Pinch my Salt (pictured above) or Cream of Spinach Soup from Simply Recipes. Spinach is also a great ingredient to add to many soups, and Italian White Bean and Spinach Soup from Sunday Nite Dinner, Lemony Lentil Soup with Greens from Half-Assed Kitchen, or Italian Sausage and Tortellini Soup from My Lime Green Kitchen are three soups that include spinach.

Spinach Salads

Photo of Strawberry Spinach Salad with Almonds and Dill
from Kalyn's Kitchen
Spinach is a natural choice for salad, and one of my personal favorites is the Strawberry Spinach Salad with Almonds and Dill, a recipe that was sent to me by a reader. Other spinach salads that I'd gladly eat any day include Spinach Salad with Fuyu Persimmon, Jicama, and Avocado from Cooking Canuck; Spinach, Arugula, Cranberry, and Walnut Salad from Life's Ambrosia; Warm Spinach Salad with Brown Rice and Feta from In Good Taste; or the classic Spinach Salad with Warm Bacon Dressing from Kitchen Parade.
Spinach as a Vegetable Side Dish

Photo of Creamed Spinach Gratin
from What We're Eating
Spinach can be magnificent as a side dish such as the Creamed Spinach Gratin (pictured above) from What We're Eating, Creamed Spinach from Andrea Meyers, or Paruppu Keerai (Dal Spinach) from Spicy Tasty. Of course, the simplest spinach side dish of all is simply sauteed spinach, like the Garlic Sauteed Spinach from Rookie Cookie or the Sauteed Baby Spinach from Mommy Warriors.
Spinach with Eggs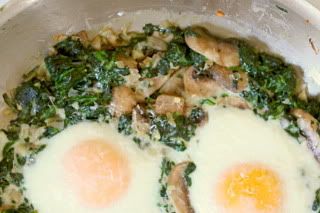 Photo of Baked Eggs with Spinach and Mushrooms
from The Way the Cookie Crumbles
Spinach has a natural affinity with eggs, and Bridget from The Way The Cookie Crumbles says her dish of Baked Eggs with Spinach and Mushrooms (pictured above) is a "perfect flavor combination." Other egg and spinach combos that caught my eye include Kimchi, Spinach, and Goat Cheese Frittata from Not Eating Out in New York; Oeufs Mollets Florentine (Soft-Boiled Eggs with Spinach and Mornay Sauce) from Whisk, and Eggs Florentine Brunch Pizza from Stephen Cooks.
Spinach with Pasta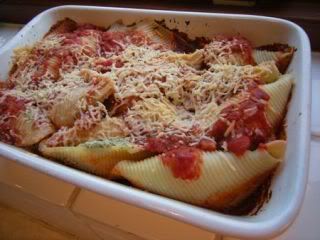 Photo of Spinach Stuffed Shells
from Wednesday Food Blogging
Spinach also pairs beautifully with pasta of any kind. I drooled on my keyboard when I read Baked Pasta with Garlic, Spinach, Zucchini, and Goat Cheese from Dinner with Julie. I also liked the sound of Spinach Stuffed Shells from Wednesday Food Blogging (pictured above), Spinach Chicken Cheesy Pasta from Southern Grace Gourmet, and Pepita Fettucine with Spinach and Cranberries from Vegan Yum Yum. You can also get your spinach in the pasta dough, like the Fresh Spinach Reginette Pasta with Walnut Pesto from Ms. Adventures in Italy or Spinach Pasta with Smoked Salmon Cream Sauce from The Paupered Chef.
Those are some of the amazing-looking spinach recipes I found from the BlogHer network, but there are lots more spinach recipes if you want to take a look. I've been drooling over these spinach recipe photos for days, but if you have other good ideas for getting the family to eat their spinach, please do share in the comments.
(Every Thursday night on BlogHer, we spotlight five recipes with a common theme for a feature called Weekend Menu Planning, hoping one of them might make it onto the menu at your house. You can find previous recipes shared by clicking the tag Weekend Menu Planning. To see more recipes for leafy green vegetables, use the tag Eat Your Greens.)
Kalyn Denny also blogs at Kalyn's Kitchen, where she's focused on creating low-glycemic recipes using fresh ingredients. Kalyn buys spinach nearly every week, and her latest way to use it is a Breakfast Casserole Recipe with Spinach, Leeks, Cottage Cheese, and Goat Cheese.
This is an article written by a member of the SheKnows Community. The SheKnows editorial team has not edited, vetted or endorsed the content of this post.
Want to join our amazing community and share your own story? Sign up here.