This article was written by a member of the SheKnows Community. It has not been edited, vetted or reviewed by our editorial staff, and any opinions expressed herein are the writer's own.
When Valentine's Day comes around, most people are going to indulge in something featuring chocolate, whether they're sharing it with someone special or just enjoying a treat in honor of the day. Food bloggers are full of enticing ideas for Valentine's Day chocolate-themed sweets, so here are some suggestions you may just want to put your menu for the weekend.
Chocolate Breakfast Treats

Photo of Pain au Chocolat
from Dinner with Julie
If you want to start out the morning with something that's guaranteed to impress your Valentine, Dinner with Julie can show you how to make Pain au Chocolat (pictured above). Another unusual chocolate-themed breakfast is the Chocolate Gravy and Biscuits from Homesick Texan, and She is Too Fond of Books has a Chocolate Biscotti that your Valentine might like to dip into coffee.
Valentine's Day Cookies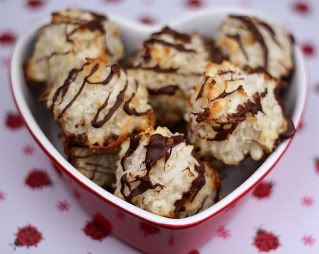 Photo of Coconut Macaroons Dipped in Chocolate
from Two Peas and Their Pod
Cookies can be very romantic, and the Coconut Macaroons Dipped in Chocolate from Two Peas and Their Pod may be some of the best-looking adult cookies I've seen this year. If you need a Valentine's Day treat for kids that's different than the usual heart-shaped sugar cookie thing, the Chocolate Chip Dream Bars from Sweetnicks seem like a dream. Of course you expect chocolate cookies from a blog called Chocolate and Zucchini, and the Pecan Mudslide Cookies look like they wouldn't disappoint.
Cakes or Brownies for Your Valentine

Photo of Chocolate and Chickpea Cupcakes with Nutella and Sour Cream Frosting
from Lucullian Delights
For a gluten-free Valentine's Day treat, the Chocolate and Chickpea Cupcakes with Nutella and Sour Cream Frosting from Lucullian Delights (pictured above) look like they must taste amazing. Tiramisu dusted with cocoa powder is what many people consider it the ultimate dessert cake, and the ladies at Show Me the Curry show you in a video How to Make Tiramisu. The Blood Orange Fudge Brownies from My Own Sweet Thyme are cut in heart shapes so they'd be perfect for a Valentine's Day dinner dessert, and the Milk Chocolate Baby Cakes from Prudence Pennywise also look chocolatey and delicious.
Other Chocolate Treats For Valentine's Day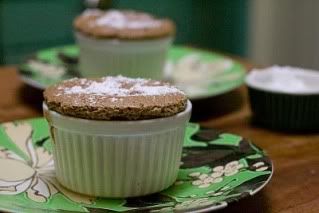 Photo of Simple Gourmet Chocolate Souffles
from Vintage Mixer
Valentine's Day is a time when you might want to pull out all the stops and make something like the Simple Gourmet Chocolate Souffles (pictured above) from Gourmet Mixer. I also loved the looks of the Chocolate Cashew Ice Cream Pie (which doesn't really have ice cream) from Manifest Vegan. And if your Valentine is someone who enjoys a nice holiday-themed cocktail, the Chocolate Covered Cherry Martini from Life's Ambrosia might be just the thing.
More Valentine's Day Goodness:
Ideas for a Homemade Valentine's Day ~ from Pinch My Salt
Making Waves with Chocolate ~ from Leite's Culinaria
A Romantic Meal for Your Valentine ~ from Seduction Meals
What's on the Valentine's Day menu at your house? And if you have a great Valentine's Day dessert idea (with or without chocolate) we'd love to hear about it in the comments.
(Every week on BlogHer, we spotlight five recipes with a common theme for a feature called Weekend Menu Planning, hoping one of them might make it onto the menu at your house. You can find previous recipes shared by clicking the tag Weekend Menu Planning.)
Kalyn Denny also blogs at Kalyn's Kitchen, where she's focused on creating low-glycemic recipes using fresh ingredients. Kalyn usually avoids sweets, but for Valentine's Day she's featuring Four South Beach Diet Friendly Low-Sugar Chocolate Cookies.