This article was written by a member of the SheKnows Community. It has not been edited, vetted or reviewed by our editorial staff, and any opinions expressed herein are the writer's own.
I'm old enough to remember when spaghetti squash first made an appearance on the culinary scene, but it's now a beloved vegetable among people who are interested in keeping calories and carbs low or avoiding gluten in traditional pasta. Spaghetti squash is a type of winter squash, so called because it can be stored through the winter. The inside of the squash strings apart like spaghetti after it's been cooked, and the mild flavor of this squash makes it the perfect canvas for a lot of other seasonings. You can tell spaghetti squash is a versatile ingredient by checking some of the interesting ways food bloggers are using it.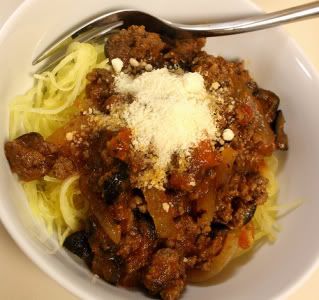 Photo of Spaghetti Spaghetti Squash.
from Joyful Abode
To start, let's make it clear that you can indeed serve spaghetti squash topped with red sauce, just as you would spaghetti. This may be a good way to go if you're trying it for the first time. When Emily from Joyful Abode serves it this way, she calls it Spaghetti Spaghetti Squash.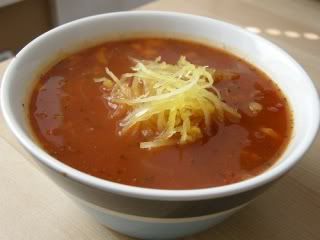 Photo of Tomato Soup with Spaghetti Squash
from Happy Herbivore
At Happy Herbivore, the tables have been turned on the traditional Italian spaghetti with tomato sauce with the recipe for Tomato Soup with Spaghetti Squash. This time the "spaghetti" is a garnish of squash on top of the soup.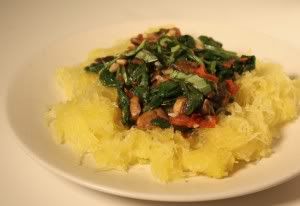 Photo of Spaghetti Squash with Mushrooms, Tomatoes, and Spinach
from Foodie Reflections
Spaghetti Squash with Mushrooms, Tomatoes, and Spinach is on the menu at Foodie Reflections, where they find spaghetti squash to be "the perfect crossover vegetable providing a canvas for combining summer and fall flavors."

Photo of Spaghetti Squash Gratin
from Daily Unadventures in Cooking
If your family likes Potatoes au Gratin, there's a good chance they'll like Spaghetti Squash Gratin, and the gratin I found at Daily Unadventures in Cooking looks perfect for fall. Katrina says this can be made ahead, and the leftovers also reheat well.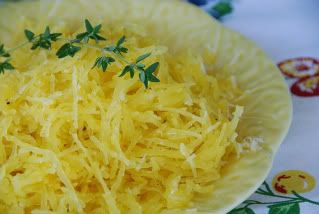 Photo of Baked Spaghetti Squash with Butter and Cheese
from Food Blogga
And finally, when Susan from Food Blogga thinks about her favorite way to eat pasta, she translates it to Spaghetti Squash with an easy recipe for Baked Spaghetti Squash with Butter and Cheese. Now what's not to like about that!
More Ideas with Spaghetti Squash:
~Spaghetti Squash with Parmesan from Half-Assed Kitchen
~Spaghetti Squash Baby Food Ideas from Humble Baby Food Recipes
~Brown Butter Spaghetti Squash from Sweet Basil
~Spaghetti Squash, Shitake, Arugula, and Pistachio Spring Rolls from Vegan Yum Yum
~Spaghetti Squash Pasta from Southern Grace Gourmet
Have you tried cooking spaghetti squash? If you have an interesting way to cook this unusual vegetable, please share the recipe or recipe link in the comments.
(Every Thursday night on BlogHer, we spotlight five recipes with a common theme for a feature called Weekend Menu Planning, hoping one of them might make it onto the menu at your house. You can find previous recipes shared by clicking the tag Weekend Menu Planning.)
Kalyn Denny also blogs at Kalyn's Kitchen, where she's focused on creating low-glycemic recipes using fresh ingredients. Kalyn has spaghetti squash in her garden, so she'll soon be making Twice-Baked Spaghetti Squash with Pesto and Parmesan.