Every holiday has symbolic foods, and for the Jewish holiday of Hanukkah (also called Chanukah), eating fried foods is traditional as a reminder of the miracle of Hanukkah, when a flask of oil that should have lasted for one day kept the eternal flame in the Temple in Jerusalem burning for eight days. This gave time for the Temple to be re-dedicated after its desecration by Syrian forces. The lighting of candles on the Menorah over the eight nights of Hanukkah is also symbolic of the eight days the oil stayed burning.
Whether or not you're making them for religious reasons, making latkes can be a fun holiday tradition, and this year Hanukkah or Chanukah lasts until December 19. There are plenty of variations, from the traditional potato latkes fried in oil to non-traditional versions made with sweet potatoes, butternut squash, or other vegetables and cooked in different ways. Here are some latke ideas you might like to try.

Photo of Traditional Potato Latkes
from The Perfect Pantry
At The Perfect Pantry, Lydia celebrates Chanukah by making Traditional Potato Latkes, fried in peanut oil and seasoned with black pepper, onion, and a bit of thyme. Lydia says this recipe can also be used for sweet potato latkes, and although they're best made fresh, they can be made a day ahead and reheated in a hot oven.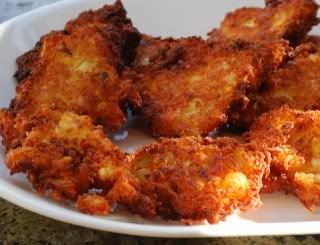 Photo of Crispy Golden Potato Latkes
from Mom Grind
Vered at Mom Grind shares two secrets for making perfect Crispy Golden Potato Latkes. This recipe uses Yukon Gold potatoes, and Vered says they must be finely grated.

Photo of Potato Latkes
from Madeline's Adaptations
There's a slightly different version of Potato Latkes from Madeline at Madeline's Adaptations. Madeline says she's been on the receiving end of some bad latkes recipes, but promises *these latkes* are delicious!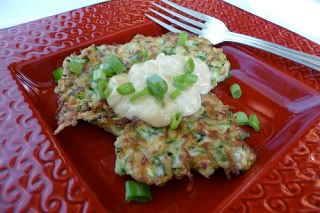 Photo of Zucchini Latkes with Yogurt Curry Sauce
from Cookin' Canuck
Potatoes may be traditional, but I think the Zucchini Latkes with Yogurt Curry Sauce also look great at Cookin' Canuck. Dara has a good trick of using a paper towel to squeeze the water out of the zucchini that also looks like it would also work well with potatoes.

Photo of Baked Sweet Potato Latkes with Sour Cream
from Eating s/f
At Eating s/f, Steph says she is skittish about frying, but she made fried and baked versions of Sweet Potato Latkes to test whether baked latkes could measure up, and declared that the Baked Sweet Potato Latkes with Sour Cream were a winner, at least to her tastebuds.
More Latkes:
From Alanna at BlogHer ~ Lotsa Latkes for Hanukkah, the Festival of Light
From Leite's Culinaria ~ Zucchini Parmesan Latkes
From Prudence Pennywise ~ Hanukkah and Latkes with Applesauce
From Erin Cooks ~ Baked Sweet Potato Latkes
From This Mama Cooks ~ Healthy Butternut Squash and Sage Latkes
Have you made latkes of any kind? If you have a good recipe, please share with a link in the comments.
(Every Thursday night on BlogHer, we spotlight five recipes with a common theme for a feature called Weekend Menu Planning, hoping one of them might make it onto the menu at your house. You can find previous recipes shared by clicking the tag Weekend Menu Planning.)
Kalyn Denny also blogs at Kalyn's Kitchen, where she's focused on creating low-glycemic recipes using fresh ingredients. Kalyn has never made latkes, but she's thinking her seasoning for Spicy Sweet Potato Fries might make a good latkes variation.
This is an article written by a member of the SheKnows Community. The SheKnows editorial team has not edited, vetted or endorsed the content of this post.
Want to join our amazing community and share your own story? Sign up here.