It's less than a week to St. Patrick's Day, a holiday celebrated in Ireland and around the world to recognize the patron saint of Ireland. In the U.S., many people cook special dishes for St. Patrick's Day, believing that they're serving Irish foods. The truth is, unless you have Irish ancestors who've passed along authentic Irish recipes, the foods most of us eat to celebrate St. Patrick's Day are not that similar to these dishes as they're made in Ireland.
No worries though, because our Irish American foods for St. Patrick's Day are still delicious, and cooking something special is a fun way to celebrate the holiday. Food bloggers can get pretty creative when it comes to St. Patrick's Day foods, so here are some Irish American ideas you may want to try for this year's celebration. And if you have young kids in the family, don't forget to wear green on St. Patrick's Day (another tradition that isn't really practiced in Ireland, where wearing green is considered to be an invitation for faeries or leprechauns to bother you.)
The Corned Beef Burger

Photo of Corned Beef Burger
from Ideas in Food
Another idea I thought was charming comes from Ideas in Food, where innovative cooks Aki and Alexander created a Corned Beef Burger by mixing leftover corned beef into lean ground beef with some seasonings and the searing the burgers in a hot, dry pan. Aki and Alexander say it doesn't get much better than this, and I say this would make a great St. Patrick's Day meal!
Irish Soda Bread

Photo of Oats and Honey Irish Soda Bread with Raisins
from Baking Bites
True Irish Soda Bread only contains flour, baking soda, salt, and buttermilk or sour milk, but Irish American variations of this delicious bread start springing up on blogs everywhere at this time of year. Sweeter soda breads are popular here, like the Oats and Honey Irish Soda Bread with Raisins from Nic at Baking Bites or Irish Soda Bread Muffins from Kitchen Parade. My Own Sweet Thyme serves Irish Soda Bread and a Fine Irish Cheese for a less sweet version.
Beer Ice Cream Float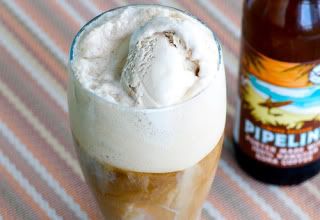 Photo of Beer Ice Cream Float
from Food Blogga
At Food Blogga, Susan has come up with the unique idea of a Beer Ice Cream Float that I'm guessing is definitely more Irish American than authentically Irish, but since St. Patrick's Day is all about beer for many people, what a great way to celebrate. Susan uses a beer with definite espresso undertones, but if you can find real Irish beer, I wouldn't hesitate to try it that way as well.
Bailey's Irish Cream Truffles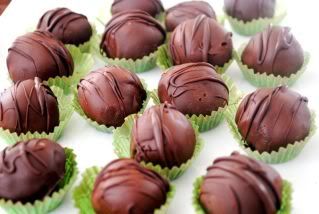 Photo of Bailey's Irish Cream Truffles
from Spork or Foon
Finally, doesn't every holiday need a little candy? Many people seem to think so and the Bailey's Irish Cream Truffles from Spork or Foon look like they'd be a hit on any St. Patrick's Day menu. They do contain alcohol, so this isn't a kid-friendly dessert, and be warned, Teanna says these were so addictively delicious that she " ... had to give away because I could have eaten 10 at a time."
More Irish and Irish American Food from BlogHer:
Celebrate St. Patrick's Day with Irish Soda Bread
Plenty of Irish Food Options for St. Patrick's Day
Authentically Irish or Not, Irish Soda Bread is Tasty for St. Patrick's Day
Traditional Irish Recipes from Chef Benjamin
Are you making something special for St. Patrick's Day? If you have fun menu ideas to share, please tell us about it or leave a recipe link in the comments.
(Every week on BlogHer, we spotlight five recipes with a common theme for a feature called Weekend Menu Planning, hoping one of them might make it onto the menu at your house. You can find previous recipes shared by clicking the tag Weekend Menu Planning.)
Kalyn Denny also blogs at Kalyn's Kitchen, where she's focused on creating low-glycemic recipes using fresh ingredients. Since she realized that her slightly-Irish father was a fan of Irish Soda Bread, Kalyn has been trying a different version every March, and this year's 100% Whole Wheat Brown Soda Bread is her favorite so far.
This is an article written by a member of the SheKnows Community. The SheKnows editorial team has not edited, vetted or endorsed the content of this post.
Want to join our amazing community and share your own story? Sign up here.