This article was written by a member of the SheKnows Community. It has not been edited, vetted or reviewed by our editorial staff, and any opinions expressed herein are the writer's own.
Radishes are one of those taken-for-granted vegetables that don't get much recognition by some people. I confess, I wasn't too creative with radishes myself until a few years ago when I started growing them. Once I had garden-fresh radishes, they were so delicious I wanted to use them in new ways, and when I started searching for radish recipes, I discovered that radishes are a lot more versatile than I'd ever realized. Farmer's markets are also a good source of garden-fresh radishes, but even if you have to buy your radishes at the grocery store, I hope some of these radish recipes from food bloggers will help you re-discover radishes in your own kitchen.

Photo of Freshly-Dug French Breakfast Radishes
from Farmgirl Fare

Photo of Punchy (Kind of Kim Chi) Radish Salad
from She Craves
Radishes in salads are nothing new, but what is new and interesting is this idea from Vanessa at She Craves, where radishes are the star in a Punchy (Kind of Kim Chi) Radish Salad, where radishes are the main ingredient, spiced up with Korean red chili flakes, rice vinegar, fish sauce, sugar, and green onion.

Photo of Roasted Radish and Greens Salad
from White on Rice Couple
Roasted radishes have been hitting a lot of food blogs the last few years. Sometimes the radishes are roasted and then combined with a tasty dressing, like this Roasted Radish and Greens Salad from White on Rice Couple.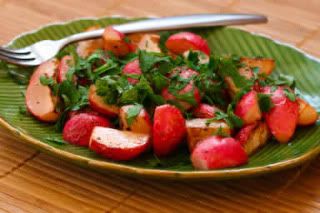 Photo of Sauteed Radishes with Vinegar and Herbs
from Kalyn's Kitchen
Radishes can also be cooked and served on their own, as more of a vegetable dish. This recipe for Sauteed Radishes with Vinegar and Herbs was one of the ideas that got me to re-think radishes a few years ago.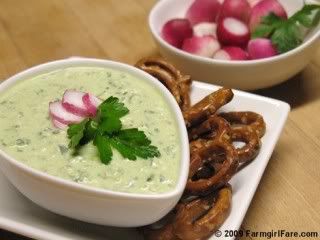 Photo of Radish and Cream Cheese Spread/Dip with Parsley, Scallions, and Feta
from Farmgirl Fare
Susan from Farmgirl Fare knows a thing or two about growing radishes, and her Radish and Cream Cheese Spread/Dip with Parsley, Scallions, and Feta looks like a great way to use radishes if you have a surplus from the garden.

Photo of Roasted Radish Chips
from Fab Frugal Food
And for a new snack food that's low in calories and definitely unusual, how about some Roasted Radish Chips from Fab Frugal Food?
More Creative Ideas for Radishes
Quick Radish and White Bean Salad ~ from A Veggie Venture
Radish, Ginger, and Quinoa Salad with Pine Nuts and Balsamic Vinegar ~ from Lucullian Delights
Roasted Radishes and Leeks Frittata ~ From Wasabi Prime
Salad with Roasted Radishes, Roasted Shallots, and Shrimp ~ from Stephen Cooks
Roasted Radishes ~ from Leite's Culinaria
Radish Avocado Salsa ~ from Powered by Tofu
Braised Radishes ~ from Art and Lemons
Avocado and Radish Canapes ~ from Chocolate and Zucchini
Radish Refrigerator Pickles ~ from Carol Egbert
Quinoa with Roasted Radishes and Pearl Onions ~ from Fat Free Vegan Kitchen
How's the humble radish faring on the vegetable appreciation scale at your house? If you're finding some creative ways to use these low-calorie and tasty morsels, we'd love to hear about your radish recipes in the comments.
(Every week on BlogHer, we spotlight five recipes with a common theme for a feature called Weekend Menu Planning, hoping one of them might make it onto the menu at your house. You can find previous recipes shared by checking the Weekend Menu Planning Archives or clicking the tag Weekend Menu Planning.)
Kalyn Denny also blogs at Kalyn's Kitchen where she's focused on creating low-glycemic recipes using fresh ingredients. Kalyn is mad about radishes, and her latest radish recipe is Cucumber and Radish Salad with Feta, Red Wine Vinegar, and Buttermilk Dressing.