Weekend Menu Planning: Kick Off National Barbecue Month with Fish or Chicken on the Grill
May is National Barbecue Month, so we're celebrating with a month of grilling ideas on BlogHer.com, starting with tips for grilling chicken or fish. Even if warm weather hasn't completely arrived where you live, Mother's Day weekend is a great time to break out the grill, so I'm hoping one of these recipes will inspire you. (By the way, if chicken or fish isn't your thing, I'll be back in coming weeks with tips for grilled pizza, vegetables on the grill, and burgers.)
Most grilling recipes can be done on a charcoal grill, a gas grill, an electric grilling machine, or even a stove-top grill pan. Each of these methods has some advantages and disadvantages, so start by choosing a grill that matches your cooking personality. Once you have the grill, here are a few basic grilling tips:
1. Plan ahead so grilled food is done at the right time.
Grilling is a last-minute cooking technique, and grilled food should be eaten as soon as it's done, so plan your meal so that the other foods are done when the food finishes cooking on the grill.
2. Marinades or rubs add flavor to grilled food.
If you want to add flavor to your grilled food, you may wish to use a barbecue rub or marinade to treat the food before you grill it. Barbecue rubs are dried seasonings that are rubbed into the food before it's cooked, while marinades are a wet mixture of oil, acidic ingredients (such as lemon juice or vinegar) and spices that food is soaked in for a few hours before grilling. Foods that can dry out on the grill (such as chicken breasts) benefit from marinating, while foods that cook quickly (like fish steaks) are most suitable for rubs.
3. Start by oiling the grill grates before the grill is heated.
You can buy non-stick sprays to spray on the grill or oil with a basting brush dipped into oil, but many experts oil the grill simply using a small dish of oil and a paper towel. Dip the paper towel into the oil, then rub oil liberally over the surface of the grill.
4. Preheat the grill before you put the food on.
No matter what type of grill you use, the grill surface should be hot when you put the food on to cook. Charcoal grills take longest to pre-heat, but even quick gas or electric grills need about 15 minutes of preheating on high before any food is put on the grill.
5. Think diagonal if you want criss-cross grill marks.
To get those lovely criss-cross grill marks, start by laying the food on the diagonal on a hot grill. After about 3-4 minutes, rotate food 45 degrees, so it's going on a diagonal the other way.
6. Cook quickly and at high heat on the grill.
Although there is a barbecue technique called "low and slow" in which meat is cooked on a grill for a long time at a low temperature, most grilling recipes call for the food to be cooked quickly at relatively high heat. Fish cooks especially fast; most grilled fish recipes call for the fish to be cooked only about 5 minutes per side. Grilled chicken takes a little longer, but not usually not more than 10 minutes per side.
7. Learn to tell by touch when grilled food is done.
True grilling experts judge doneness by how the food feels. Fish and chicken should feel firm, but not hard to the touch when done. Food continues to cook when it's removed from the grill, so be careful not to overcook.
Here are some grilled chicken or fish ideas that looked good to me. If you have a good recipe for chicken or fish cooked on the grill, please share a link or the recipe in a comment!

Photo of Grilled Garlic Lemon Chicken Breasts
from Amanda's Cooking
Amanda's Cooking has a basic recipe for Grilled Garlic Lemon Chicken Breasts, complete with lovely grill marks.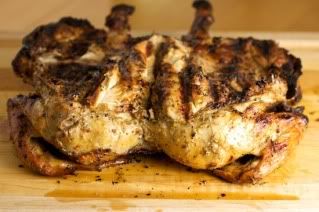 Photo of Grilled Chicken Under a Brick
from Pinch My Salt
Pinch My Salt uses a classic technique for Grilled Chicken Under a Brick. Nicole marinated the chicken with olive oil and herbs, but she says you can use any marinade you like for this recipe.
More Grilled Chicken from BlogHer Cooks:
From Simply Recipes ~ Moroccan Spiced Grilled Chicken Breasts
From Andrea Meyers ~ Peruvian Grilled Chicken
From Daily Unadventures in Cooking ~ Grilled Chicken Marinated in Beer
From Cookin' Canuck ~ Grilled Chicken with Soy-Curry Sauce
From Blue Kitchen ~ Maple-Miso Grilled Chicken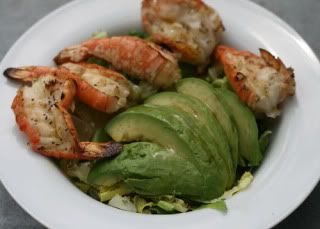 Photo of Grilled Shrimp and Avocado Salad with Asian Vinaigrette
from Sarah's Cucina Bella
Sarah's Cucina Bella grilled some shrimp and made Grilled Shrimp and Avocado Salad with Asian Vinaigrette. To me this looks like a perfect meal for this time of year!

Photo of Grilled Swordfish with Lentils
from Stephen Cooks
I bet mom would love the sound of Grilled Swordfish with Lentils from Stephen Cooks. There will be extra lentils to turn into lentil soup or salad the next day as well!
More Tasty Grilled Fish from BlogHer Cooks:
From The Barefoot Kitchen Wench ~ Grilled Sockeye Salmon with Asparagus and Wild Rice
From Our Life in the Kitchen ~ Cedar Plank Grilled Grouper with Lime and Dill
From TasteFood ~ Grilled Salmon and Halibut Skewers
From White on Rice Couple ~ Grilled Red Snapper with Lemongrass and Chilis
From Poor Man's Feast ~ Grilled Branzino with Herbs
(Every week on BlogHer, we spotlight five recipes with a common theme for a feature called Weekend Menu Planning, hoping one of them might make it onto the menu at your house. You can find previous recipes shared by clicking the tag Weekend Menu Planning.)
Kalyn Denny also blogs at Kalyn's Kitchen, where she's focused on creating low-glycemic recipes using fresh ingredients. Kalyn loves her covered deck with a natural gas grill where she makes things like Grilled Salmon with Asian Dipping Sauce and Perfect Juicy Grilled Chicken Breasts.
This is an article written by a member of the SheKnows Community. The SheKnows editorial team has not edited, vetted or endorsed the content of this post.
Want to join our amazing community and share your own story? Sign up here.