When I was growing up in a family of 10 kids, we didn't have a lot of luxury foods, but my mom made sure we always had artichokes several times a year. Mom served the artichokes with a mayo-based dipping sauce, and I was well into adulthood before I realized there were other ways to eat this intriguing vegetable.
If you've never cooked artichokes, you might be a little intimidated by the preparation required, but plenty of food bloggers have offered advice on how to enjoy artichokes, and they can be simple or fancy depending on how you prepare them. If you're not in the habit of eating artichokes when they come into season in the spring, I hope some of these recipes will inspire you to try them!

Photo of artichoke cooked in a pressure cooker
from Kalyn's Kitchen
Let's start with some of the basic ways to prepare artichokes:
Simply Recipes ~ How to Cook and Eat an Artichoke
Food Blogga ~ How to Clean, Cook, and Eat an Artichoke
A Veggie Venture ~ How to Cook Artichokes in the Microwave
Kalyn's Kitchen ~ How to Cook Artichokes in a Pressure Cooker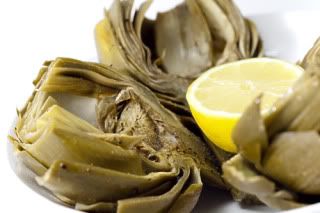 Photo of Baked Artichokes with Lemon and Wine
from Life's Ambrosia
You can also get a bit fancier by adding wine, lemon, or making your own mayonnaise:
Phoo-D ~ Artichokes Steamed in White Wine
Life's Ambrosia ~ Baked Artichokes with Lemon and Wine
Novel Eats ~ Steamed Artichokes with Lemon Butter
Umami Girl ~ Artichokes with Homemade Mayonnaise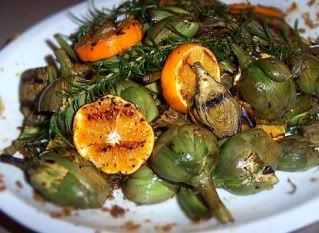 Photo of Grilled Baby Artichokes with Rosemary and Clementines
from Wicked Good Dinner
Artichokes can also be grilled or roasted, especially if they're baby artichokes:
Wicked Good Dinner ~ Grilled Baby Artichokes with Rosemary and Clementines
The Way the Cookie Crumbles ~ Roasted Baby Artichokes
Rookie Cookie ~ Ethan's Grilled Artichokes with Chipotle Dipping Sauce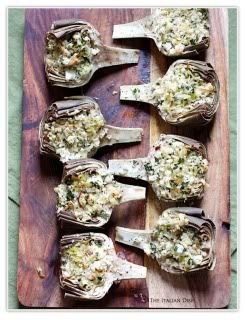 Photo of Baked Stuffed Artichokes with Leeks
from The Italian Dish
Stuffed artichokes are a classic preparation, with endless variations:
The Italian Dish ~ Baked Stuffed Artichokes with Leeks (and how to trim an artichoke)
Food Blogga ~ Mom's Stuffed Artichokes
Hedonia ~ Stuffed Artichokes Revisited
Fat Free Vegan Kitchen ~ Millet Stuffed Artichokes
Bella Biata ~ Artichoke Flowers Filled with Pesto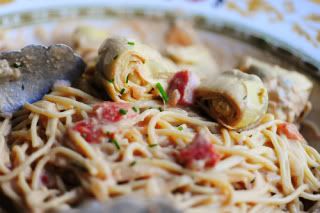 Photo of Spaghetti with Artichoke Hearts and Tomatoes
from The Pioneer Woman Cooks
Finally, pasta with artichokes is another classic that always tastes good:
The Pioneer Woman Cooks ~ Spaghetti with Artichoke Hearts and Tomatoes
Bleeding Espresso ~ Spaghetti with Artichokes (Spaghetti con Carciofi)
The W.H.O.L.E. Gang ~ Mediterranean Tuna Pasta with Artichokes (gluten free, dairy free)
I hope at least one of these ideas will inspire you to cook some artichokes! I know I've only scratched the surface of all the note-worthy recipes there are for enjoying artichokes, so if you have a good artichoke recipe, please share your link in the comments.
(Every week on BlogHer, we spotlight five recipes with a common theme for a feature called Weekend Menu Planning, hoping one of them might make it onto the menu at your house. You can find previous recipes shared by clicking the tag Weekend Menu Planning.)
Kalyn Denny also blogs at Kalyn's Kitchen where she's focused on creating low-glycemic recipes using fresh ingredients. If Kalyn were cooking artichokes, she'd probably still serve them with Mom's Artichoke Dipping Sauce.
This is an article written by a member of the SheKnows Community. The SheKnows editorial team has not edited, vetted or endorsed the content of this post.
Want to join our amazing community and share your own story? Sign up here.