Sometimes I sort of feel like a failure as a food blogger, like recently when a reader commented that it would be nice to see more recipes using quinoa. I had to admit to myself that even though I'd had good intentions about quinoa for the last few years, I've only used it once -- and that time I realized I didn't actually know how to cook it. Then, in that very odd way that the internet works, I started seeing interesting-looking quinoa recipes popping up on blogs everywhere. I decided if I need a bit more encouragement to use this uber-nutritious ingredient, maybe other people did too, so here are some quinoa ideas I hope you'll find tempting.
Let's start with a little basic quinoa information. First, it's pronounced keen-wa, and it's actually a seed with a nutritional profile that's closer to green leafy vegetables than grains. Quinoa is also one of the least allergic grain-like products, and quinoa flakes can be added to other flours for baking. It's very high in protein, but quinoa has many other impressive health benefits. It contains all nine essential amino acids, which makes it a complete protein, and quinoa has an especially high amount of lysine, as well as being a good source of magnesium, iron, copper, and phosphorus.
Most quinoa has to be rinsed before it's cooked or it will taste bitter due to a coating on the seeds. It's often cooked on the stove by combining one part rinsed quinoa with two parts water and simmering for about 15 minutes, but you can also cook quinoa in a rice cooker if you have one. Once you've cooked it, there are a lot of interesting recipe combinations to make with your quinoa.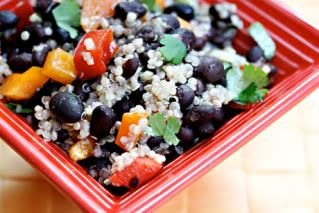 Photo of Black Bean, Quinoa, and Red Pepper Salad with Chili Lime Vinaigrette
from The Perfect Pantry
At The Perfect Pantry, Lydia has a tempting-looking Black Bean, Quinoa, and Red Pepper Salad with Chili Lime Vinaigrette, and there's also a great mnemonic to help you remember how to pronounce quinoa, so check it out. (Thanks to Lydia as well for sharing the link for how to cook quinoa in a rice cooker.)

Photo of Quinoa and Black Bean Salad
from Mandika Moments
There are more black beans with quinoa at Mandika Moments, where Mandika says she has joined the quinoa craze. Her Quinoa and Black Bean Salad has tomato and green pepper, and some cilantro in the lime and chili based dressing.

Photo of Quinoa Salad with Pistachios and Cranberries
from Maren Caruso at Leite's Culinaria
For a different approach, I love the sound of Quinoa Salad with Pistachios and Cranberries posted by Linda Avery at Leite's Culinaria. This also has scallions and celery for a bit of crunch, and it's dressed with a sherry vinaigrette.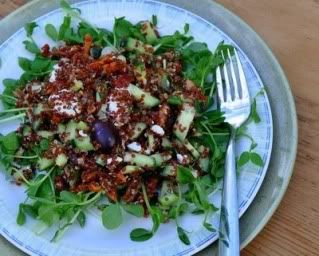 Photo of Red Quinoa Salad
from Kitchen Parade
Quinoa also comes in red besides the regular tan-colored variety, and I thought the Red Quinoa Salad at Kitchen Parade was gorgeous, and Alanna has a lot of ideas for personalizing this salad to your own taste.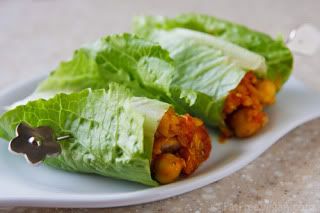 Photo of Ridiculously Easy Curried Chickpeas and Quinoa
from Fat Free Vegan Kitchen
Another idea I thought sounded extra-interesting was the Ridiculously Easy Curried Chickpeas and Quinoa from Fat Free Vegan Kitchen. Susan shows them served as lettuce wraps in the photo above, and there's also a photo of the same filling inside pita bread.
More Tasty Quinoa Ideas I've Spotted Recently:
From Nami Nami ~ Beet and Quinoa Salad
From Nami Nami ~ Colorful Crayfish Salad with Quinoa and Avocado
From Nami Nami ~ Colorful Quinoa Salad with Cilantro (Coriander) and Lime
From Half-Assed Vegetarian ~ Cold Quinoa Salad with Chickpeas
From Life's Ambrosia ~ Quinoa with Chicken and Black Beans
More from BlogHer (and evidence that I meant to start using quinoa long ago!)
Are You Keen on Quinoa?
Celebrate Whole Grains Month by Cooking with Quinoa
So now I'm off to add quinoa to my shopping list. Have I tempted you to try it, or are you already a quinoa fan who's been cooking with it for years? If I didn't find your recipe using quinoa, please do share your link or the recipe in the comments.
(Every week on BlogHer, we spotlight five recipes with a common theme for a feature called Weekend Menu Planning, hoping one of them might make it onto the menu at your house. You can find previous recipes shared by clicking the tag Weekend Menu Planning.)
Kalyn Denny also blogs at Kalyn's Kitchen where she's focused on creating low-glycemic recipes using fresh ingredients. Kalyn might get started on her quinoa experiments by substituting it for couscous in the recipe for Whole Wheat Couscous Side Dish with Green Onions and Parmesan, an idea suggested by a few readers!
This is an article written by a member of the SheKnows Community. The SheKnows editorial team has not edited, vetted or endorsed the content of this post.
Want to join our amazing community and share your own story? Sign up here.