Couscous is an ingredient that comes from Morocco, and it's slowly working towards becoming mainstream, but I'm willing to bet there are lots of you who haven't tried it yet. Some people think it's a type of grain, but couscous is actually made from wheat, and the quick-cooking varieties make a great side dish when you're trying to get dinner on the table in a hurry. I'm a fan of whole wheat couscous, and I like mine best with some added ingredients. If you haven't cooked with couscous, here are some ideas from food bloggers to get you started.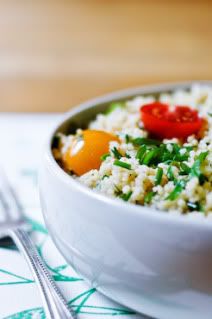 Photo of Herbed Couscous Salad
from Chocolate and Zucchini
I love the sound of Herbed Couscous Salad at Chocolate and Zucchini, and Clotilde is also a fan of whole wheat couscous. This recipe has chives, parsley, and mint, with cherry tomatoes and a slightly spicy dressing.
Photo of Couscous Salad with Herbs
from The Perfect Pantry
There's another type of Couscous Salad with Herbs at The Perfect Pantry, where Lydia adds preserved lemons, another interesting Moroccan ingredient (although you can substitute capers in a pinch.) This salad also has parsley, mint, basil, tomatoes, and golden raisins, and the couscous is cooked in orange juice, water, cinnamon, and coriander for even more flavor.

Photo of Curried Couscous
from Supermarket Serenade
Supermarket Serenade has a good-sounding Curried Couscous, where the couscous has a dressing with curry powder, turmeric, yogurt, olive oil, and vinegar, and then it's tossed with carrots, almonds, raisins, scallions, and red onion. She also added some diced chicken to make this a more substantial dish.

Photo of Sundried Tomato and Basil Couscous with Aceto Balsamico
from Vegan Yum Yum
At Vegan Yum Yum, Lauren gives couscous an Italian twist with Sundried Tomato and Basil Couscous with Aceto Balsamico. Besides the very fine quality balsamic vinegar she used, this dish also has sun-dried tomatoes, basil, and pine nuts, one of my favorite ingredients!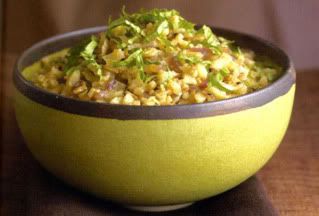 Photo of Cauliflower Couscous with Basil Lemon Sauce
from Leite's Culinaria
Finally, for anyone who's avoiding wheat, I was intrigued by the low-carb and gluten-free Cauliflower Couscous with Basil Lemon Sauce by Eric Gower at Leite's Culinaria. In this recipe, cauliflower is cut into small pieces resembling couscous, and then it's sauteed until tender and served with a sauce flavored by lemon and basil.
More Ideas with Couscous
From Fat Free Vegan Kitchen ~ Orange Couscous Curry
From Cheap Healthy Good ~ Israeli Couscous Salad (a larger-grained type of couscous)
From Pinch My Salt ~ Butternut Squash and Chickpea Stew with Israeli Couscous
From 28 Cooks ~ Southwest Couscous Salad with Chipotle Lime Vinaigrette
From MckMama ~ Cranberry Couscous
(Every week on BlogHer, we spotlight five recipes with a common theme for a feature called Weekend Menu Planning, hoping one of them might make it onto the menu at your house. You can find previous recipes shared by clicking the tag Weekend Menu Planning.)
Kalyn Denny also blogs at Kalyn's Kitchen, where she's focused on creating low-glycemic recipes using fresh ingredients. Kalyn's favorite couscous recipe is definitely Whole Wheat Couscous Salad with Persimmon, Grapes, Green Onion, Mint, and Pine Nuts
This is an article written by one of the incredible members of the SheKnows Community. The SheKnows editorial team has not edited, vetted or endorsed the content of this post.
Want to join our amazing community and share your own story? Sign up here.