This article was written by a member of the SheKnows Community. It has not been edited, vetted or reviewed by our editorial staff, and any opinions expressed herein are the writer's own.
It was back in 2008 when I first spotted kale chips on a food blog, and before I barely had time to think about it, variations of roasted kale chips were popping up on food blogs everywhere. Now literally hundreds of food bloggers have made kale chips and posted about how tasty they are -- so if you haven't joined the kale chip fan club yet, there are plenty of good reasons you should try them.
If you're scratching your head, let me start by explaining that kale "chips" are pieces of kale, tossed with olive oil and sometimes other flavorings, and then roasted until they are crispy. You won't mistake them for potato chips, but they're definitely snackable and delicious.
So why make kale chips? Kale falls into the family of dark green leafy vegetables that have more nutrition per calorie than any other food, so kale chips have to be the most nutritious snack imaginable. They are also reportedly kid friendly, which gives you a chance to sneak some greens into the little guys. Kale isn't ultra cheap compared to some greens, but it's easy to find, easy to grow, and also shows up frequently in CSA boxes. Finally, kale chips are ridiculously simple to make. The only hard part might be deciding on a recipe, because there's quite a bit of variation in how different people roast their kale, but here are some recipe ideas to get you started.

Photo of Kale Chips
from 28 Cooks
In early 2008 Fiber from 28 Cooks posted her version of Kale Chips, also sharing some links for places she'd seen them on the web. Her recipe has olive oil, vinegar, and salt, but she also suggests roasting the chips with some Italian or Caesar vinaigrette.

Photo of Roasted Kale Chips
from Eat Real
At Eat Real, Sandy says she's the last one to the party with the Roasted Kale Chips she posted in November 2009, not knowing that many, many bloggers would continue to make them long after that. These chips are seasoned with rice vinegar, salt, and pepper, and there's also a suggestion that collard greens can be used as well.

Photo of Kale Chips
from Cheap Healthy Good
Jaime at Cheap Healthy Good makes Kale Chips for the first time in the summer of 2008, and even heating up the house seems worth it once she gets a taste of these delicious crispy bits of roasted kale.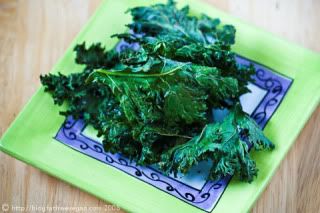 Photo of Kale Chips
from Fat Free Vegan Kitchen
Susan from Fat Free Vegan Kitchen uses olive oil spray for her version of Kale Chips, and she includes them in a list of guilt-free snacks.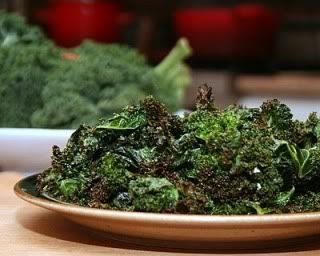 Photo of Crispy Salty Kale Chips
from A Veggie Venture
At A Veggie Venture, Alanna just made Crispy Salty Kale Chips, and after she tastes them she wonders why it took her so long to try roasting kale.
More Roasted Kale Ideas to Try:
From Joyful Abode ~ Life is Good and Kale Chips
From Steamy Kitchen ~ Baked Crispy Kale
From The Way the Cookie Crumbles ~ Roasted Kale with a Fried Egg
From Delementals ~ Red Chard Chips
From Not Eating Out in New York ~ Acorn Squash Soup with Roasted Kale Chips
Image credit: Joyosity via Flickr
Have you made kale chips? If you've got a post about making kale chips, we'd love to see how you did it, so please share your links in the comments.
(Every week on BlogHer, we spotlight five recipes with a common theme for a feature called Weekend Menu Planning, hoping one of them might make it onto the menu at your house. You can find previous recipes shared by clicking the tag Weekend Menu Planning.)
Kalyn Denny also blogs at Kalyn's Kitchen, where she's focused on creating low-glycemic recipes using fresh ingredients. After so many other bloggers tried kale chips, Kalyn had to join the party, so she experimented a few times and came up with Roasted Kale Chips with Sea Salt and Vinegar.