BlogHer is doing A Month of Side Dishes for December, so for cold weather comfort food I've featured potatoes and winter squash so far. Now let's talk about grits and polenta, two slightly different takes on creamy ground corn that both taste wonderful when you need something warm in your tummy.
You can read The Difference Between Polenta and Grits at CookThink if you're not that familiar with them. According to Wikipedia, "cornmeal mush" dishes are called by many names all over the world. What these dishes all have in common is that they are made of some type of cornmeal boiled in water.
The Basics of Polenta or Grits:
~Ilva from Lucullian Delights has a good post about How to Make Polenta, with comments about some of the polenta variations in Tuscany where she lives.
~Michael Ruhlman talks about How to Make Grits.

Photo of Jalapeno Cheese Grits
from Homesick Texan
In the southern U.S., grits are often served as a breakfast item, and Lisa from Homesick Texan shows us Jalapeno Cheese Grits, with scrambled eggs on the side. Lisa says she was a late convert to grits, but now she's a grits evangelist.

Photo of Bacon Sage Polenta
from Blue Kitchen
On the other hand, Bacon Sage Polenta from Blue Kitchen definitely sounds like a dinner side dish to me. Terry includes some interesting comments about how polenta is eaten in Italy and says he's now on a quest to find traditional polenta to use in more recipes.

Photo of Shrimp and Grits
from Life's Ambrosia
Many people think Shrimp and Grits are meant to be eaten together, and I thought this version from Life's Ambrosia looked really tasty. Since Des is not in the South, all she could find was quick grits, but the checker in her grocery store gave her a tip for cooking them!

Photo of Polenta, Squash, and Cheese Loaf
from The Perfect Pantry
Lydia from The Perfect Pantry has a great looking recipe for Polenta, Squash, and Cheese Loaf, and Lydia also tells you what can happen if you don't store your polenta in the refrigerator.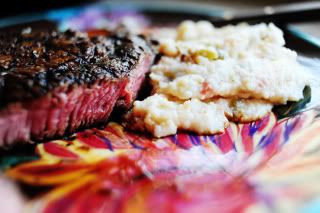 Photo of Creamy Cheese Grits with Chiles
from The Pioneer Woman Cooks
You might not have thought of serving grits with steak, but Ree from The Pioneer Woman Cooks shows us how good her Creamy Cheese Grits with Chiles look next to a piece of red meat!

Photo of Broccoli Rabe on Crispy Polenta
from Food Blogga
One last healthful take on polenta from Food Blogga, whose Broccoli Rabe on Crispy Polenta with a Rosemary-Goat Cheese Sauce could warm up my tummy any winter night!
Grits or Polenta? Why Not Try Both!
Polenta with Spicy Tomato Sauce ~ from Macheesmo
Shrimp and Grits ~ from Macheesmo
Roasted Vegetables with Creamy Polenta ~ from Two Peas and Their Pod
Overnight Grits Crockpot Recipe ~ from A Year of Slow Cooking
Bacon Polenta with Sauteed Crimini Mushrooms and Thyme ~ from Cookin' Canuck
Grits with Corn and Green Onions ~ from Simply Recipes
Polenta with Lemony Asparagus and Chickpeas ~ from Fat Free Vegan Kitchen
Succulent Lobster and Creamy Chevre Grits ~ from What We're Eating
Zucchini Polenta Tart ~ from Chocolate and Zucchini
Grits and Greens Casserole ~ from Sauce and Sensibility
Give us Your Recipes!
Now is the time when I confess I've never cooked grits or polenta myself, although I've happily eaten them both. If you're an expert at preparing either of these in an interesting way, please share your recipe with a link in the comments.
(Every week on BlogHer, we spotlight five recipes with a common theme for a feature called Weekend Menu Planning, hoping one of them might make it onto the menu at your house. You can find previous recipes shared by checking the Weekend Menu Planning Archives or clicking the tag Weekend Menu Planning.)
Kalyn Denny also blogs at Kalyn's Kitchen, where she's focused on creating low-glycemic recipes using fresh ingredients.
This is an article written by a member of the SheKnows Community. The SheKnows editorial team has not edited, vetted or endorsed the content of this post.
Want to join our amazing community and share your own story? Sign up here.