Weekend Menu Planning: Greek-Inspired Salads are Perfect for Summer
If you're lucky enough to visit Greece, you won't find Greek Salad on the menu there. What you will find in nearly every Greek restaurant is something called Village Salad (Choriátiki Saláta), a dish that usually has cucumbers, tomatoes, green bell pepper, onion, Kalamata olives, and Feta cheese, dressed with red wine vinegar, olive oil, and dried oregano. There are other ingredients that are sometimes included (like Greek peperoncini peppers or dried beans) but in Greece this traditional salad never has lettuce.
In other parts of the world, any recipe that includes Greek Salad in the name is sure to mean it's a salad with feta cheese. The ingredients that have made Village Salad a classic in Greece have been adapted in thousands of ways around the world. Whether you're sticking with the classic interpretation or branching out with a less traditional combination that's called Greek Salad, this type of recipe is perfect for late summer when tomatoes and cucumbers are at the peak of garden freshness. Grab some Feta Cheese, and then explore these recipes from food bloggers and try Greek Salad on the menu this weekend.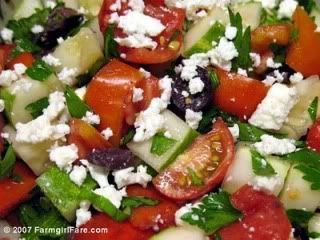 Photo of The Easiest Greek Salad Ever
from In My Kitchen Garden
Let's start with Farmgirl Susan's version from In My Kitchen Garden, which she claims is The Easiest Greek Salad Ever. I love the addition of fresh basil here, and there is a long list of optional ingredients that also sound interesting.

Photo of Chicken Greek Salad
from Kitchen Parade
At Kitchen Parade, Alanna adds leftover rotisserie chicken to classic ingredients for a Chicken Greek Salad that looks like it would make a perfect summertime meal.

Photo of Whole Wheat Greek Orzo Salad
from Pinch My Salt
Orzo is a type of pasta that's shaped like rice, and I love the Whole Wheat Greek Orzo Salad recipe from Pinch My Salt. Chopped mint and parsley add extra flavor here.

Photo of Greek Quinoa Salad
from Eclectic Recipes
Another nice combination with these ingredients is the Greek Quinoa Salad from Eclectic Recipes, which adds red and green bell pepper, parsley, mint, and a touch of cumin.

Photo of Grilled Zucchini Greek Salad
from Kalyn's Kitchen
One of my own favorite Greek Salad experiments is this Grilled Zucchini Greek Salad, which replaces cucumber with zucchini that's been seasoned with Greek seasoning and grilled.
Ten More Greek-Inspired Salads to Try:
My Favorite Greek Salad ~ from Feels Like Home
Greek Salad ~ from EmilyStyle
Greek Bread Salad with Toasted Pita Chips ~ from A Veggie Venture
Greek Wheat Berry Salad ~ from A Life Less Sweet
Simple Orzo and Feta Salad ~ from My Columbian Recipes
Village Greek Salad ~ from Greek Food Recipes and Reflections
Israeli Couscous Greek Salad ~ from Green Healthy Kitchen
Chopped Greek Salad ~ from Use Real Butter
Greek Salad ~ from Divine Taste
Wheat Berry Greek Salad ~ from Bitchin' Camaro
(Every week on BlogHer, we spotlight five recipes with a common theme for a feature called Weekend Menu Planning, hoping one of them might make it onto the menu at your house. You can find previous recipes shared by checking the Weekend Menu Planning Archives or clicking the tag Weekend Menu Planning. If you have good ideas for Greek-inspired salads, please share a link for your recipe in the comments!)

Kalyn Denny also blogs at Kalyn's Kitchenwhere she's focused on creating low-glycemic recipes using fresh ingredients.
This is an article written by one of the incredible members of the SheKnows Community. The SheKnows editorial team has not edited, vetted or endorsed the content of this post.
Want to join our amazing community and share your own story? Sign up here.