If your home cooking goals these days include frugal and nutritious, oatmeal is a natural choice. Oats are listed among the world's healthiest foods, and oatmeal is very inexpensive, especially if you buy in-store brands and avoid products like instant oatmeal packets. Not only that, oats are amazingly versatile. Here are a few oatmeal ideas that I'm hoping might convince you to think more about cooking up some oatmeal.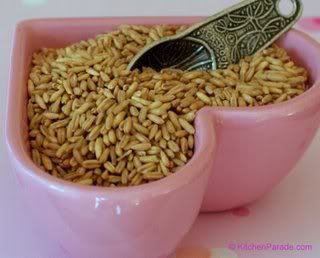 Photo of oat groats from Kitchen Parade.
Let's start with Oatmeal: How and Why to Cook it Every Day from Kitchen Parade, where Alanna offers up enough different oatmeal recipes that you'll never get tired of starting your day with it.

Photo of Oatmeal cooked in milk with brown sugar,
raisins, and cinnamon from Bleeding Espresso.
Michelle from Bleeding Espresso lives in Italy, where she says she's never seen oatmeal in stores, so her mom brings it from the U.S. Michelle shares her favorite way to cook oatmeal, plus a lot of good information about oatmeal health benefits for What's Cooking Wednesday: Oatmeal.

Photo of Banana-Nut Crunch Oatmeal from The Happy Herbivore.
Banana-Nut Crunch Oatmeal from The Happy Herbivore is fast, sounds absolutely delicious, and it's also vegan.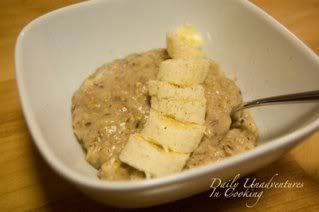 Photo of Eggnog Oatmeal from Daily Unadventures in Cooking.
When she has leftover oatmeal from the Holidays, Katerina at Daily Unadventures in Cooking uses it to make Eggnog Oatmeal.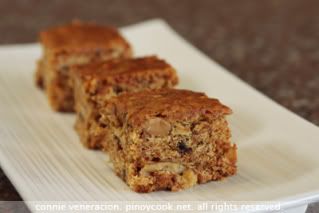 Photo of Wheat Germ and Oatmeal Cookie Squares
from Home Cooking Rocks.
Finally, even though they have "cookie" in the name, the Wheat Germ and Oatmeal Cookie Squares from Home Cooking Rocks are loaded with healthful ingredients.
A Few More Ways to Get Your Oatmeal:
~I bet your kids would like the Oatmeal Banana Bread at Retro Food.
~ At Mele Cotte, Chris says Caramel Pecan Oatmeal Bars were a hit at the office.
~Simply Recipes has the best of both worlds in Dee's Oatmeal Pancakes.
(Every Thursday night on BlogHer, we spotlight five recipes with a common theme for a feature called Weekend Menu Planning, hoping one of them might make it onto the menu at your house. You can find previous recipes shared by clicking the tag Weekend Menu Planning.)
Kalyn Denny shares her passion for low-glycemic cooking at Kalyn's Kitchen and one of her favorite breakfast options is Alanna's Peanut Butter Oatmeal.
This is an article written by one of the incredible members of the SheKnows Community. The SheKnows editorial team has not edited, vetted or endorsed the content of this post.
Want to join our amazing community and share your own story? Sign up here.