This article was written by a member of the SheKnows Community. It has not been edited, vetted or reviewed by our editorial staff, and any opinions expressed herein are the writer's own.
For those in the U.S., Thanksgiving is less than one week away. I'm not saying that to scare you; I just want to emphasize that if you're the one cooking the turkey this year, it's time for some quick decision making. Despite its reign as America's favorite holiday bird, turkey is challenging to cook well, and if all you do is stick it in the oven and wait for the timer to pop out, you may end up with a bird that's dry and overdone.
Luckily there are plenty of food bloggers who've made cooking turkey into an art form, and they're happy to share their favorite turkey-cooking tips with BlogHer readers. Check out these posts before you finalize your Thanksgiving plans, and this year's turkey dinner just might be the best you've ever had.

Photo of Mom's Roast Turkey
from Simply Recipes
Traditional Roasted Whole Turkey
If you Google "roast turkey" the first listing is Mom's Roast Turkey Recipe from Elise at Simply Recipes. First published in 2003, this turkey recipe has achieved kind of a cult-following, and I've used it myself several times when I've cooked a whole turkey, always with great results. Elise cooks the turkey breast side down for most of the roasting time, and she has a few other tips that guarantee a succulent bird.

Maple Glazed Turkey from A Conscious Feast also starts out in the oven breast-side-down; then the turkey is based with a mixture of melted butter, orange juice, and maple syrup.
Leite's Culinaria has the recipe for Old-Fashioned Roast Turkey with Gravy from America's Test Kitchen that cooks the turkey covered with salt pork to keep the meat moist.

Photo of Brined and Roasted Thanksgiving Turkey
from The Pioneer Woman Cooks
Wet-Brined and Roasted Whole Turkey
Ree from The Pioneer Woman just won a Thanksgiving Dinner Throwdown with Bobby Flay on the Food Network, so she must know a thing or two about cooking turkey! She's a fan of wet-brining the turkey for a few days before it's cooked, and Ree shares the recipe for her Favorite Turkey Brine and then shows how she cooks the Roasted Thanksgiving Turkey.
Real Mom Kitchen has a Savory Turkey Brine that includes soy sauce and a recipe that made her husband say, "Now that's the way to cook a turkey."
Sage Roasted Turkey and Apple Cider Gravy from Prudence Pennywise is another recipe where they turkey is soaked in a wet brine for several days before it's cooked.

Photo of Dry Brined and Roasted Whole Turkey
From Kitchen Parade
Dry-Brined and Roasted Whole Turkey
Some good cooks prefer dry-brining the turkey with salt and herbs, and at Kitchen Parade Alanna has good advice on How to Dry Brine and Roast a Whole Turkey.
There's a video on How to Dry-Brine a Thanksgiving Turkey at Leite's Culinaria.
Phoo-D has Simple Roast Turkey with Lemon, Herbs, and Rich Turkey Gravy that's dry-brined with salt, rubbed with butter, and stuffed with lemon slices.
SusieJ can tell you how to Salt Rub a Turkey, which she calls an easier alternative to brining.
Grilled or Smoked Turkey
For a slightly different take on traditional turkey flavors, What We're Eating has a delicious-sounding Chipotle Brined Grilled Butterflied Turkey.
Tanya at Sunday Baker says oven-cooked turkey can't compare to the Smoked Turkey she makes in her electric smoker.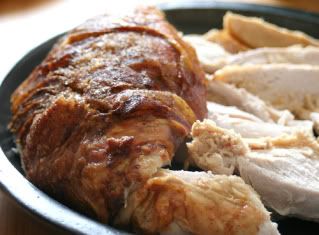 Photo of Roast Turkey Breast
from Dianne's Dishes
Roasted Turkey Breast
If you're cooking for a small crowd and won't miss the dark meat, you might opt for just a turkey breast for Thanksgiving dinner. The Roast Turkey Breast at Dianne's Dishes certainly looks tasty.
Crockpot Turkey Breast
I shared a lot of tips last week for Using the CrockPot/Slow Cooker to help with Thanksgiving Dinner, including several bloggers' tips for cooking a turkey breast in the crockpot.
More Turkey Tips
At What We're Eating there is a great post about Turkey Cooking Basics. Amanda covers everything from thawing times, roasting times, and temperature turkey should reach when it's done.
Just The Right Things has Three Secrets for a Great Roast Turkey
At Brown Eyed Baker you'll find Tips for Cooking the Turkey.
From BlogHer, we offer Help from the Web for Cooking Thanksgiving Dinner.
If you're a food blogger or just a good cook with ideas for cooking turkey, please chime in with your recipe or link in the comments!
(Every week on BlogHer, we spotlight five recipes with a common theme for a feature called Weekend Menu Planning, hoping one of them might make it onto the menu at your house. You can find previous recipes shared by checking the Weekend Menu Planning Archives or clicking the tag Weekend Menu Planning.)
Kalyn Denny also blogs at Kalyn's Kitchen where she's focused on creating low-glycemic recipes using fresh ingredients. It's time for food bloggers to start thinking about recipes for leftover turkey, so Kalyn was cooking a turkey breast in the crockpot while she wrote this post!