Do you have any foods that trigger a loving memory from childhood? For me, peaches always make me think of my Grandmother Goodfellow's peach cobbler, my favorite of all the wonderful Sunday desserts she made for our family when I was growing up. Peaches are in season as early as July in parts of North America, but they last well into September in many places. The last few weeks I've seen wonderful peach creations popping up on food blogs, so I thought I'd try to entice BlogHer readers to cook with peaches while you still have a chance.

Photo of Peach Caprese Salad
from Blue Kitchen
Let's start with this beautiful Peach Caprese Salad from Terry at Blue Kitchen. Using peaches in a salad like this with basil and fresh mozzarella is an idea you may not have considered, but I think it sounds wonderful. I'd even like some tomatoes layered in with the peaches if you have lots of tomatoes on hand.
More Peach Salads:
From Macheesmo - Fresh Peach Salad has grilled peaches, chicken, baby greens, goat cheese and pecans.
From Foodie Reflections - Peach Salad with Champagne Mint Dressing has arugula, candied walnuts, and a champagne vinegar and mint dressing.
From Not Eating Out in New York - Peach and Roasted Beet Salad also has Cubanelle peppers, basil, and a lemony dressing.

Photo of Peach Scones
from Two Peas and Their Pod
Another yummy idea with peaches is these very tasty looking Peach Scones from Two Peas and Their Pod. Maria is lucky enough to have a neighbor with a peach tree, so she's been thinking up creative ways to use them!
More Peach or Nectarine Scones:
From Tasty Eats at Home - Gluten-Free Peach Macadamia Scones are spiced with cinnamon and nutmeg.
From Cookin' Canuck - Nectarine Hazelnut Scones have a generous amount of rolled oats flour for extra nutrition.
From Eliza Domestica - Peaches and Cream Scones add cream cheese for a little extra creaminess.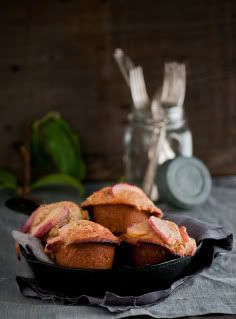 Photo of Ginger Peach Muffins
from White on Rice Couple
You can also use your peaches to make muffins, like these deliciously whole grain Ginger Peach Muffins from White on Rice Couple. Diane and Todd used beautiful white peaches in these muffins with oat flour, white flour, and whole wheat flour, but any type of peaches would work.
More Tasty Ideas for Peach Muffins:
From Baking Bites - Vanilla Peach Muffins use frozen peach slices, so if you've missed fresh peach season where you live, you can still enjoy them.
From Fat Free Vegan Kitchen - Vegan Peach and Vanilla Muffins can be made with stevia or sugar, whichever you prefer.
From Dinner with Julie - Fresh Peach Bran Muffins use All-Bran cereal for extra fiber.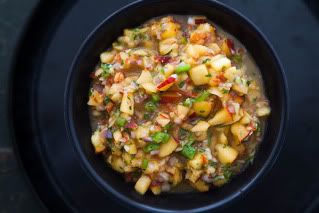 Photo of Peach Salsa
from Simply Recipes
Peach Salsa is one of those relatively-new culinary creations that everyone seems to like, and if you want to pair peaches with a bit of spice, this Peach Salsa from Simply Recipes has jalapeno, mint, and lemon.
More Variations for Peach Salsa:
From Homesick Texan - Habanero Peach Salsa has yellow tomatoes, peaches, cilantro, and lime, not to mention Habanero chile for spice!
From Pinch My Salt - Peach and Peppadew Salsa uses the tangy red Peppadew peppers from South Africa.
From Seduction Meals - Peach and Cilantro Salsa is served with seared scallops, which sounds like a wonderful combination.

Photo of First-Prize Peach Pie with Lattice Crust
from Kitchen Parade
Of course you can't go wrong if you use your fresh peaches to make this First-Prize Peach Pie with Lattice Crust from Kitchen Parade. Alanna says this is a blue-ribbon pie for sure, and the recipe title tells you how the pie fared in her town's peach pie recipe contest.
More Peach Pie to Make You Drool:
From Leite's Culinaria - Fresh Peach Pie uses a vinegar crust, which sounds intriguing.
From Salad in a Jar - Glazed Fresh Nectarine or Peach Pie has a touch of almond and no top crust to show off the fruit.
From The Colorado Lady - Old Fashioned Peach Pie has pretty star-shaped cut-outs in the top crust.
What else is on your list of favorite things to make with fresh peaches? If you have good ideas to share, please leave the link or your recipe in a comment.
(Every week on BlogHer, we spotlight five recipes with a common theme for a feature called Weekend Menu Planning, hoping one of them might make it onto the menu at your house. You can find previous recipes shared by checking the Weekend Menu Planning Archives or clicking the tag Weekend Menu Planning.)
Kalyn Denny also blogs at Kalyn's Kitchen where she's focused on creating low-glycemic recipes using fresh ingredients. Kalyn doesn't make a lot of desserts, but she does love the recipe for Low-Sugar Peach and Berry Cobbler.
This is an article written by a member of the SheKnows Community. The SheKnows editorial team has not edited, vetted or endorsed the content of this post.
Want to join our amazing community and share your own story? Sign up here.