Biscuits are one of those wonderfully comforting foods that really do taste good all year round. They're also easy to make, and so adaptable that no matter what your eating preferences or dietary needs, I'm betting you can find a type of biscuit you'll like. When I went looking for biscuit options, I found so many that sounded good; why not put some biscuits on your menu this weekend?

Photo of Buttermilk Biscuits from Scratch
from Pinch My Salt
Just in case you haven't made biscuits before, let's start with a very informative post from Pinch My Salt about How to Make Buttermilk Biscuits from Scratch. This post has tips for making perfect biscuits, step-by-step photos with instructions, and a recipe for fluffy buttermilk biscuits.

Photo of Biscuits with Chocolate Gravy
from Homesick Texan
You can guess that a blog called Homesick Texan would have a pretty darn good recipe for Biscuits, but you may never have imagined the supreme deliciousness of Biscuits with Chocolate Gravy.

Photo of Mini Sweet Potato Biscuits
from Cookin' Canuck
Mini Sweet Potato Biscuits from Cookin' Canuck have nutritious sweet potato to bump up the nutrition and add extra flavor. There are step-by-step instructions here too.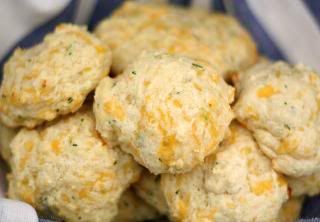 Photo of Cheddar Cheese Biscuits with Cilantro
from Two Peas and Their Pod
Cheese is always a good addition to biscuits, but I especially love the sound of Cheddar Cheese Biscuits with Cilantro from Two Peas and Their Pod.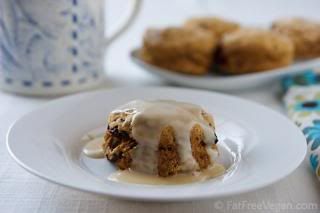 Photo of Fat-Free Pumpkin and Raisin Biscuits
from Fat Free Vegan Kitchen
Susan at Fat Free Vegan Kitchen has Fat-Free Pumpkin and Raisin Biscuits made with white whole wheat flour. You can top them with icing like Susan did for a sweeter version, or serve them plain.
A Dozen More Yummy Biscuit Variations To Try:
Faux Red Lobster Biscuits ~ from Kayotic Kitchen
Thyme Cream Biscuits ~ from Pro Bono Baker
Vegan Low-Fat Whole Wheat Southern Style Biscuits from Happy Herbivore
Green Onion Biscuits ~ from Creatively Domestic
Gluten Free Buttermilk Biscuits ~ from Dianne's Dishes
Bacon Onion Cheddar Biscuits ~ from The Pioneer Woman Cooks
Buttermilk Biscuits with Goat Cheese and Chives ~ from Simply Recipes
Better Homemade Biscuits and Gravy ~ from The Paupered Chef
Gluten-Free Sweet Potato Biscuits ~ from Gluten Free Goddess
Cheddar Cheese Biscuits ~ from The Purple Foodie
Vegan "Buttermilk" Biscuits ~ from Holy Cow! Vegan Recipes
White Whole Wheat Biscuits ~ from Baking Bites
Have you tried making homemade biscuits? If you have a good biscuit variation, please share your recipe or the recipe link in a comment!
(Every week on BlogHer, we spotlight five recipes with a common theme for a feature called Weekend Menu Planning, hoping one of them might make it onto the menu at your house. You can find previous recipes shared by checking the Weekend Menu Planning Archives or clicking the tag Weekend Menu Planning.)
Kalyn Denny also blogs at Kalyn's Kitchen where she's focused on creating low-glycemic recipes using fresh ingredients, but alas, Kalyn has never made biscuits (yet!)
This is an article written by one of the incredible members of the SheKnows Community. The SheKnows editorial team has not edited, vetted or endorsed the content of this post.
Want to join our amazing community and share your own story? Sign up here.