If you asked me what traditional Easter Foods I remember from childhood, I'd say jelly beans or hard-boiled Easter Eggs. Now that I'm older, mention Easter Foods and I'd probably think of something featuring the springtime food trinity of Asparagus, Ham, and Lamb. Some kids might be willing to eat those foods too, but I'm here to share Easter menu ideas that are specifically geared towards the small people at the Easter table.

Photo of Egg Pie from Dutch Girl Cooking.
Kay from Dutch Girl Cooking says she's been completely taken with this Easter breakfast dish of Egg Pie, mainly because her son loves helping her make it! There are detailed step-by-step photos in this post, plus a cute photo of the helper.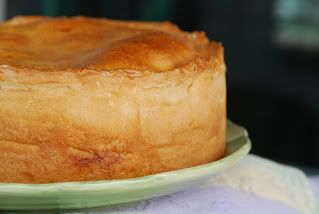 Photo of Easter Pizza Chena from Food Blogga.
What kid would not love the idea of pizza for Easter, and Susan from Food Blogga says this Easter Pizza Chena is the granddaddy of all Italian Easter pies. Pizza Chena means "full pie" and when you read Susan's post to see all the delicious ingredients that are stuffed into this pie, you'll see why this might become a kid-approved Easter tradition at your house too.

Photo of Peeps Cupcakes from Baking Bites.
Of course kids love sweets, and not just at Easter, but I bet these Peeps Cupcakes from Baking Bites would be a very popular Easter dessert in any family with kids. This would be a fun thing to make with the kids too.

Photo of Easter Bunny Cake from Andrea's Recipes.
Another Easter dessert option I'm sure your kids would love is this Easter Bunny Cake from Andrea's Recipes. Andrea's mom used to make this for her when she was small (although Andrea says she doesn't remember ever helping) and last year when they were visiting Grandma, Andrea's own kids helped make the cake.

Photo of Easter Marshmallows from Dianne's Dishes.
Finally, what kid would not love finding some of these Easter Marshmallows from Dianne's Dishes on the Easter Table? I think they would make great edible table decorations or Easter basket stuffers too.
(Every Thursday night on BlogHer, we spotlight five recipes with a common theme for a feature called Weekend Menu Planning, hoping one of them might make it onto the menu at your house. You can find previous recipes shared by clicking the tag Weekend Menu Planning.)
What traditional Easter foods do you like to make with your kids? If you have a great Easter recipe that's kid-friendly, please share a link or your recipe in the comments.
Kalyn Denny shares her passion for low-glycemic cooking at Kalyn's Kitchen. There aren't any kids hangout out at Chez Kalyn, but if you're going to be dying Easter Eggs, she's happy to share the secrets for How to Make Perfect Hard-Boiled Eggs. (That post also has a lot of recipes for using left-over boiled eggs, just in case your kids like dying them more than eating the eggs!)
This is an article written by a member of the SheKnows Community. The SheKnows editorial team has not edited, vetted or endorsed the content of this post.
Want to join our amazing community and share your own story? Sign up here.