In 2002 a bored government worker named Julie Powell started a food blog, intending to cook her way through Julia Child's classic cookbook Mastering the Art of French Cooking. The rest is food blog history of course, as the now deleted blog went on to become first a book, and now the movie Julie and Julia starring Meryl Streep as Julia Child and Amy Adams as Julie Powell. Julie and Julia opens on August 7, but today a few lucky food bloggers were invited to premieres of the movie.
At the risk of losing all food blogger credibility, I have to confess I never even saw Julie Powell's blog, although I've certainly heard enough about it through the years. However, like every food blogger out there, I'm anxiously looking forward to seeing the movie when it hits my town, and also excited about the way this movie will throw a spotlight on food blogs in general as well as Julia Child's contributions to the food world.
I recently discovered one charming blog project inspired by the release of the movie. Shari from Whisk: A Food Blog has created A Web Companion to Julia Child's Mastering the Art of French Cooking. After appropriately deciding to only use links from food bloggers, Shari assembled "hundreds of inspiring pictures and engaging articles written by the world-wide food blogging community about the recipes from this book."
The more time I spent looking through this collection on Shari's blog, the more amazed I became to see just what an influence Julia's ideas about proper cooking have been on those of us who love to cook good food. I encourage you to visit Whisk and see the whole collection of Julia Child inspired food blog recipe posts. After you see the list, you may even feel like cooking something inspired by Julia yourself. Of course many of the recipes in the book or on the list are beyond the reach of the average home cook, but here are five easy Julia Child inspired dishes to get you started.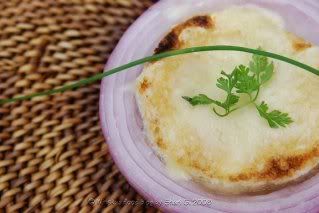 Photo of Soupe à L'Oignon
from Whisk: A Food Blog.
French Onion Soup is probably one of the most well-known of the dishes from Julia Child's book, and there's a beautiful version of Soupe à L'Oignon from Whisk included in the round-up of dishes.

Photo of Purée de Pommes de Terre à l'Ail
from Andrea's Recipes.
Julia would have called it Purée de Pommes de Terre à l'Ail but Garlic Mashed Potatoes from Andrea's Recipes would have met with her approval.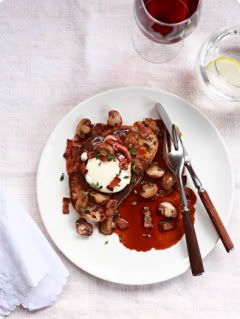 Photo of Oeufs en Meurette
from the Traveler's Lunchbox.
French Cooking includes many interesting ways to cook eggs, and the Oeufs en Meurette from The Traveler's Lunchbox are a version of Julia's Oeufs à la Bourguignonne or Eggs Poached in Red Wine.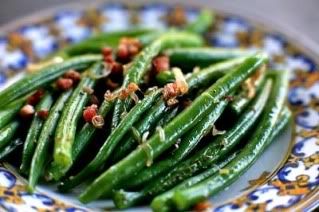 Photo of Haricot Verts Blanchis
from Simply Recipes/
One of Julia's vegetable recipes was Haricot Verts Blanchis or Blanched Green Beans and the version from Simply Recipes features beans sauted with shallots and pancetta.

Photo of Tarte au Fromage Frais
from Chocolate and Zucchini.
Of course, the wonderful pastries are a big part of French cooking, and Clotilde from Chocolate and Zucchini has a version of Tarte au Fromage Frais or Cream Cheese Tart that could have come right from the book.
Have you ever cooked one of Julia Child's recipes? Shari's project to collect posts featuring Julia Child inspired recipes continues, so if you'd like to participate, check the list and make one of the recipes that don't yet have a featured post. If you have cooked something by the fabulous Julia, we'd love to hear about it in the comments!
(Every Thursday night on BlogHer, we spotlight five recipes with a common theme for a feature called Weekend Menu Planning, hoping one of them might make it onto the menu at your house. You can find previous recipes shared by clicking the tag Weekend Menu Planning.)
Kalyn Denny also blogs at Kalyn's Kitchen, where she's focused on low-glycemic recipes using fresh ingredients. The only Julia Child recipe Kalyn has ever cooked was Spaghetti Marco Polo, which she made for a food blog event in honor of Julia Child's birthday.
This is an article written by a member of the SheKnows Community. The SheKnows editorial team has not edited, vetted or endorsed the content of this post.
Want to join our amazing community and share your own story? Sign up here.