Quinoa (pronounced keen-wah) is one of the big nutritional superstars that's become popular the last few years. Although it's considered a grain, the edible seeds are the most eaten part of the plant, and because it's high in complete protein, quinoa is more nutritious than rice and wheat, making it a popular choice for vegetarians. And just when you think it couldn't get any better, quinoa is easy to cook and adaptable to many uses. If you haven't cooked with quinoa, or aren't using it often enough, here are some ideas from food bloggers in the BlogHer network to get you going.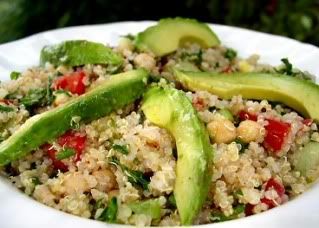 Photo of International Quinoa Salad
from Fat Free Vegan Kitchen.
Whether or not you're a vegetarian, you'll find plenty to like about this International Quinoa Salad from Fat Free Vegan Kitchen. Susan has worked hard to make this recipe low fat but high flavor, and it's a favorite at her house.

Photo of Quinoa Chickpea Salad
from Foodie Reflections.
Jaclyn from Foodie Reflections says she can sum up this Quinoa Chickpea Salad with two words: "Yummy superfoods." This is an easy to make dish that also includes red peppers, corn, and scallions, and it can be served warm or cold.

Photo of Japanese Inspired Quinoa Salad
from Chocolate and Zucchini.
Quinoa is not a traditional Japanese ingredient, but when Clotilde checked, she found it's being used more in Japan, and her recipe for Japanese Inspired Quinoa Salad at Chocolate and Zucchini sounds like it has a lovely blend of Asian flavors.

Photo of Quinoa Pilaf
from Simply Recipes.
Quinoa has such great flavor on its own that it doesn't need to be cooked in stock, as Elise discovered when she made her simple but delicious-looking Quinoa Pilaf at Simply Recipes. there are a lot of things to like in this recipe, but I especially love the addition of pine nuts.

Photo of Breakfast Quinoa
from Food Blogga.
And just to show that quinoa isn't just for dinner, check out the lovely-sounding Breakfast Quinoa at Food Blogga which Susan made using quinoa to replace the couscous used in the dish when she had it at a restaurant.
More Yummy and Interesting Ideas with Quinoa:
Lemon Herb Grilled Shrimp and Quinoa Salad from What We're Eating
Breakfast Quinoa with Clementines, Sour Cherries, and Pecans from Mostly Eating
Quinoa Chocolate Cake with Cardamom from Lucullian Delights
More About Quinoa:
Are You Keen on Quinoa from BlogHer.com
Have you used quinoa in a recipe that was a hit? If you have good recipes using this nutritious grain, we'd love to hear about them with a link or the recipe in the comments.
(Every Thursday night on BlogHer, we spotlight five recipes with a common theme for a feature called Weekend Menu Planning, hoping one of them might make it onto the menu at your house. You can find previous recipes shared by clicking the tag Weekend Menu Planning. If you'd like to see other recipe ideas using whole grains for Whole Grains Month, just type "whole grains" into the BlogHer search bar. )
Kalyn Denny also blogs at Kalyn's Kitchen, where she's focused on creating low-glycemic recipes using fresh ingredients. Although Kalyn does have a recipe for Curried Cashew Chicken Salad with Quinoa and Baby Peas, she wants to cook with quinoa more often!
This is an article written by a member of the SheKnows Community. The SheKnows editorial team has not edited, vetted or endorsed the content of this post.
Want to join our amazing community and share your own story? Sign up here.